"October: This is one of the peculiarly dangerous months to speculate in stocks. The others are July, January, September, April, November, May, March, June, December, August and February." — Mark Twain
We made it through October without a crash or a meltdown some called for when the Treasury yields inverted. During our September Facebook Live broadcast, I said "inverted yields do not cause recessions."
Those listening are glad they did.
Today, I wrap up my series analyzing the 2015 correction and current market action answering your question: Were there signs or tools during previous market tops signaling it was time to lock in profits and move into safe haven investments?
In part I, I examined the 2000 while part 2 analyzed the market action in 2007-08. See previous columns for the basics on how the indicators and my system.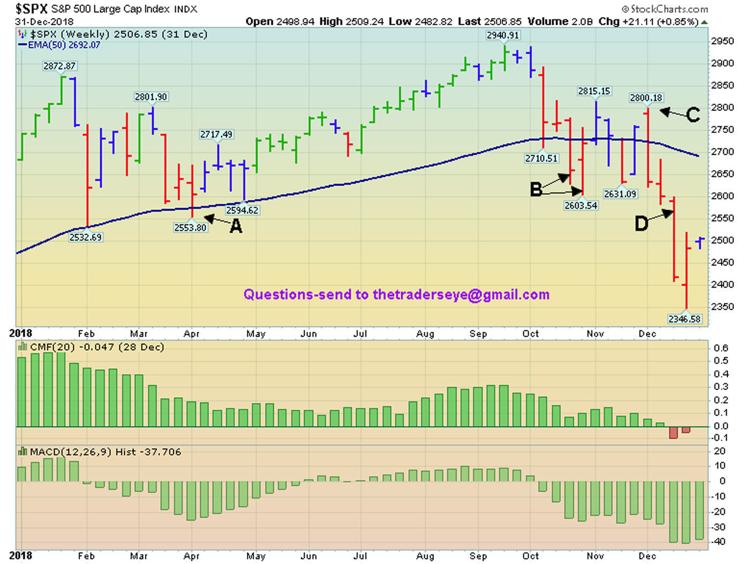 Per my chart, in April 2018, the SPX made a new low (point A) at 2553.80 while money flow remained positive, MACD was negative. It takes all three to be negative for a system sell signal. After testing 2553.8 (point A), the SPX then rallied a very impressive 15 percent.
After making a new high at 2940.91, profit taking took the SPX down under the signal line (point B) but failed to signal a sell signal while price closed below the signal line, money flow remained positive although the MACD was negative.
Buying then came in and the SPX made a lower high at 2815.15 in November then made an even lower high at 2800.18 (point C). Lower highs are extremely bearish and signaled more selling ahead.
In December 2018, profit taking accelerated taking the SPX under my blue signal line (point D). At the same time, the money flow was negative, along with the MACD. With all three hitting, this gave an official system sell signal.
Since many are looking to sell and lock in multi-year profits in their trading and retirement accounts, let's analyze the 2019 action and more important, where we are now.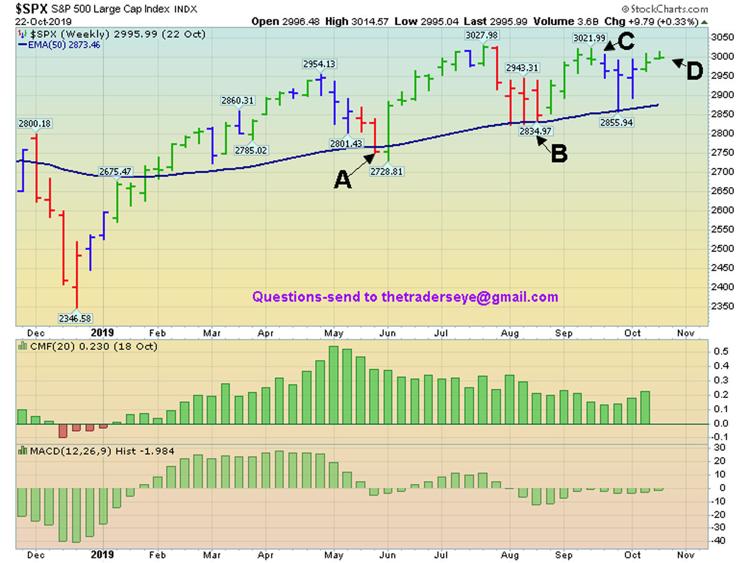 In May (point A), the SPX closed under my blue signal line, but did not formulate a formal sell signal because the money flow remained very positive although the confirmation indicator, the (MACD) went negative. After testing a new low in June the SPX then rallied 11 percent.
You have free articles remaining.
In July, SPX made a new high at 3027.98 and after profit trading made a lower high (point C) at 3021.99 then tested the blue signal line later in September.
Currently, (point D) the SPX is extremely strong, trading well above the blue signal line with positive money flow although the MACD is negative.
Keep in mind, the S&P 500 does not represent all U.S. indexes or the entire U.S. stock market. Next, no system is 100% and nobody knows exactly when a market will top or bottom. If a so-called market guru says their system is 100%, run. Smart investors learn and use a system that give better signals than listening to their gut for trading/investing decisions.
In this series, I answered your question and introduced you to the different tools available to signal market tops and a system to implement them.
The bigger question, what are you planning to do with it?
So here are the action Points:
First, are you currently tracking your holdings using these tools to monitor their action?
Second, if not, simply insert their symbols and see if this system gave previous buy and sell signals.
Third, if this indicator settings/system do not work with your securities then learn which indicators do.
Four, if you are not tracking your securities then why?
If you want to learn more about the many tools and systems to better manage your holdings, email me about my upcoming online training starting in 2020.
Remember, technical analysis/charting is not 100%. Why do I use it? It shows what Wall Street institutions are doing instead of what their highly paid public relations firms say they are doing — think about it.
Profitable traders/investors make money with what they own and when they own it. Which group are you in?
What's next? Learning securities that go up when the market goes down. Send me your candidates and I will analyze to see if they qualify. This includes Bond Mutual Funds sold as a safer havens for when their equities head south. For many, this will be their first opportunity to make money when previously their portfolios tumbled.
Plan your work, work your plan, and share your harvest!
DAVID O. ENGLAND is an investor/trader, financial analyst/educator/lecturer and Associate Professor Emeritus of Finance. This column is for educational purposes only and not intended as financial advice. Past performance does not dictate future returns. Questions—send to thetraderseye@gmail.com.