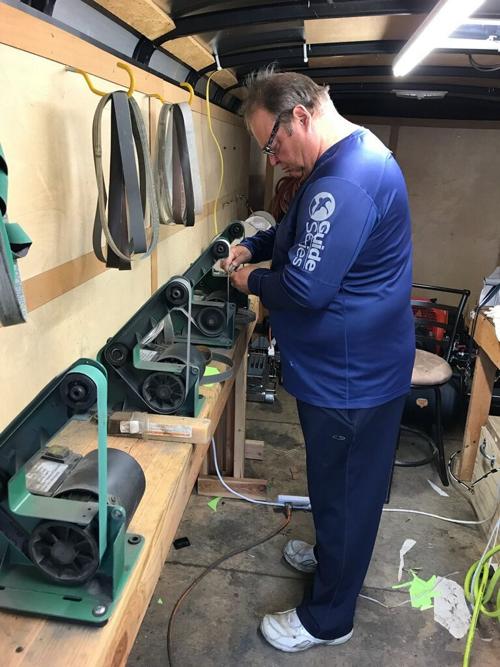 Drew Watson is not a sous chef, but his role in kitchens throughout Southern Illinois is undisputed. With every slice of a blade, Watson's work is displayed. The knives that cut smoothly and perfectly do so because Watson has sharpened them. 
Watson, of Marion, has been the owner of Guaranteed Knife Sharpening for about four years. Utilizing a mobile workshop housed in a trailer, he sharpens knives and other blades for restaurants, commercial kitchens, outdoorsmen and anyone with a knife.
"I sharpen knives, hatches, axes, scissors, mower blades, garden tools, shovels, wood working tools and more — almost anything with an edge," Watson outlines. "I just drive up, sharpen your stuff and hand it right back to you."
For some clients, he sharpens items on a as-needed basis, but for some restaurants, he has standing appointments, sharpening chefs' knives and other items on a regular basis, sometimes as often as once a week.
His trailer houses a collection of what look like belt sanders, each with a progressively finer grit to get a perfect edge. In fact, once he is done with them, most of the knives leave Watson's trailer sharper than when they left the factory. 
"Because of the manufacturing process, they can't do the same steps I do," he explains. "I normally go through five steps to get a very sharp edge. With a new knife you often can still see scratches and imperfections in the edge of the blade when you buy them. I like to take them and make them the best I can and then they'll last a little bit longer."
Watson says many of his customers are surprised at how sharp his work makes their knives.
"They'll cut into a tomato and not smash them or have to stab at them first," he says. "I can take a knife and make it better than it has ever been for less than $3." 
He also says he surprises clients by showing them how to best care for their blades so that they will stay sharp.
"Most of the nicer sets come with a honing or sharpening steel. I'll show them how to use it properly to keep the edge sharp on them," he explains. 
He also gives advice on proper care and tips on using knives.
"The best cutting service you can have is wood, but you can also use a plastic cutting board," he says. "Don't use glass or ceramic or the hard countertops like stone. Those dull a knife so fast and they can roll the edge of the knife, too. You can take the highest-quality knife out there and use it on stone and it will dull it within a week or two."
Other tips, Watson says, include a caution to always hand-wash knives. 
"Don't put them in the dishwasher because when you do, people normally through them in with other utensils and the edges hit together," he adds. "So, always hand-wash your knives, but don't just toss them in the sink with the forks and the spoons. You'll end up cutting your hand and with a really sharp edge, you won't even feel it." 
Watson says it takes him about two minutes to completely sharpen a blade, making it better than ever.
"I can take a $3 knife, work on it for a few minutes and make it able to cut through a magazine." 
Even though Watson does not recommend slicing periodicals, he does enjoy customers' reactions.
"It's always a lot of fun putting a smile on peoples' faces. I love it when they tell me, 'Oh my gosh, these cut so easily.' That's what I aim for," he says.