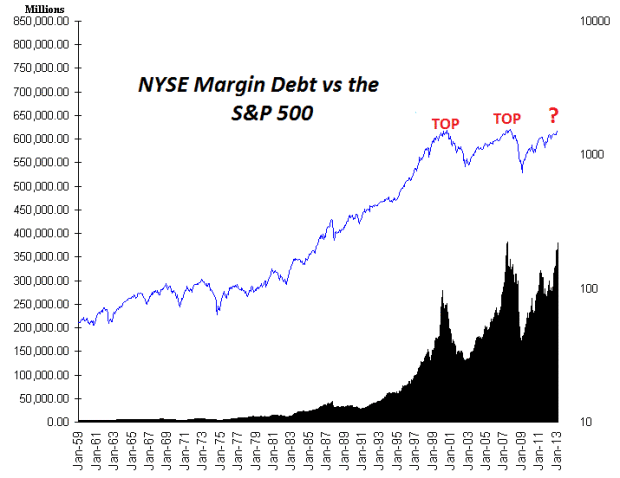 Many are thinking if the adage of "Sell in May and go away" will be true again this year as it has been the last three. Today and in the next couple weeks I will address this question to see if it will once again prove true.
Today we will look at data from our trusted associates at www.amateur-investor.net featuring the latest Margin debt (March 2013) for the New York Stock Exchange and compare it to the current/previous market action. First, what is margin? Margin is when traders/investors borrow funds with their current securities (stocks) as collateral. If traders use borrowed funds to buy additional stocks and they go up then they can leverage their gains. Of course, if the price of the margined securities drops, the opposite can happen, and traders can lose money twice as fast. In my classes and seminars I stress to stay away from using margin in your trading strategies-period.
Increasing margin levels is not the problem. The exchanges like increased margin because it allows additional money to be traded. It is good until it isn't, when forced selling from margin calls hit and can spur rapid stock market declines as in 2000 and 2007.
Per the chart, we can see the action of the S&P 500 (blue line) from 1959 to the present (top) and the NYSE margin debt (bottom). Note the current level of NYSE margin at 380 billion is well above the margin level in 2000 (market top) and very close to the same margin level in 2007 when the market made another top.
For many, this may be the first time you have seen margin debt in relation to the market action. Does this prove the S&P 500 is ready to drop? My answer is no, but after studying this data I would be very hesitant about jumping head first into the market at these levels. We can see after the market makes a top, heavy selling happens and happens fast, represented by the sharp downturn in margin amounts at the NYSE.
Next week we will take a look at the charts and see if the big money is starting to take profits. The results may surprise you! Investment decisions are based on rational decisions and not emotions per the events going on around us. Plan your work, work your plan and learn to share your harvest!
DAVID O. ENGLAND is an associate professor of finance at John A. Logan College and founder of the Eye on the Market-Training Academy. For questions and upcoming seminar info, he can be reached at thetraderseye@gmail.com. The information above is for educational purposes only and is not intended to be financial advice. Your decisions to buy, sell, short, or hold any stock or investment product is a direct result of your own decision, free will, and research.