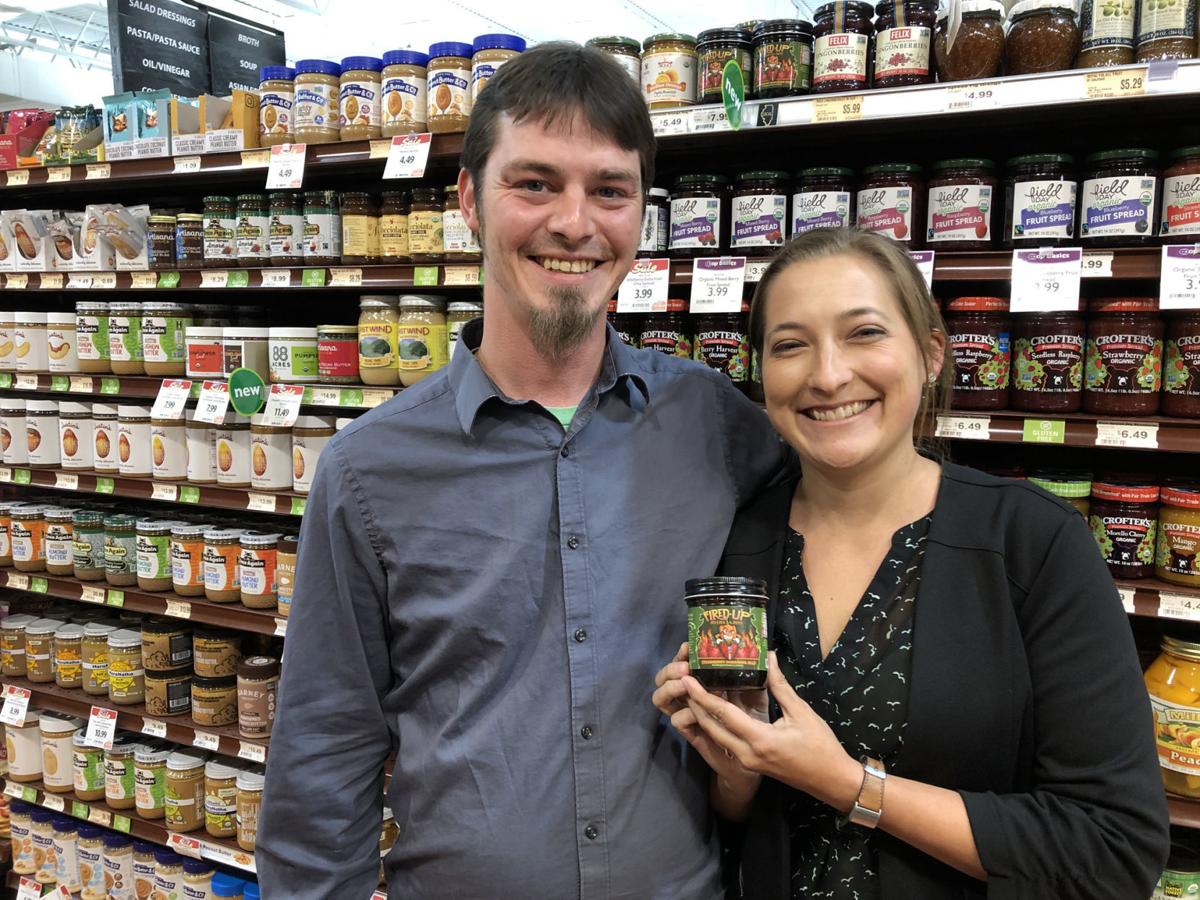 Take a college philosophy graduate with the mindset of an entrepreneur, add in an anthropologist fiancee encouraged by her grandmother to continue a tradition of homemade jellies, throw in some love and a little heat and the result is Fired Up Jellies and Jams, a Carbondale-based company with a new twist on a spreadable favorite.
"In college, I had taken a wine class," said company president and co-founder Michael Smith. "That introduced me to flavor. It was like turning on my olfactory bulb and tasting things for the first time."
This new discovery rekindled a passion in his fiancé, Krista Daniel, for jelly.
"When I was a kid, my parents knew that I liked jelly so much that they would get the little packs of jelly like at restaurants and when other kids were getting candy in their Christmas stockings, I was getting jelly," she said.
When the pair tried a friend's homemade carrot habanero jelly, they decided to give making their own concoction a stir.
"I wondered about making a fruit jelly with some heat to it," Smith said.
He also said that initial attempts to combine jalapenos with jelly did not work as he had hoped.
"The problem was that the jalapeno brought a sort of green pepper flavor with it and green pepper and fruit don't go together well," he said. "It didn't really give the spice; it tasted more like mixing a vegetable with the fruit."
He said they really wanted a fruit jam that was spicy, so they kept trying different combinations of fruit and peppers in their home kitchen, looking to friends as taste testers. Eventually, the found the perfect pair: strawberry and habanero.
"We made so many batches of jelly. It would take us the whole day. We'd cook it up and put it in jars then taste it after it all set up to see if it was what we wanted," he said. "Then we would tweak the recipe a little bit. We did this for a couple of years before we actually had it like it is today."
You have free articles remaining.
It was the couple's friends who finally convinced them that they had a product worthy of store shelves.
"Most of our friends and family told us, 'This is the best one yet,' and when we would give them a jar, they would ask us how much for it. That's what made us really begin to think about selling it," Smith said.
Officially launching at a party in May (where the two also became engaged), the Fired Up Jellies and Jams brand was launched with a strawberry habanero flavored jelly as its first product. Smith says he began sharing samples with anyone he could find. He also found a co-packer in nearby Ava to produce the new jelly.
"We found that it would take us eight hours to produce two cases; it takes them just four hours to produce a hundred cases, so obviously, that was a pretty easy choice," he said, adding that the decision also reduced start-up costs and increased time available to market and find outlets for the jelly.
Daniel says Fired Up Jellies and Jams are currently available through the company's website, but the couple would rather consumers pick up the jelly at a retailer.
"I don't really want people buying it from us," Smith said. "All of our retailers are local businesses and we want people to support them."
He says the product is available at most Illinois Liquor Mart locations, the Neighborhood Coop Grocery in Carbondale, the Iron Wisk in Cobden, Starview Vineyards and the Makanda Country Store. He says he hopes to increase distribution in the coming months to more outlets and that Fired Up has several other flavors to be brought to market.
"We have a peach habanero that we will be putting into production, and I think we'd like to try syrups and other products too with the Fired Up name," he said.
"People are responding to the product really, really well," he says. "Our experience is that once somebody tastes it, they're sold on it."
For more on Fired Up Jellies and Jams, go to its website at www.firedupjandj.com or call 217-502-4041.