CARBONDALE — Freddy's Frozen Custard & Steakburgers opened to the public at 10:30 a.m. Monday at 500 N. Giant City Road, across from Kroger.
The 2,950-square-foot, freestanding restaurant seats 85 guests and has additional seating on the patio. Drive-thru service also is available. Hours of operation are 10:30 a.m. to 10 p.m. Sunday through Thursday and 10:30 a.m. to 11 p.m. Friday and Saturday.
General Manager Jamie Koval welcomed guests as they entered the restaurant on Monday. The dining room was decorated with red balloons.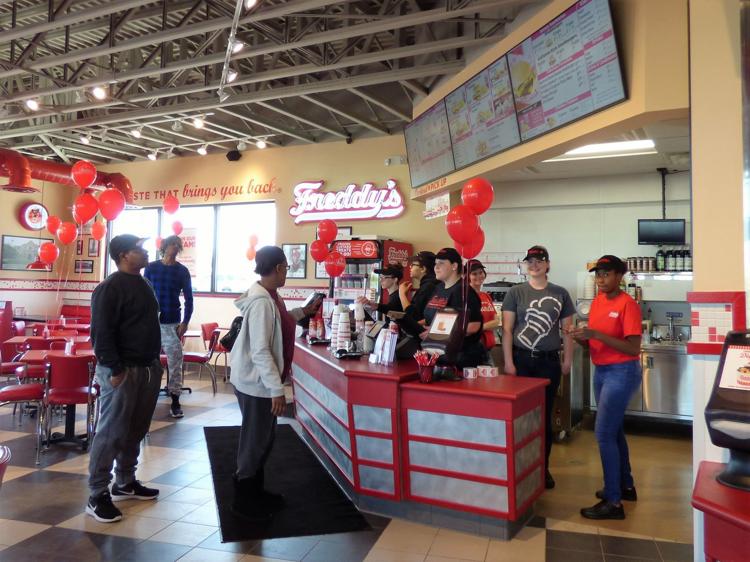 Carbondale City Council approved the project on Aug. 16, 2018. This is the second Freddy's location in the region.
"The area on Giant City Road is very close to Main Street and is flourishing with restaurants and retail businesses that makes it a great fit for Freddy's," Eric Cole, franchise owner, said in an email. "We hope to be a convenient dining option for shoppers in the area, as well as for those nearby moviegoers at AMC."
At Freddy's, the food is cooked-to-order, meaning the food is made after you order, not before. Freddy's is known for steakburgers, Vienna Beef hot dogs, crispy shoestring fries and frozen custard treats.
"Two of our most popular items are the Freddy's Original Double and the Signature Turtle Sundae," said Cole. "There are a variety of condiments and toppings for our menu items, so we encourage you to customize your orders to your liking and find your own special Freddy's favorite."
According to the restaurant's website, brothers Bill and Randy Simon, along with their friend and business partner Scott Redler, opened their first restaurant in 2002 in Wichita, they named the restaurant after the Simons' father, Freddy Simon. Today, the chain has more than 300 restaurants in 32 states across the nation, with 13 locations in Illinois.