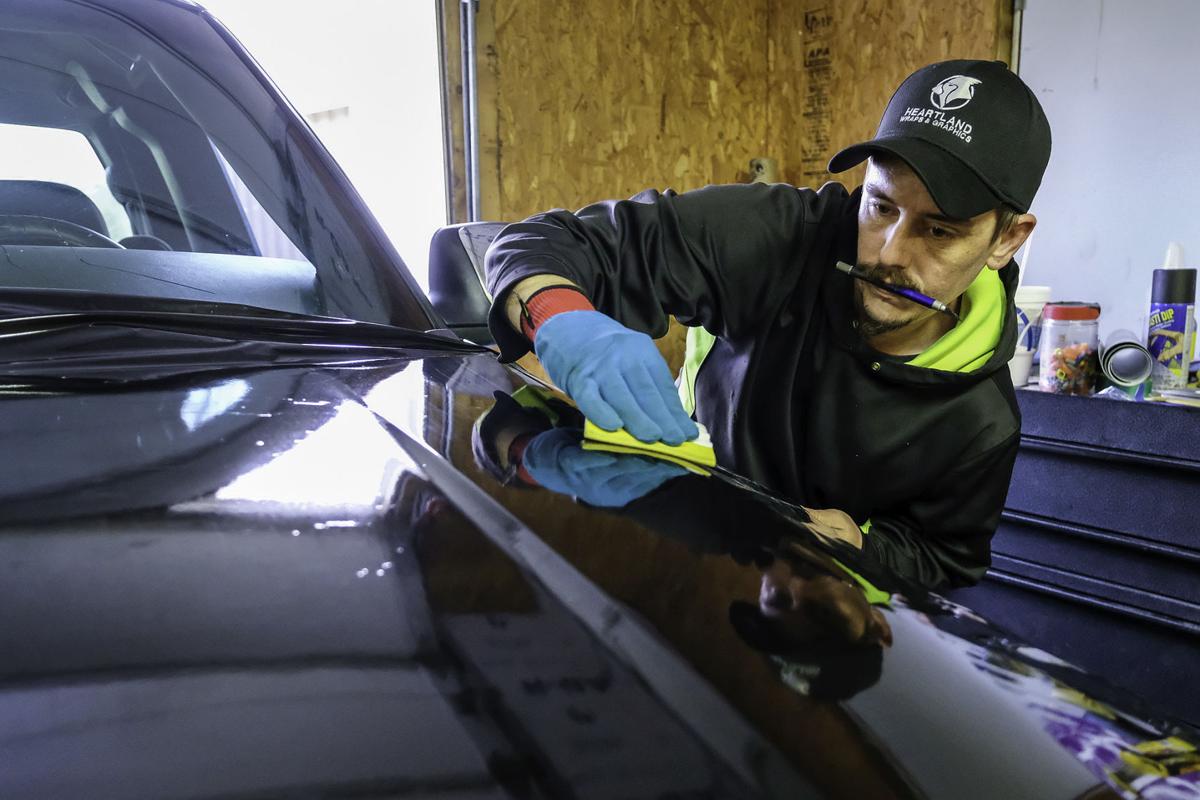 When most people look at a car or truck, they see a form of transportation, but not C.T. Landers.
When Landers, owner of Heartland Wraps and Graphics in Johnston City, sees a vehicle, he sees a blank canvas or even a way for businesses to promote themselves.
"As a service provider, when (we) go into some subdivision to do work and your truck looks good with appealing graphics, logos or imagery, people see you as a professional company and next thing you know, half of the subdivision is calling you," he said.
His company specializes in vinyl wraps for almost anything that moves – and some things that don't – all designed to make a positive and lasting impression.
It is a concept he's known about his whole life, he said. Landers grew up next door to Weatherford Signs, a longtime Carbondale business.
"I started helping them out, doing odd jobs and little things and eventually I was working full time through the summer and over school breaks. When I was done with school, it was full time, the whole time," he recalls. "I've been in signage my whole life."
A self-proclaimed "car guy," Landers has been focusing on vinyl wraps for vehicles and other surfaces with several area companies before striking out on his own with Heartland Wraps and Graphics last year.
"We concentrate on vehicle wraps and graphics; anything from someone just wanting a pinstripe or some custom graphics or racing stripes all the way to changing the color of a vehicle or adding business-related graphics," he said.
The company has done vinyl wraps on everything from a ride-on floor scrubber for a children's hospital to boats and garbage trucks and from semi-trailers to sedans and more.
"The weirdest thing I've ever wrapped was a clawfoot bathtub. It was a fiberglass tub that a customer had ordered and it was solid white. She wanted the outside of it to look like cast iron, so we wrapped it with a matte black finish and it really turned out beautifully," he said, adding that Heartland Wraps and Graphics also transforms other stationary objects.
"We can take care of windows in business and we've even wrapped the walls inside of a business. One of our clients had a bare wall in a big shop and by the time we were done, everyone thought it was bricks with his logo painted on it," he said.
Most of Landers' customers are individuals and businesses in Southern Illinois, Southeast Missouri and Western Kentucky, but his work can be seen far beyond the region on what he calls "rolling billboards."
"Not to discredit the billboard companies, but there is no comparison between a vehicle wrap and a billboard. The cost of a billboard is hundreds of dollars a month and it's stationary. It's only being seen in one place," he explains. "Instead, I could do a partial wrap of a company's van or pickup truck for around $1500 and it'll last for four or five years. It's advertising everywhere they go, even if it's parked at the grocery store. It's advertising 24/7. It's a rolling billboard."
Landers said a full wrap on a vehicle takes a couple of days and requires up to a dozen individual pieces of vinyl.
"It's a very tedious process and it takes a lot of patience, but it's a much quicker process than trying to paint an entire vehicle," he said, explaining that one of the tricks is keeping everything straight – both in terms of what goes where and looking even on the vehicle.
"Sometimes that is challenging because body lines on cars are not always straight and putting something level on a car doesn't mean it won't necessarily look straight," he said.
Landers said his efforts include working extensively with customers before the application of the wraps, giving them a mock-up of how their completed vehicle will look.
Most of Landers "wrapping" is done in his West Frankfort location during regular business hours, but he makes exceptions, often working on a company's vehicles over the weekend so they are back in the fleet during working hours. He said that's part of one small business supporting others.
"My hope and dream is to just keep helping small businesses grow and to grow with them," he said. "Oh, and to work on some really awesome cars."