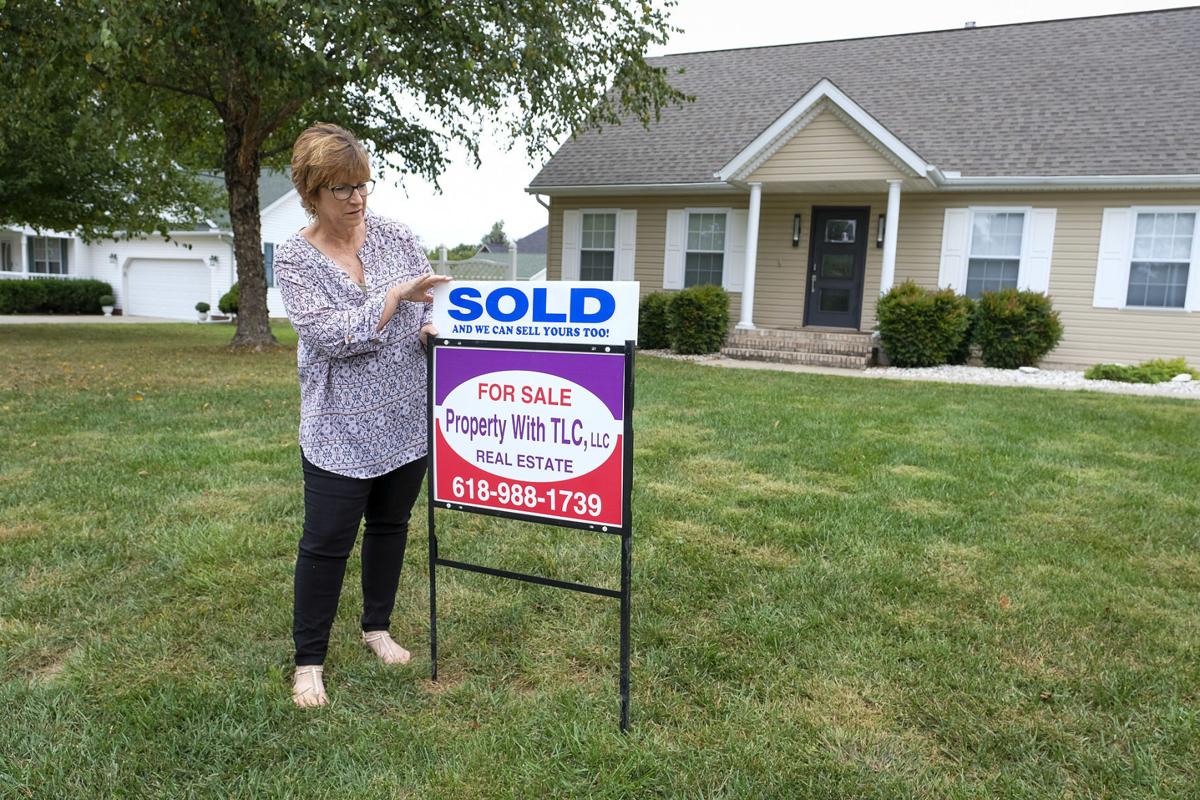 COVID-19 has wreaked havoc on many sectors of the local economy, and unemployment numbers remain elevated. But in these weird times, the real estate market has found a place to shine. Home sales are up significantly across much of Southern Illinois, and those listed for sale are finding buyers more quickly than is typical for this time of year.
Teresa Camarato, the designated managing broker/owner of Herrin-based Property with TLC, said recent real estate trends in Southern Illinois more closely resemble those in fast-growth, competitive urban markets. For this area, "it's very unique," she said. For one thing, there are far more people shopping for homes than there are homes on the market. Therefore, it's not uncommon for sellers with move-in ready properties in desirable locations to receive multiple offers and go under contract within days of listing them, several regional real estate agents told The Southern in interviews this week.
"When somebody asks about the housing market, we go, 'Well, you remember what happened with the toilet paper?'" joked Camarato.
Jackson and Williamson counties, in particular, are seeing a boom in activity.
Jackson County experienced a nearly 73% increase in August closings compared to August 2019, increasing from 44 to 76, according to the most recent monthly figures available from Illinois Realtors, a trade association that represents real estate agents statewide. August closings were up nearly 21% in Williamson County compared to the same month a year prior, increasing from 72 to 87. July year-over-year sales were also up in both counties.
For comparison, closings were up nearly 17% statewide this August compared to August 2019.
Some of this late-season activity is attributable to the pandemic. The real estate market took a hit in the early spring, typically the busiest season, as the U.S. began to grapple with the reality of COVID-19 breaching its borders. Real estate activities were deemed essential and allowed to continue under Gov. J.B. Pritzker's initial March stay-at-home order. But near daily warnings about the importance of avoiding others and hunkering down at home caused some sellers to remove their homes from the market or curtail showings, Southern Illinois real estate agents said. Many buyers also hit pause amid the economic and public health uncertainty, locally and nationally.
"When COVID hit back in March, I thought oh my gosh, we're never going to sell another house for the rest of the year," said Celia Robertson, managing broker/owner of House2 Home Realty, based in Marion.
But the panic was short-lived. In March, the Federal Reserve, America's central bank, took steps to stabilize economic activity and boost borrowing power amid the pandemic. The Fed doesn't directly control mortgage rates, but its activities can significantly impact them. That has been the case this year. In late March, the Fed announced it would buy billions of dollars worth of mortgage-backed securities, escalating demand and dropping mortgage rates to unprecedented lows, explained Dan Green, a money and mortgage expert, in an article for The Mortgage Reports, a trade publication focused on mortgage-related news.
"All of the sudden, everybody came out at once," said Brenda Straddeck, a real estate agent with Century 21 House of Realty. "So the market looked like it was going crazy and everything was moving."
"When the interest rates fell," added Robertson, "it was insane. Some people were getting rates as low as 2.25% and 2.5%. We couldn't keep up. In fact, we still need listings. We have buyers that we cannot find houses for. So it's actually been a really good year, surprisingly."
For Southern Illinois, August's uptick in sales wasn't an anomaly. In Jackson County, home sales were up more than 19% from January through August of this year compared to the same time frame last year. Based on the same comparative months, home sales were up nearly 18% in Williamson County. Some surrounding rural counties have also seen a boost in activity. Year-to-date home sales through August were up nearly 19% in Franklin County, and 16% in Union County.
Statewide, year-to-date home sales are down 1.4%.
"We're outperforming the state numbers," said Ayn Bartok, managing broker/owner of All In One Real Estate Co., based in Harrisburg, and president-elect of the Egyptian Board of Realtors, which represents the industry in Southern Illinois.
Bartok said that some of the activity is attributed to people looking to change homes within their existing town, either because they need a larger house for an expanding family or a smaller one as children grow up and move out. In other cases, people are moving from one side of the market area to the other, such as from Harrisburg to Carbondale. But a surprising number of people shopping for homes right now are people moving here from elsewhere.
"In our area, we're definitely seeing people from out of our area, be it from up north within the state of Illinois and/or we're seeing out-of-state buyers, which seems unique at this time," Bartok said.
Judy Grisley, broker and co-owner of Marion-based Southern Realty LLC, said she's also received a number of calls from people looking to relocate. Some people have family here, or they went to school here as a young person and remember liking the experience, she said. But others seem to have no known ties. Whenever someone unfamiliar with the area calls to inquire about moving here, Grisley said she enjoys telling them about what the region has to offer.
"We're kinda a free tourist bureau," she said.
Greg Holthaus, designated managing broker/owner of Coldwell Banker Prime Realty, with locations in Williamson and Jackson counties, said he also makes an effort to point out what one can get in Southern Illinois compared to elsewhere. He said a friend called him this week from Orinda, California, excited she was able to finally purchase a modest 1,600-square-foot home for a cool $1.2 million.
"Can you imagine what you could purchase here for that?" he said. "All things have to be put into perspective at times. Conditions are not perfect here, but they are not terrible either. We live in one of the most beautiful regions in the United States."
Also surprising about the market right now, real estate agents said homes are selling across the price spectrum. "One of my agents just sold a $15,000 house in Saline County and then we just sold one at Lake of Egypt for $600,000." Robertson said.
On the average, though, high demand is not causing homes to sell much beyond their asking price or appraised value, as can happen in a competitive market. "The curious thing about it is the prices haven't really gone up. They've stayed stable," Camarato said.
In Jackson County, the median sales price between January and August 2019 was $96,500. The median price for the same time frame this year was $90,000 — a decline of about 7%. In Williamson County, the median sales price increased by 0.8%, from $129,000 during the same months in 2019, to $130,000 this year.
In both counties, homes have spent fewer days on the market this year prior to selling.
The most popular homes that move the fastest at most any price point are those that are "buyer ready," Holthaus said. Banking standards play a role in discouraging homes that need a lot of work. In Southern Illinois, many buyers utilize USDA Rural Development, VA and FHA loans, all of which have standards in quality that have to be met prior to issuance. "Make no mistake, if you have a home that can pass with ease in these programs, the chances of a shorter market time, better price, and easier closing with less problems will increase," he said.
Buyers are encouraged to get preapproved for a loan. Without that in hand, they may get passed over by a buyer that receives multiple offers with properties moving so quickly.
"We've had it where we've put a house up for sale, and the first day we've got three offers on it," Camarato said.
Real estate agents said the market may steady as more buyers place homes on the market for sale. As for low interest rates, the Fed has signaled they are likely to stick around for some time.
Robertson said she hopes that's the case, "because this has just been great for us." It's also a boost to the local economy in an uncertain time. The fast real estate market means more work for not only real estate agents, but also lenders, appraisers, home inspectors, contractors and others.
"What real estate people do for our own community — our community doesn't really realize how valuable we are," Grisley added. "We bring new buyers in, and of course when they come in, they've got to spend the money. They've got to go to the lumber yard. They buy supplies. They've got to send to their kids to school, and they've got to shop."
618-351-5079
On Twitter: @MollyParkerSI ​
The business news you need
With a weekly newsletter looking back at local history.