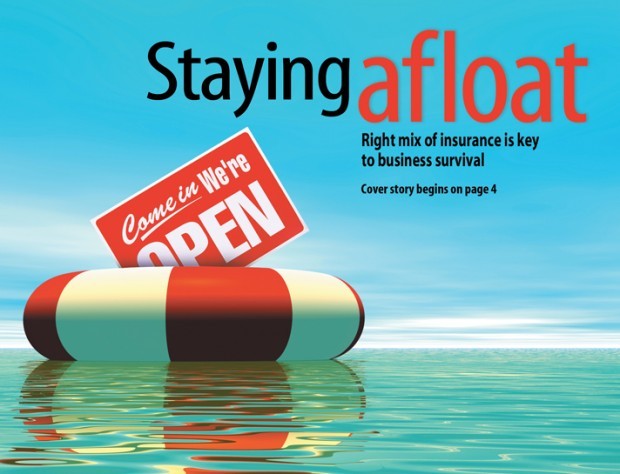 Insurance. It's a word that brings about a variety of feelings in business leaders. Ranging from perplexing questions to quiet confidence, business insurance is a topic that can both consume business owners and ensure that business can continue after tragedies or unforeseen circumstances. 
"Honestly, insurance can be a pain," says Shayna Shadowen, owner and office manager of Herrin-based Electrical Detectives. "Until you know the ins and outs of what your business needs and why it needs those things, insurance can take a large amount of time. In the long run, if you don't have it, events can really bite you and end up costing you more."
Much more, in fact, says agent Mike Lange of The Insurance House in Marion.
"You never know when or what is going to happen," Lange says. "Nobody has enough money to cover their own assets against what's going to happen. Even the biggest companies in the world have insurance to cover themselves."
Lange says having adequate insurance is about more than protecting the business.
"You have to remember, especially for small businesses, that the business is your livelihood. It's probably your main income stream, and if something happens — a robbery, a fire or if you're sued — it takes a lot of money to overcome that. Without insurance, you may be out of business," he says.
So, what sort of insurances should businesses have and how much? The answer depends on a number of factors.
"Business insurance always has three or four pieces to it, and it's very different from personal auto and home insurance," explains Matt Bishop, owner of Bishop and Elwell Insurance Agency in Murphysboro. "Business insurance is more like ordering al a carte at a restaurant. You have to make sure all of the parts of your business are covered."
For Shadowen, that means several different insurance products.
"We have full coverage on all of our vehicles, a general liability policy, workman's compensation, employees' health insurance, property insurance, unemployment withholding, umbrella coverage and bond insurance, as well."
In total, all of the policies can lead to lots of time and money going to insurance.
"We spend several thousand dollars every quarter," says Todd Darnstaedt, owner of Today's Technology Auto Repair in Carbondale. "Of course, paying the insurance is tough. The upside, however, is that somebody's got your back if something happens."
For most business owners, getting the right insurance coverage also means finding the right insurance agent.
"You have to find someone that you can talk to face to face," Bishop suggests. "If you don't have someone who can actually come to your business and see everything, you could be leaving yourself open. By just calling someone in an office, you may not think to tell them some-thing that an agent who visits with you might see."
Bill Oliver, senior insurance advisor at Oliver and Associates in Carbondale, calls this a "risk review" meeting, where agents analyze the business and determine exposures to potential losses.
"It's not rocket science. It's getting to know you and what you're doing," he says.
When it comes to types of coverage, some insurance is required. Employers are required to withhold for unemployment insurance for employees. Likewise, state law requires workman's compensation coverage.
"If you have any employees at all — even if it's just one clerical person working five hours a week — you have to have workman's compensation on that employee," Bishop says, noting that the amount of workman's compensation is based upon the amount of company payroll and the employee's duties. "Clerical people are rated differently than sales people that go out into the field, who are rated differently than people doing manual labor. It depends on what type of work is being done."
Liability insurance also is rated and priced differently, depending upon the type of business.
"Sometimes liability is based upon payroll. Sometimes it is based on sales. Sometimes it is based upon square footage of your space. It varies greatly, depending on what your business does," Bishop explains. "Liability covers you if something happens and other people have damages of some sort. It is the 'protect other people' portion of insurance. It doesn't necessarily protect your building or your goods; it protects other people. It protects your assets — or you could shorten that last word."
To protect buildings and property, property insurance will cover such things as structures, inventory, tools, equipment and cash. Businesses which operate out of rented space can obtain insurance that protects company property within leased facilities. Business vehicles, like the ones used by technicians in Shadowen's business or even Today's Technology's courtesy van, must have automobile insurance. Bishop says companies also need coverage for employees' vehicles if they are used for business.
"If you have employees driving somewhere in their own cars doing business for you, you need to make sure you have coverage to protect you in case something happens while they're out on your behalf," he says. "Even if we send someone to the bank to make a deposit in her own car, we have to have coverage."
Some businesses require even more types of insurance. Darnstaedt says he learned shortly after the May 2009 super derecho that blew through the region that he needed separate property coverage for his shop's lighted sign.
"Most people don't realize that if it's not attached to your building or if it is more than a certain distance from the building, it's not covered by your basic policy," he says.
Today's Technology also has a coverage called "garage insurance" which covers any damage to customers' vehicles while they are at the shop. Oliver says many contractors carry "completed operations" coverage in case something goes wrong weeks or months later after a service or repair has been made.
Other business policies include umbrella liability, which serves as an additional layer of protection, loss of use/loss of income insurance that covers times when business operations are interrupted and earthquake insurance.
Bishop adds that some companies carry a type of coverage known as "key man insurance." He says it's for businesses with an employee whose specific knowledge or training is absolutely necessary for the life of the company.
"This is a policy providing money to help the business stay afloat until they can reestablish that key person or train someone else for that special role," he says. "It's for someone with special training or very specialized knowledge, such as the formula to the secret sauce or some-thing like that."
Professionals such as physicians, accountants and lawyers need to have some sort of professional liability insurance. Errors and Omissions coverage, commonly called E and O insurance, protects engineers, accountants, insurance agents, real estate agents and lawyers, says Chad Smith of Carterville. Smith is a co-broker for Itasca-based Arthur J. Gallagher Risk Management Service, a professional liability insurance agency.
"Errors and Omissions basically covers any sort of clerical mistakes that a professional might make that may cause someone to bring a law-suit against them," he says.
Smith, who specializes in medical malpractice insurance, adds that the coverage required by nurses, physicians' assistants and doctors against mistakes, which could potentially cause physical harm, can vary widely.
"There are many variables that set the price of insurance," he says, explaining that geographic regions, experience and specialty can all impact the cost of coverage. As an example, Smith says that it is not uncommon for a Cook County obstetrician to pay malpractice insurance premiums of up to $60,000 per year.
Lange says a very valuable insurance coverage, which is often overlooked by businesses, is cyber liability coverage.
"If you have a website or database that could be hacked and any sort of customer information stolen from it, you have to notify everyone that may be affected by any security breach," he says. "It could cost you a few thousand to hundreds of thousands to notify all of your customers, provide them with identity theft coverage, and you may even be responsible for covering your customers' losses. It could put your company at a big-time risk."
Reducing risk is what business insurance is all about, Oliver says.
"It's a cost of doing business," he explains. "A lot of people will chase low premium, but you have to make sure your coverage is adequate for your exposure."
LES O'DELL of Carbondale is a regular contributor to Southern Business Journal and The Southern Illinoisan.