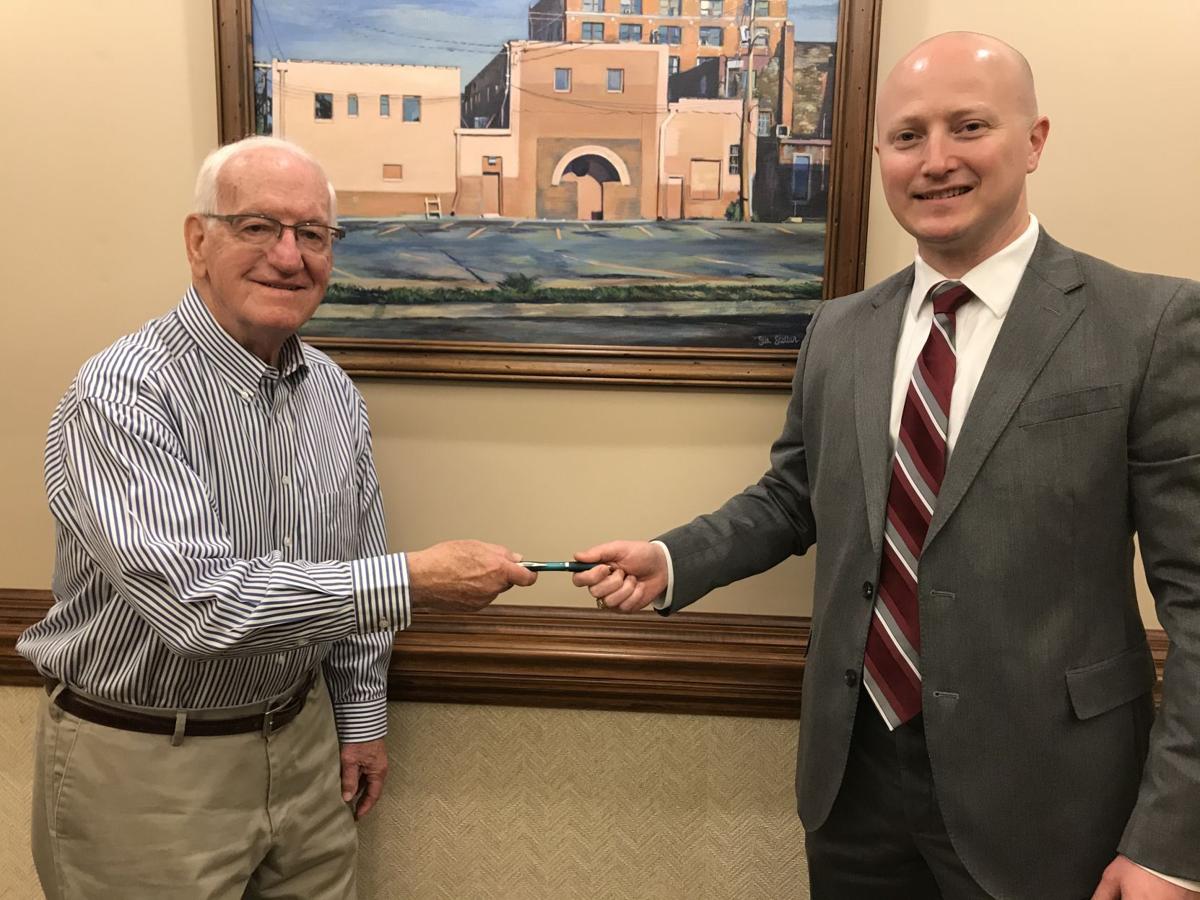 Few people ever consider what is involved in the business of running a municipality. Often, within city hall or behind the elected leaders, city departments and services is someone who makes certain things not only go smoothly but also legally — the city attorney.
In the Franklin County community of Christopher, Jeff Troutt has been that person, serving as city attorney for 43 years. Troutt stepped down last month, passing the reigns to attorney Jonathan Cantrell.
"I am 80 years old and I am in the process of winding up my practice," Troutt said. "In October, I completed 50 years."
In addition to five decades of private practice in Christopher, Trout served the city, doing everything from reviewing contracts and labor agreements to authoring codes and ordinances for consideration by the City Council.
"The attorney is appointed by the mayor, and, of course, that person changes from time to time; you serve at their pleasure. I am proud that I was appointed or reappointed by five separate mayors," he said.
He added that he has gained the most enjoyment from working with mayors and councils and seeing them take steps to make Christopher a better community.
"I'm proud of the accomplishments including the use of city funds and grants to upgrade the infrastructure of our city. I also think we have made improvements in the structure of the city in terms of how the city operated," he said.
Troutt said he estimates during his tenure that he drafted more than 700 city ordinances — nearly three-fourths of those on the books in Christopher.
Working with different compositions of the city council was sometimes challenging, he said, as sometimes all the elected officials did not see things the same way.
"I just did my best to keep them on the right track, whatever they did and I think they appreciated that," he said.
Troutt said his family has deep roots in Christopher and public service. His grandfather was a state representative in the 1930s. His great uncle was city attorney then, too. Another great uncle was mayor of Christopher. Like them, he has been proud to serve his hometown.
"I am glad that I grew up and lived where I did and when I did," he added.
As retiring city attorney, he had a say in finding his successor. He suggested Jonathan Cantrell of the law firm of Hart Cantrell in Benton.
Cantrell, 38, who has been practicing law for 12 years, was appointed by the mayor and approved by the council as the new city attorney. He brings with him experience working with a number of area municipalities and governmental entities including water districts.
In his new, part-time role, Cantrell will provided legal guidance to the community and attend all city council meetings, as well as taking over the drafting of ordinances.
He said he understands that Troutt is leaving some big shoes to fill.
"I keep thinking to myself that he has served as city attorney for 43 years," Cantrell said. "My understanding is that he is going to remain involved in the community in his retirement, so I'm sure he'll be available to help me. I am humbled that the mayor and council trust me with this responsibility and with the opportunity to fill his shoes."
The business news you need
With a weekly newsletter looking back at local history.