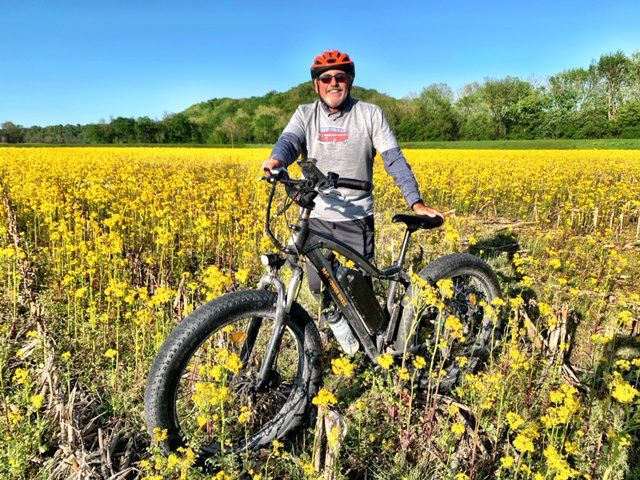 John Boyd, of Jonesboro, was looking for what some might call a retirement career — but he wasn't sure exactly what he wanted to do.
"When I retired, I thought that I really couldn't stop doing something. I needed something to do," he said. "But I wanted to make sure it was something fun."
His daughter had the perfect idea. Thinking of the fat-tired electric bicycle Boyd had been riding for some time, she asked him a simple question: "Why don't you just rent these for a living?"
With that, Shawnee Hills eBike Rentals was born. In the year since, Boyd has purchased a fleet of Rad brand power bikes which he rents to tourists and others looking to see Southern Illinois in a unique way. Most of all, he says he is having fun.
"I tell you, this is the only think that I've ever done in my life that has a 100% satisfaction rate. Literally everyone — including me — is happy about this."
Boyd rents the electric bicycles by the two-hour block, half-day, full days or even multiple days through his website, www.shawneehillsebike.com. He delivers the rental rides to area bed and breakfasts or other locations, meeting his clients and showing them how the bicycles work. He says some people even schedule rentals to take them on vacation with them.
Boyd says the decision to rent Rad Power Bikes was simple: He was a satisfied customer.
"I was an avid mountain biker in the past, but in recent years I wasn't doing much of that because of all of the hills and such," he said. "For some reason, ads for electric bikes started showing up on my social media pages. It got my attention and I ended up doing months of research then settled on the Rad Power Bike and I loved it. I'm crazy about them."
He says the Rad ebikes retail for about $1,500 each and the company produces a number of different models, several of which he has available for rent, including ones that fold for easy transport.
"Rad is one of, if not the, largest seller of ebikes in the country," he said, explaining that they are considered Class 2 electric bicycles which users can pedal on their own, use the battery-powered motor in the hub of one of the wheels for help with pedaling or ride like a very small motorcycle. The bicycles can reach speeds of up to 20 mph and can go 40 to 50 miles on a single charge when used to assist the rider (what Boyd calls "mid-range.")
"I'm not a huge fan of using the throttle other than for hills or crossing intersections. It's still a bicycle," he said.
Boyd says that about half of his business is people coming to Southern Illinois specifically to test ride one of the bikes. He offers a special one-hour test ride for $30.
"It's interesting because one thing I hadn't thought about initially was that the test ride side would be a really big deal," he said, adding that he often has people come in from Chicago or Kansas City for test rides.
He said a recent rider came from Florida. "Before people drop $1,500 on a bike, they would like to sit and ride one to make sure that it is going to be what they want."
If these test riders eventually order a Rad ebike, Boyd is paid a commission.
"It's become one of the better parts of my business," he said.
Boyd says he is enjoying his retirement career and so are his customers.
"These are a really great way to see Southern Illinois," he said. "We're just hills everywhere and that's the beauty of these bicycles — the hills just go away. You don't have to worry about them any more."
"One pedal turn and suddenly their face lights up. I call it the eBike smile. They say this is perfect and I think that is what makes me happiest about what I'm doing."