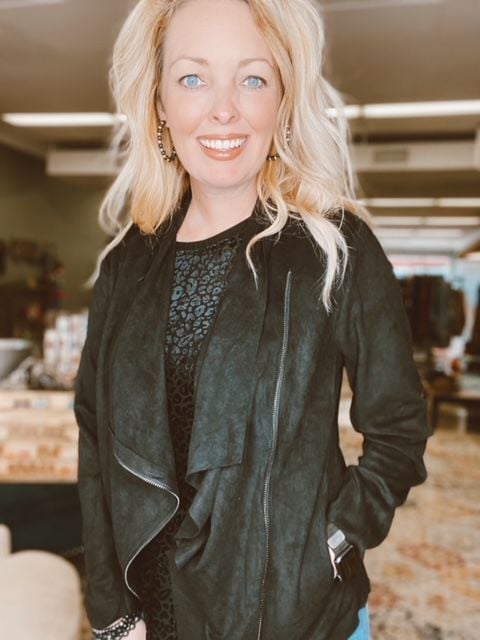 Lisa Heine was not certain her idea for a women's clothing store in Pinckneyville would work, but she was still willing to put her heart, her efforts and her time behind it. Despite her lack of confidence, the business she started, L3 Boutique, will soon be celebrating its fifth anniversary.
"Honesty, I never dreamed of owning a business, but I just saw a business opportunity," she recalls. "I was working at a local bank and was driving out of town to other small boutiques to buy cute clothes. I thought 'There's towns smaller than Pinckneyville that are supporting boutiques.' So, I thought I'd try it."
She says her husband was very supportive of her venture into entrepreneurship, as were two co-workers at the bank. Since the three friends all had names that began with the letter L, they suggested "L3" for the new venture's name.
"The name worked because it was short and sweet and I felt like it was catchy," Heine says.
In the boutique, Heine stocks clothing and other items that she thinks will appeal to Southern Illinois customers — just not a lot of any single item.
"I'd say one thing that is really important and actually is a key to my success is that I only order six or eight of any one style of shirt, for example," she explains. "I want to be mindful that I am in a small town and not everybody wants to be showing up at a wedding wearing the same blouse or same dress."
She adds that another advantage of carrying smaller quantities comes through the law of supply and demand.
"People know that if I post something on social media and they love it, they need to come in and grab it," she explains.
Heine says she also is mindful of being in a small town when it comes to pricing and to her role in the community.
"I try to give back to the community, especially the schools," she says, adding that much of the staff at L3 Boutique are area high school students, gaining exposure not only to work, but to retail and to customer service. She says she also tries to pass along the things she has learned in the last five years.
"I've learned a lot about myself personally and I've learned that owning your own business is harder than it looks," she says. "I've also learned that it is OK to ask for help and one really good piece of advice I was given was to do what works for you."
For that reason, Heine originally set her store hours as noon to 6 p.m. Wednesday through Friday to give her time with her small children. She's kept the same hours ever since, complimented by an online presence, which she says has been a huge help through the pandemic.
"The fact that I am almost to year five, especially during the pandemic, is huge. It's because of the community and the surrounding communities who have supported me," she says. "People are choosing to shop small and it's something I'll never take for granted."
The fact that her "little idea" has taken root and grown is not lost on Heine.
"I didn't think we'd make to year one, but the years just keep getting sweeter," she says with a smile. "I remember wanting to prove to myself that I could take a leap of faith and do it. I also wanted to show my kids that if you have a good idea — an idea you can't stop thinking about — you need to act on it."