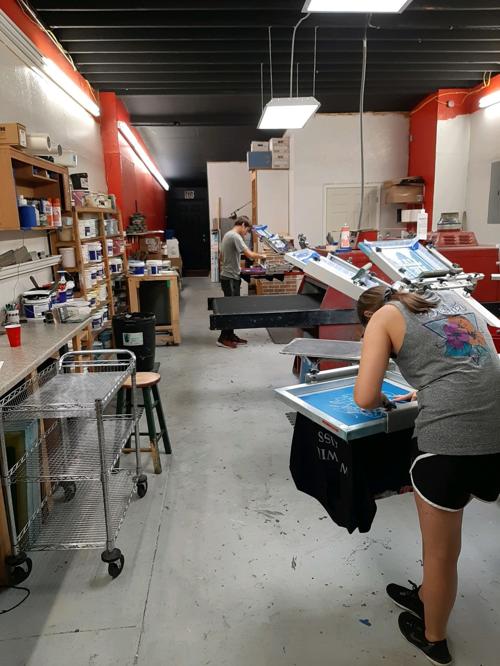 A desire to "find something different" just over 20 years ago led Du Quoin's Jean Provart to merge two existing businesses, add some new products and services, and grow the enterprise into one of the region's largest screen printing and custom products companies.
Since she first purchased what was then called Main Street T's and Country Store — a retail location that sold, among other items, Du Quoin High School letter jackets — as well as a local screen printing business, Provart has added promotional products and embroidery services, making the business a one-stop shop for school spirit wear, custom clothing items and marketing items.
"We've been going strong ever since," she says.
Main Street T's offers custom design work for shirts and other screen printed clothing, as well as advertising or promotional items. The retail store has a variety of ready-to-purchase items including a large selection of Du Quoin High School-related gear.
Provart says she and her family had no experience in the screen printing business, but learned the ropes rather quickly.
"Experience is the best teacher," she says. "But over the years, we've had some really good employees and teachers along the way. Our goal has always been to turn out a good quality product every time."
Provart says the business — like the custom products industry — has changed over the years.
"We've learned a lot. I mean, when we look back and some of our early designs and work, comparing it to where we are now, it's been a big change," she explains, adding that equipment and processes have changed the most.
"It's a lot more automated than it used to be. You still have to have lots of creativity, though," she adds. "When we first started, we had a camera that you used to create the films, now we are able to print off the computer, right to the screen."
She attributes the growth and stability of the business to a commitment to customer service.
"We've always focused on building the business the old-fashioned way of building relationships with customers," she says. "We try to serve our customers better than anyone else. We realize that at some point, everyone's going to have a problem; it's how we handle those problems that sets us apart. We're just trying to take care of our customers by putting them first."
Main Street T's offers embroidery of logos and names as well as screen printing and custom-imprinted items from a variety of companies.
"We can handle any size order, from one-offs to orders in the hundreds of pieces," she explains. "We try to meet everyone's needs."
Provart says the business will soon be offering a special service for area sport teams and organizations looking to raise funds — the ability to have their own online store.
The business news you need
With a weekly newsletter looking back at local history.