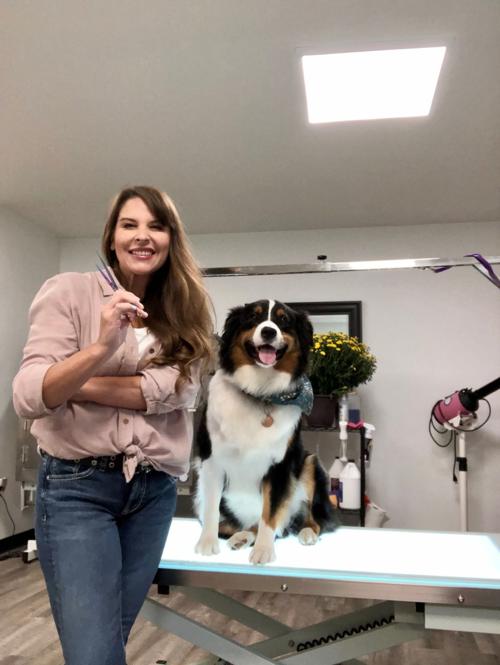 Like many entrepreneurs, Merrisa Madden's journey into business began as a solution to a problem.
The Marion resident was trying to find an easier way to have one of her dogs, Bam Bam, groomed. Bam Bam was getting older and getting him to the groomer and to be a willing participant in grooming was becoming more and more difficult. Madden wondered if she could learn to groom him.
The answer was yes, and not only did Madden learn to groom her own dog, she discovered a talent and passion for dog grooming, leading her to establish her own dog grooming salon, Hello Doggy, located just south of Marion.
"I thought it would be nice if I could learn how to groom him on my own, so I took a class at Southeastern Illinois College about three years ago and it went really well," Madden said.
She says while she was able to groom Bam Bam as well as another of her dogs, Dolly, she was more cautious when considering grooming dogs for other people.
"I didn't jump right in to that," she said. "I wanted to really know what I was doing because there's a lot to know and, after all, you are working with animals and sharp instruments."
Madden says a couple of other area dog groomers worked with her.
"One mentored me in her own shop and another let me bring in friends' dogs and she helped showed me ways to help the dogs look better and critiqued my work. I probably did six to nine months in a mentorship with both of them," she said. "Then I felt confident that it was time to break out and open our shop."
Madden, who also operates her own insurance agency in Carbondale, says naming the new shop was easy, she only needed to look to Dolly, her constant canine companion, a soon-to-be 3-year-old Australian shepherd.
"She's everywhere with me," Madden said.
Madden offers grooming services at her two-year-old shop including baths, pet-style trim, nail trims and other procedures. She adds that every grooming appointment includes one other treatment — a photoshoot with the dog showcasing the animal's new look.
"We like to get them all glammed up and in front of different backdrops for a photoshoot," Madden said. "We share the photos with their owners and they love it. It's a way for me — along with the grooming — to be artistic."
She says the photo shoot is included automatically with every grooming appointment, adding that she is currently grooming 20 to 30 dogs weekly.
"We're currently booking appointments a few weeks out," she said. "I love working with the animals, making them look nice and making their owners happy."
The business news you need
With a weekly newsletter looking back at local history.