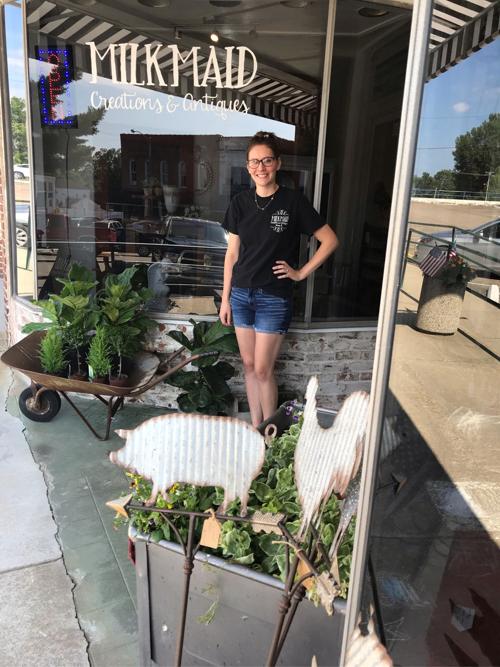 The words introvert and entrepreneur do not often go together. But for Emily Kerley overcoming the first has led to success as the latter.
The owner of Milkmaid Creations and Antiques in Vienna, has grown beyond being a shy woman who loves crafts, becoming not only a business owner but also a proponent for small businesses throughout Southern Illinois.
Moving to Johnson County a little more than three years ago, Kerley decided to continue a family tradition of crafts and antiques.
"Back in Missouri, my mom and I shared a booth at an antique mall and I have always been crafty and like to repurpose things," Kerley said. "When we moved here, we decided to grow it into a full-blown business."
The name, Milkmaid Creations and Antiques, is a nod to Kerley's family heritage as dairy farmers and showcases all that the business offers.
Kerley says she sells antiques, including those from area consignors, new home décor as well as some of her own handiwork. She also participates in regional markets and special events as well.
"We have a wide variety in the store. I do like to paint, refinish and upcycle furniture and other items," she said, adding that she often completes projects for customers — finishing furniture or even handling some upholstery.
The store also carries products for furniture refinishing and Kerley often teaches other her craft. Regularly scheduled classes not only show others how to do it, they serve as social events.
"The main do-it-yourself class that I do is furniture painting," she said. "Customers can bring in a small piece of furniture or something like a picture frame and then we take time in the evening learning how to get it ready to paint and then they actually get to paint their item and take home their finished piece."
Kerley says the classes are a great introduction to finishing furniture and often lead to customers wanting to do more.
"It gives them an opportunity to try the paint before they dive into to trying to tackle bigger pieces on their own," she said.
She says often customers will organize a sort of "refinishing party," recruiting others to join them for one of her classes.
"They'd get their girlfriends together and come on a Friday evening, sit and chatter while they paint and then all go home with their finished piece. It is a great time," she says.
The shop, which is currently open only on Fridays and Saturdays, also serves as a home base for Kerley's efforts to promote and support local businesses. She is active in community events in Vienna and across the region, even organizing efforts to boost other small businesses.
She led efforts to organize the Southern Illinois Small Shop Hop, a collaborative effort of local business from Metropolis to West Frankfort and Carbondale to Harrisburg, where customers would be encouraged to visit as many of the 20 participating stores as possible on a Saturday, receiving special discounts and deals at each. The effort, which was originally planned for June is on hold because of COVID-19 concerns, but Kerley says she's looking forward to holding the hop later this year or in early 2021.
"I realized that Southern Illinois has a lot of really great small businesses and I wanted to try to work together," she said.
Kerley adds that her efforts to overcome being and introvert and involving herself in the community has been good.
"The community has really embraced me and my business and I am grateful for that," she said.
The business news you need
With a weekly newsletter looking back at local history.