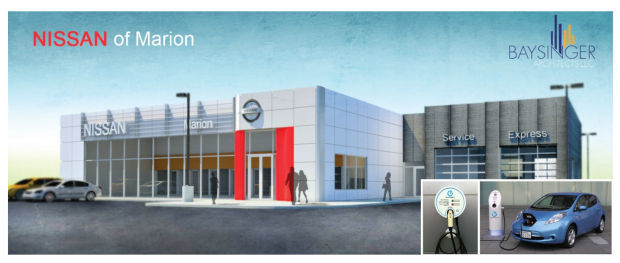 MARION – More news on the auto industry in Marion.
Though not a new dealership, Nissan of Marion is expanding into a 16,000-square-foot dealership, expected to open in September.
Construction started in late March, on the heels of Volkswagen of Marion opening earlier this year in a temporary location as it builds its new lot.
Offering enhanced services and a larger inventory, the new Nissan location is expected to increase sales and allow the dealership to grow, co-owner Brad Poole said.
Poole and his partner, Watermark Automotive Group President Mike Absher, acquired the former Marion Nissan dealership a year ago and since changed the name to Nissan of Marion.
Now sharing a lot with a separate dealership, Poole said distinguishing Nissan from the other and moving from a shared, smaller space is needed for growth. Nissan's current location, not including the lot, is 6,000 square feet.
He added the demand for new and used vehicles in the city and beyond is vibrant.
"We are absolutely at maximum capacity," Poole said. "It makes it very difficult for us to grow and meet the demands of our customers."
Now limited to three service bays and three sales offices, the new site will expand those capabilities, adding a full- and express-service department, more offices, a larger lot and an automated car wash, Poole said.
Used and new vehicle inventory is expected to increase 100 percent and 50 percent, respectively, Poole said. The dealership features the entire Nissan line.
Sales are expected to more than double at the new site with 60 or more vehicles sold a month, he said.
Poole said he is not concerned with the number of competitors in the area, adding Nissan is an emerging brand in the United States and unique, offering a lifetime, powertrain warranty on its vehicles.
"I don't fear over-saturation because Nissan is fairly exclusive," he said, adding the closest Nissan dealers are in Centralia, Evansville, Ind. and Fairview Heights.
"There is no doubt we will continue to grow," he added.
In relocating, the dealers were required to meet a series of Nissan stipulations, one of them being to remain in Marion, given the city's growth and traffic volume.
Much of the new $3.5 million facility, 3209 Banterra Drive, is within a city tax-increment financing district.
"Not only was Nissan insistent that we stay in Marion, Marion was very insistent that we stay," he said.
The business news you need
With a weekly newsletter looking back at local history.