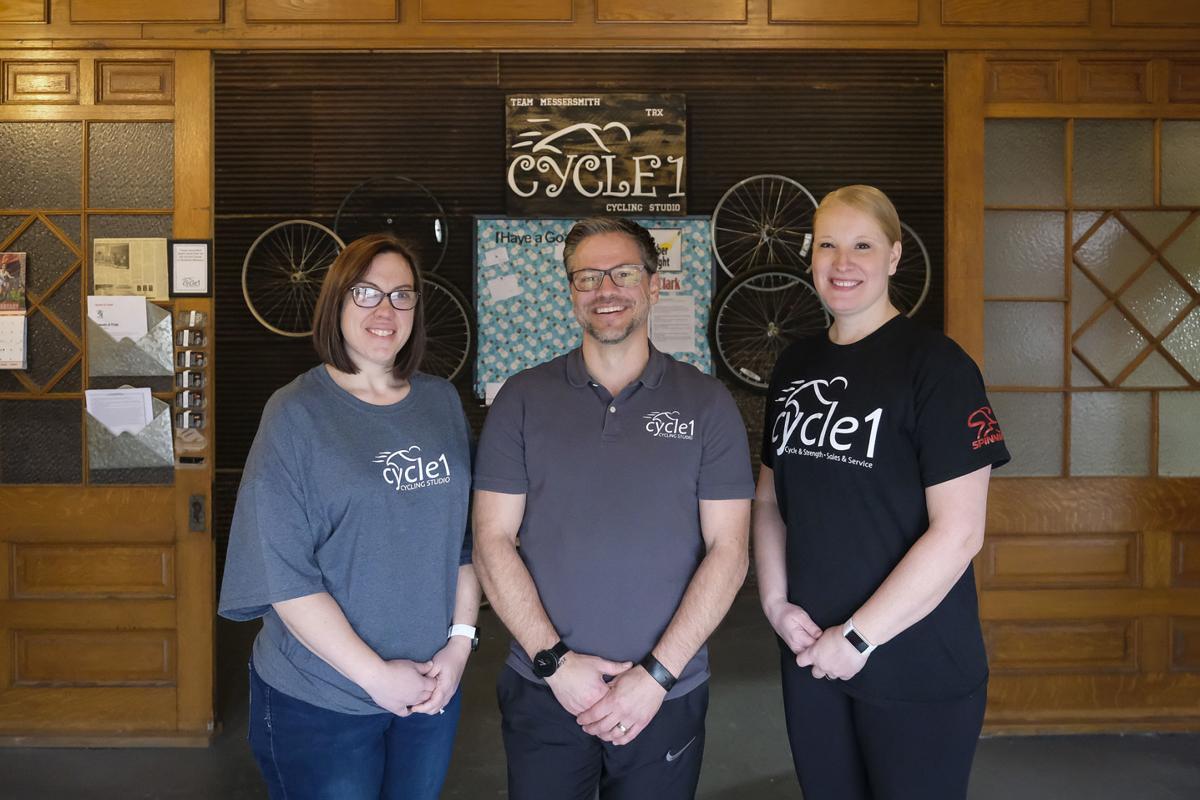 Lee Messersmith is quick to point out that Cycle 1 Cycling Studio is not a gym. In fact, he calls the Benton fitness business a "non-gym gym."
"The big focus for me is for it not to feel like a gym," he said. "Everything that we do is very non-'gymesque.' Everything is non-threatening; we don't do drama and we are a group fitness-based programs."
He says even the facility itself is designed to present a different ambiance. He calls it relaxed and inviting.
"Even from the time you first walk in, it doesn't feel like a gym, it doesn't look like a gym. It's almost more like a restaurant or a coffee shop than feeling like a fitness studio," he said.
Cycle 1's mission statement includes "community." For Messersmith, this means participants working together, not competing against one another. The studio does not offer any individualized programs; classes are only available in a group setting.
The studio offers indoor cycling — also known as spinning — and strength training with bands called TRX straps hung from the ceiling.
"Anything you can do with a weight-bearing machine or with free weights you can do with these TRX straps," Messersmith said.
He says all of the fitness activities at Cycle 1 are guided by a certified coach, including spinning.
"We have people of all levels and ages who spin," he said. "You go at your own pace and create your own resistance. Anyone at any fitness level can do any of our programs with modification. It doesn't matter where you are or what your physical limitations are, we can literally help you move toward your fitness goals."
You have free articles remaining.
Messersmith said the studio recently began offering a program called "Pound."
"It's cardio movement based and set to choreographed music using weighted drumsticks. It uses a lot of dance-type movements, but you are basically playing drums like a rock star to the music, led by a certified coach," he said. "It's full body exercise; it's really neat."
He's also taken the exercise outdoors by offering bicycle sales and service. Cycle 1 is a Cannondale, Schwinn and GT bicycle dealer.
"Our vision was always that spinning would be the hub of Cycle 1, but from there we would branch out to other related things, like a bicycle shop. We offer service as well as bicycle rental, which has proven very popular with visitors to nearby Rend Lake," he said.
He says the bicycles are more expensive than those offered at box stores or even other bike shops, but it is for a good reason.
"We believe in quality and we believe that you get what pay for in a bike," he said. "Let us put you on the best bike you can afford and I guarantee you'll see a difference."
Messersmith said he fell in love with cycling while he was a seminary student in Fort Worth, Texas. Cycle 1 lets him share his passion with others.
He says people have really taken to the "non-gym" and to the programs and coaching offered at Cycle 1 and he is excited about possibilities.
"I never thought we would be where we are now. My hope and my goal is that this will continue to grow as a community. As the market changes, so does my vision and it evolves along with what we are offering," he said, adding he currently is considering adding several sport-specific programs.
Cycle 1 Cycling Studio is located at 117 E. Smith St. in Benton. For more information, call 618-200-9242 or visit the website at www.cycle1studio.com.