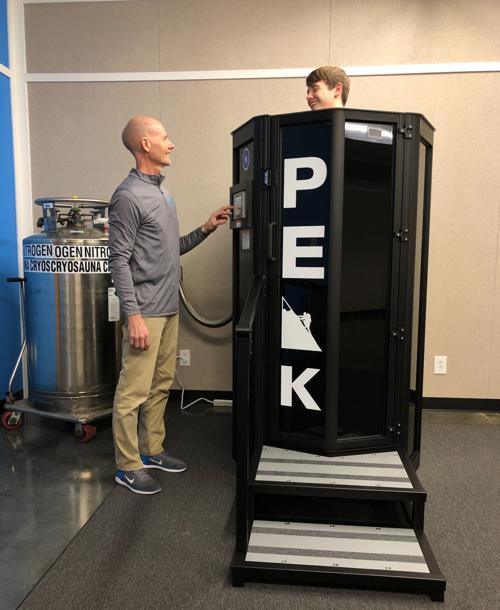 Whole-body cryotherapy has been popular in Europe for three decades and its benefits have won over athletes and health practitioners in the United States. Now, a local physical therapist has brought the cold therapy technique to Southern Illinois.
Also known as cryosauna, the treatment works similarly to ice baths by rapidly lowering the body's temperature for one to three minutes, explained Todd Vaughn, owner of Peak Cryosauna and Compression in Carterville. Vaughn, who has a doctorate in physical therapy, is a board-certified orthopedic specialist, a certified strength conditioning specialist and manual therapist who has been practicing for 29 years.
He says the cryotherapy can be helpful for a variety of conditions.
"It first originated in Japan in 1978 and was designed to treat autoimmune disorders such as rheumatoid arthritis, multiple sclerosis, lupus and fibromyalgia, but in Europe, they started using it with rugby and soccer players for recovery," he said.
Vaughn said the client stands in an insulated chamber which exposes the body from the neck down to extreme cold for a two- to three-minute session.
"The cold temperature causes a basal constriction of the extremities with the intent to maintain core temperature of the internal organs. All of the toxins and inflammatory components are brought back to the internal organs where your body can process and get rid of them," he said.
Once the session is complete, nutrient-rich blood returns to the extremities, where it enhances recovery. Vaughn said the process can decrease inflammation and also causes a release of endorphins — the body's natural pain killer.
"If you can reduce inflammation, you are going to feel much better," he said. "People who have arthritis or inflammation, they are going to feel much better for that reason alone with the cryonics."
He added that the treatment also increases white blood cell counts and burns as much as 2,000 calories as well as increasing collagen production, improving blood flow to the skin and increases energy levels through the production of adrenaline. He adds that the process is perhaps best known for helping with athletic recovery and added that most professional sports teams and many Division I college athletic programs make systems like his available to athletes.
He said Peak Cryosauna and Compression offers sessions for about $40 each as well as treatment packages. As the only provider of the service in Southern Illinois, Vaughn said wants to make cold therapy affordable.
Cryotherapy is not covered by insurance and has not yet been approved by the Food and Drug Administration.
"It's been used in Europe for 30 years, but the research here in the U.S. has not caught up with the science," he said. "This is, in my opinion, the most technologically advanced therapeutic modality that I have seen in 29 years of practice.
"It is something where you will feel better right away, but it depends on the nature of your problem. If it is more chronic, it's going to take longer to see more long-term results."
Vaughn said clients wear insulated socks and gloves to protect finger tips and toes during the sessions, where the body is subjected to temperatures in excess of 120 degrees below zero.
He said that he enjoys the opportunity to educate potential clients on the benefits of a cryosauna and the process. He explained that he personally does two to three sessions each week. The business also offers a NormaTec compression recovery system, a system that enhances fluid movement for recovery without the use of cold. It's another option for people with inflammatory either with the cryosauna or alone.
He said he believes that, like professional athletes, people will find cold therapy very helpful.
"This is something I have found to be really helpful in terms of helping me exercise more vigorously and not have the same inflammatory components that normally would keep be from exercising as often," he said.
Vaughn said the facility accepts walk-in clients, but appointments are recommended. He said sessions can be scheduled by calling 618-733-3033.
Peak Cryosauna and Compression is located at 500 E. Plaza Drive, Suite 3B, in Carterville.
The business news you need
With a weekly newsletter looking back at local history.