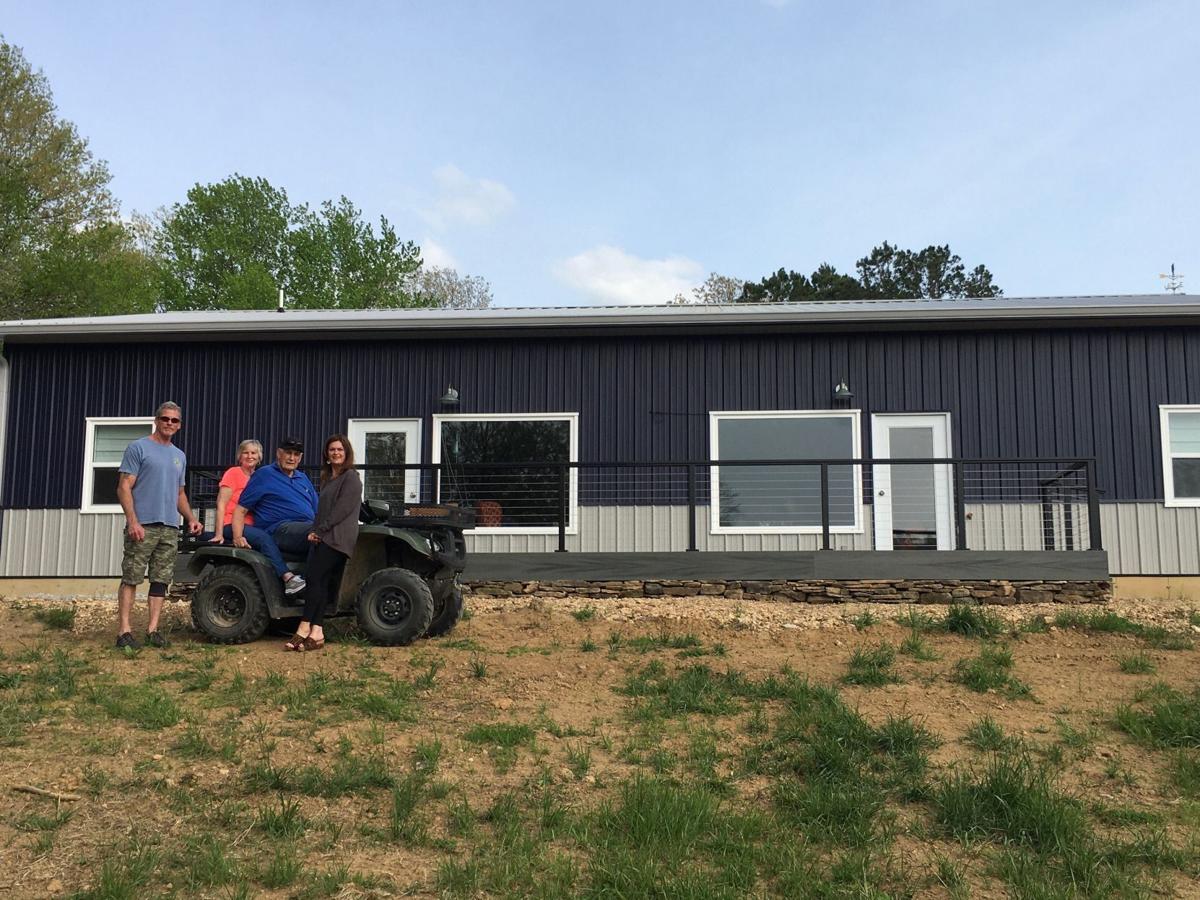 Cheryl Rhine is looking forward to what she calls her "new retirement fun job." After all, to hear her describe it, it won't be much of a job at all; just a matter of helping out family with their new project and taking care of a few visitors.
Rhine's new role is as manager of the Rhine Hilltop Inn, a Union County vacation rental owned by her cousins, Kendall and Gail Rhine. Technically, her duties officially start at a ribbon cutting and open house Sunday.
The Rhine Hilltop Inn is a 2,400 square-foot, four-bedroom, two-bath new home on land adjacent to a farm Kendall and Gail Rhine own just north of Alto Pass. The couple actually built the home as a place for family members to stay when they are visiting. When family's not around, they've decided to make it available as a short-term rental property, perfect for vacations or weekends away.
"They asked me if I would be interested in managing it for them, and I quickly and excitedly told them yes," Cheryl said.
She called the job "perfect for her," following a 33-year career at Choate Mental Health, where she was involved in a number of outreach and marketing efforts including work with tourism officials.
"Southern Illinois tourism is kind of booming and this just a great space that people can really enjoy," she said. "I love meeting new people and I enjoy establishing friendships. I want to make it special for people who come and stay."
The Rhines' initial marketing plan is simple: word-of-mouth.
"We decided to do it that way for now," she said, adding that a website and Facebook page are in the works. "We all have a pretty large circle of friends and we are hoping our guests will tell others."
The plan seems to be working. She has already booked several stays for later this summer. Cheryl said her goal is to make every guest feel comfortable and welcome.
"I want to make their visit special. For example, when the local orchard has ripe peaches or apples, I'm going to get a basket as a small welcome gift for those who are staying," she explained. "I want to find out everyone's favorite things. If they are coming to the wine trails, I want to have a bottle of local wine ready for them."
Each of the bedrooms features a king-size bed, so the home can accommodate up to eight. There's a gas fireplace in the great room, a fire pit in the front yard and a large deck. A creek runs through the property and hiking is always an option. She says all of the necessities from cookware and plates to towels and linens will be provided. The inn rents for $300 per night, with a discount for longer stays. An additional one-time cleaning fee is based upon the number of occupants. Cheryl will be the one doing the cleaning and her husband Scott will handle all of the maintenance on the property.
"You know, I actually requested that they let me be the one to clean because I want to know if something's broken or if we're running low on something for our guests," she said.
Cheryl said her favorite feature of the home is the views.
"The views of Bald Knob Cross are beautiful," she said. "It doesn't matter if you're sitting on the front deck during the day or looking at it when the cross is lit up at night, the views are just magical either way. This is a very peaceful place and I think people will enjoy coming here."
A ribbon cutting and open house for the Rhine Hilltop Inn is set for 1 p.m. Sunday with refreshments and tours of the facility.