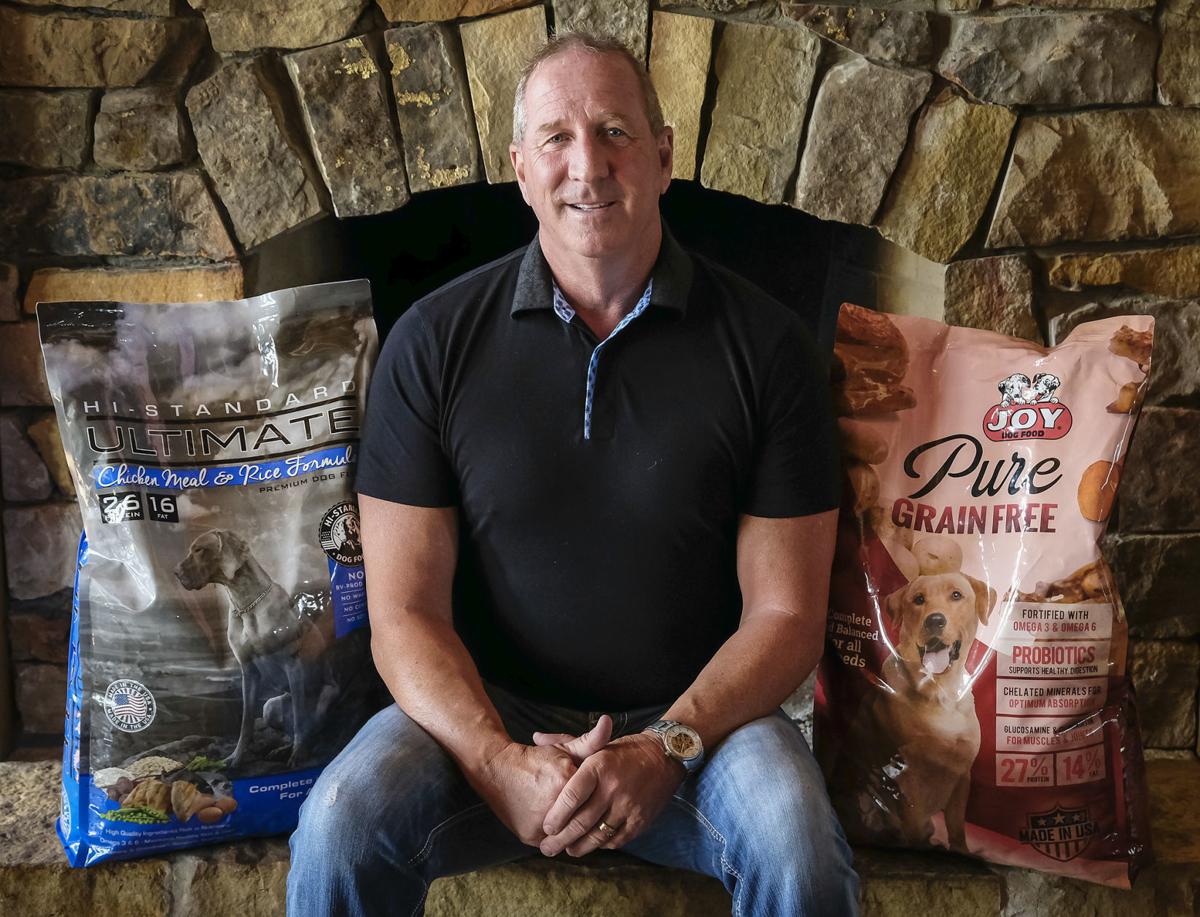 Don't call Wade Graskewicz an overnight success.
Yes, it was one telephone call that put his dog food company on the right track, but for the owner of the Hi-Standard and Joy dog food brands, it was lots of hard work that led to that telephone call and lots of work afterward to continue the success.
Graskewicz had started Pinckneyville's Hi-Standard Suppliers with his father-in-law in the late 1980s. It was a general store of sorts, offering everything from dog supplies to hunting gear, knives to animal feed. Graskewicz was balancing full-time work as a retailer along with another 40-hour-a-week job at a local coal mine.
Eventually, he bought full ownership of the store and in 1998, decided he needed to change his focus.
"I knew I needed something to specialize in," Graskewicz said. "I looked at several things and then realized that if I could get my own line of pet food, I could control the pricing and the ingredients and maybe do something with it. I named it Hi-Standard after the store and started out really, really small."
He says he started with just three products, all sold locally. He was working to develop his own dog food formula — one that was high quality, but offered at a reasonable price.
"I was delivering out of a pickup truck after work. It was pretty stressful," he said.
Sales grew slowly, not only within the region, but Graskewicz got a few calls from other states, too. Then, on a Friday night as he was walking to a Pinckneyville Panthers' football game, he got the call — the call that would make Hi-Standard an "overnight success."
You have free articles remaining.
"This guy up in the thumb of Michigan called. I could tell he was mad and he told me he was frustrated with the line of pet food (that he was currently carrying in his own store) and he asked if I'd sell him a tractor trailer full of dog food. I was like, 'Oh, my gosh,' and that was it."
Graskewicz said other orders began to come in.
"The I got another phone call and another," he said. "It was all over: Ohio and West Virginia and Kentucky and it just started snowballing. All within two or three years, it was on a roll. It just exploded and I'm thankful for that."
He continued to grow the business, offering Hi-Standard foods directly to retailers, keeping costs low. In 2011, he purchased the Joy Dog Food line and began the task of updating packaging and bringing the line up to his own high standards.
"Joy opened some doors for us, but Hi-Standard still outsells it, but last time I checked, we were in 44 states and some foreign countries," he said.
He says the Joy brand is aimed more at sporting dogs whereas Hi-Standard is designed primarily for family pets.
Graskewicz credits some success on never losing focus of being a family-run business where everyone is focused on the business and taking care of customers.
"Just the other day, we had all the lines lit up, ringing in the office, so I jumped in and answered a line. It was a customer from Utah or Idaho and he had some questions regarding which product he should be feeding his dog, so I answered his questions." He continues, "Then the caller asked, 'Who am I speaking to?' and I told him my name. He then asked, 'What is your title?' I told him I was the owner. He thanked me for answering his questions but then asked, 'What are you doing answering the phone?' I told him I jump in and do whatever needs done."
Graskewicz says his goal is to provide the best possible dog food that he can put in the bag for a price that is right. He says he plans to continue to expand into new territories and is looking at developing some new products, just like he did at the beginning.
"I was at the right place at the right time," he said. "You have to remember, that when we started we were selling zero bags of dog food, then it started snowballing.