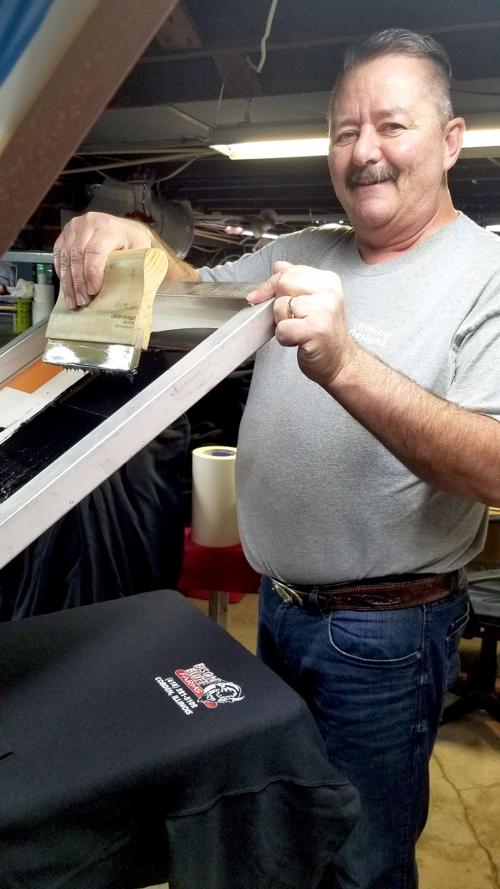 A local high school's band need for decals 12 years ago led David and Wendy Preece of Murphysboro to "dive back into" screenprinting.
The couple had a small business in Chandler, Arizona, where they made custom T-shirts, decals and signs as a way to earn some extra money, but after moving to Southern Illinois, there were no plans to re-establish the business.
"We were band parents and one of the guys said he needed some help with a fundraiser. We started helping and got to talking about our business in Arizona and one of the guys said he knew of someone who had some screenprinting equipment sitting in a barn. We made a deal and bought it and then we got back into it. It seems like we never left it," David Preece said.
At first, Striking Designs was something the couple did on evenings and weekends. David was working as a landscaper; Wendy worked in an office at Southern Illinois University. Today, the business is the couple's only line of work.
The company offers a variety of screenprinted products, including T-shirts, vinyl signage, banners, vehicle graphics and more, Preece says. He says they also offer a process called sublimation, which allows for the production of custom coffee mugs and ceramic or porcelain items.
Preece says that the company grew mostly from word-of-mouth. "We tried advertising, but that didn't work for us," he said.
Satisfied clients, however, told others.
"We started picking up a few customers here and there and we just grew," he adds.
You have free articles remaining.
Preece says the couple can do orders as small as a dozen items but have also fulfilled orders of more than 1,000 T-shirts for a client, all from their rural Murphysboro basement.
He says that work on a new facility — a 1,200 square-foot shop building on the property — and soon all of the presses and dryers will be moving into the building. "I think, though, that we've already outgrown it," he said with a smile.
Preece says he enjoys being a small business.
"We don't want to be huge," he said. "We want to be able to do the fun retirement stuff, too."
In fact, Preece says that he recently told Bob Chambers, founder of the large Murphysboro screenprinter Silkworm, he never wants to grow as big as Chambers' business.
"We cater to small orders and I like that," Preece said. "We try to be pretty easy to work with and even make ourselves available whenever it is convenient for customers."
He adds that being small allows flexibility, as Striking Designs often creates T-shirts to sell at retailers or in their online Etsy shop called Down Home Duds. He says new outlets such as online sales is just part of the on-going growth of the business. He says while screenprinting has stayed pretty much the same over the years, he still is eager to learn new techniques and ways to make the process and resulting products better.
"We just try to keep track of what is up-and-coming; to see what's out there to make sure we are giving customers what they want," he said. "It's all about customer satisfaction."
The business news you need
With a weekly newsletter looking back at local history.