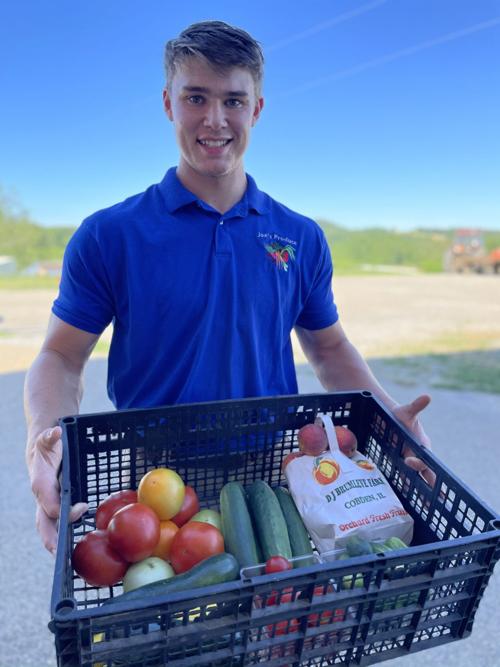 CARBONDALE — Dozens of people who love fresh produce are glad that Joe Brumleve listened to his mother. Otherwise, they might not be enjoying vegetables and fruits the Southern Illinois University pre-med student brings to their home each week.
It was Brumleve's mom who suggested he consider produce delivery when he was searching for ideas to fulfill part of his coursework at Cobden High School two years ago. As a student in the Union County CEO program — an academic experience which introduces high school students to business leaders and the concepts of entrepreneurship — Brumleve was required to start his own venture. He just wasn't sure what that business should be.
He said he considered several ideas; ones that would build upon his family's own produce business which includes selling direct to consumers at area farmers markets, but still be unique.
"Me and mom were discussing some ideas one day," he recalled. "She said, 'Well, you know, you could just deliver produce.' I wanted to think about something else to do, so I put that on the back burner. Then I woke up in the middle of the night and thought that, yes, I could deliver produce."
After giving it more thought during waking hours and analyzing some numbers, he knew he had found his CEO project. That business, Joe's Produce, is now in its second year of making deliveries.
"It's a prepaid produce delivery subscription where, for a one-time payment, I deliver produce to people at their home or business. I deliver each and every week," the 19-year-old said.
Most of the produce — tomatoes, squash, cucumbers, peppers, sweet corn and more — comes from Brumleve's farm in Union County. He purchases other items such as blackberries, lettuce, onions and peaches, wholesale from local growers for inclusion in his delivery boxes.
Even though Brumleve conceived the business before the COVID-19 pandemic, the health crisis impacted his business — in a good way.
"It made my business better," he said. "I was able to get people good produce and they never had to go to the farmers markets."
He said word-of-mouth and Facebook grew his business.
"Within the first month of taking subscriptions last year, I had about 50 people and then it worked up to about 120," he said.
Now in the second year for Joe's produce, he spends as many as five hours two days each week making deliveries in his pickup truck. Counting time preparing the boxes and picking some of the produce, he estimates his "summer job" is a close to a full-time affair. He is serving customers in nearly 10 Southern Illinois communities.
"I want to keep it local," he explained. "I want to put stuff in baskets that's still going to be fresh when people get it."
He said customers this year will see more fruit in their weekly deliveries, especially peaches because of a favorable growing season. With each delivery, he brings a crate stocked with items, picks up an empty crate and visits with his clients.
Brumleve said he is not sure who enjoys the deliveries more -- him or his customers.
"I love meeting all of the people in the community," he said. He added that he also enjoys serving other business people – many of whom he met through CEO. "It's great having other business people subscribe since they're running their own businesses and can't get to the markets themselves. I absolutely love doing this."