Sometimes, Julie Eubanks still feels like she's in high school, back when she was the only girl in woodshop class. She'd squeal to her mom about using the power saw in the same form other girls would after baking a pie in home-economics class. 
"It was always like, oh that's for boys, you don't want to do that, but I did," Eubanks, 47, said. "It's just something I've always wanted to do."
Thirty years later, Eubanks is building a business around it. And it only took a few clicks to make the decades-long dream happen – because her business, called Spikey Wood Works, is online only.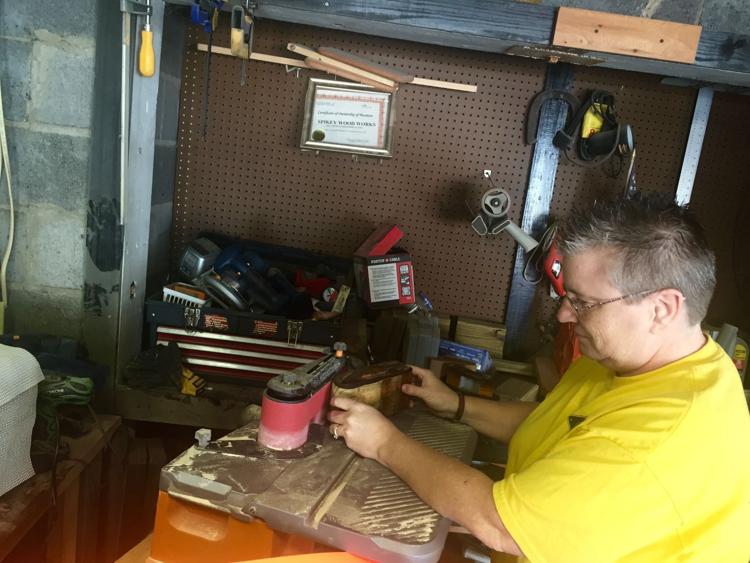 Her website, which went live earlier this month, is the main sign that her business exists, plus a certificate of ownership from the city. That's where she houses photos of cutting boards that she makes from scratch in her backyard workshop.
Eubanks is one of many who are following the Internet's call of easy entrance, according to Kyle Harfst, executive director of economic development at Southern Illinois University.
He sees plenty of people starting a business with only the use of websites, social media and old-fashioned word of mouth. 
"It's easy to get started, and that's the appeal of it," Harfst said. "It's less expensive, because you don't have to put a ton of capital into it, like you don't have to refurbish a whole storefront or something like that."
Starting out online was the lowest-risk strategy for Eubanks. Even though she has a college degree and years of engineering experience, the job market is tough in Christopher and around Southern Illinois, she said. 
"I always wanted to do this, and I just kept putting it off," Eubanks said. "We just don't have the kind of money to open up a real store." 
She shares the site's link on Facebook and passes out business cards around town and makes YouTube videos for marketing. At least 400 people visited her site last week, a statistic she checks on several times a day.
Plus, Eubanks can run her business in her pajamas, and update her website from the comfort of her couch if she wants to. She can check on orders while making dinner with her husband. Spikey Wood Works is never really closed.
But that always switched-on feeling can be too much. Mary Mechler sold her online business four years ago, after it turned into an around-the-clock job.
Mechler, who is now a technical specialist at the Illinois Manufacturing Excellence Center, said she never felt like she could never really log off.
"Back then, it became more demanding than I thought it would," she said. "I couldn't do that and have a life."
She was always tracking the number of visitors and trying to get higher on Google searches.
"It's really easy to get kicked to the bottom of the list, which is not where you want to be," she said. "It was always a numbers game, and how does one person compete with huge companies?"
There are other challenges, according to Harfst. Without employees or a physical location or a lot of upfront capital, online-only businesses can fade into the sea of dot.coms and Facebook statuses. 
"Driving traffic is a challenge and it's competitive," he said. "You're one of many businesses, you'd have to develop a niche or really stand out somehow."
Just like opening a brick-and-mortar shop, he said online-only business owners have to think of it as a serious venture to have a chance.
"Don't think of it as a hobby, it can be hard to start a business, it can be hard to differentiate yourself," he said. 
But Eubanks is willing to give it a try, hoping she won't just end up pressing delete on her business in a few months. 
"I never wanted to think, if only I had tried, and it worked," she said. "I didn't want to have regrets, and I felt like this was only possible with the Internet."