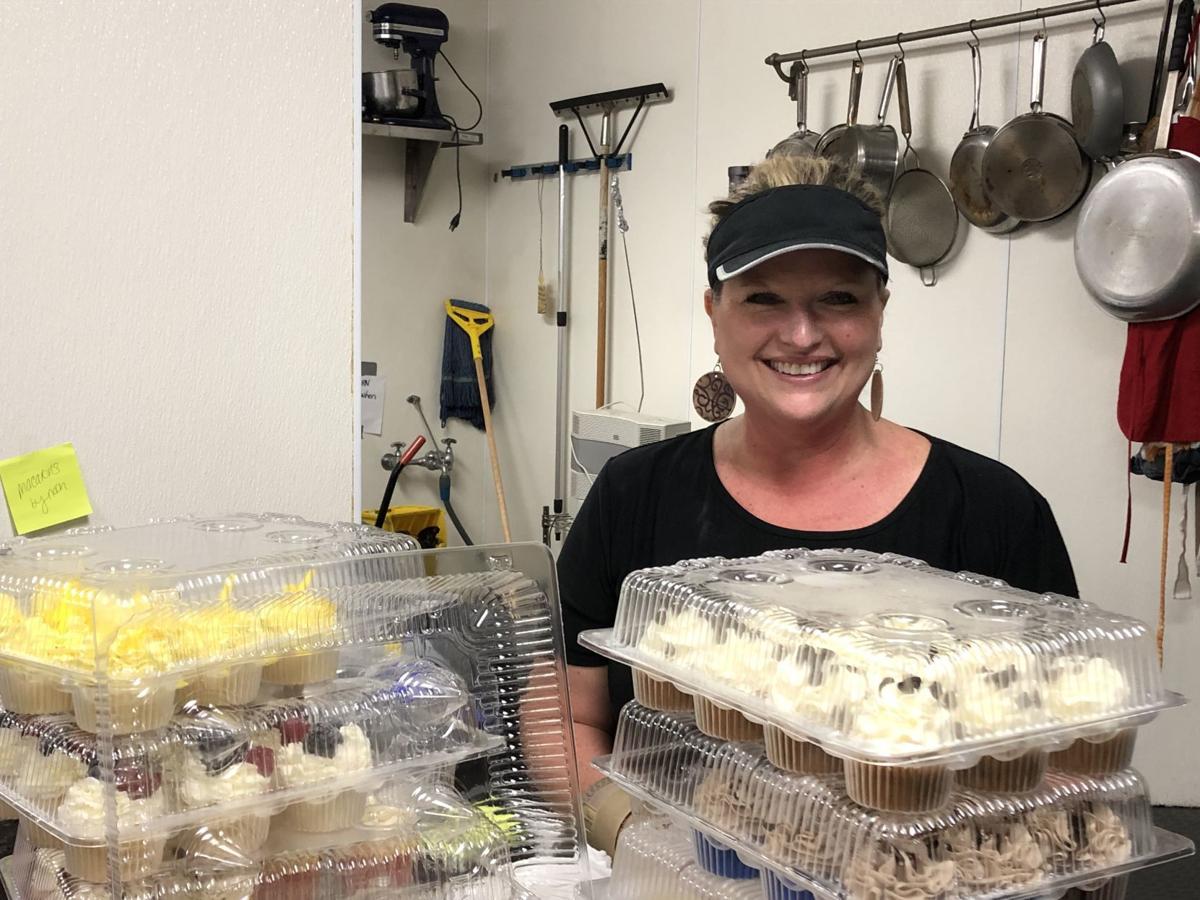 It takes a little effort to find Granny Puckett's Cupcakes. Even though the bakery's official address is on Park Avenue in Herrin, it's not there. Rather, in the alley, around back, at the rear of the what used to be The Annex is a small, drive-up window.
For those who make the effort, entering the alley from East Monroe, pulling up to the window and peering at the chalkboard of offerings, the result is sweet: cupcakes, cinnamon rolls and more. Often, by mid-morning the cinnamon rolls are already sold out and it is not uncommon for the line of cars on Saturday mornings to stretch all the way down the alley.
It has been that way for Tammy Chandler's business since she moved into the building about 20 months ago, and she says the bakery has come a long way from very humble (and slightly secretive) beginnings about five years ago with a stove she purchased and had installed while her husband Darrell was out of town.
"The stove in our house was probably 13 years old and everything I would bake, it would burn the bottoms," she recalls.
When he returned home, he found a new stove and a wife, a pharmaceutical technician, madly in love with the stove and baking.
"I fell in love with baking and I had no idea that I had this ability to decorate," she says, adding that she began baking and decorating all of the time, sharing her products with friends. A year or two later she began selling cupcakes and other baked creations out of her rural Carbondale home and that new stove.
"It just grew and grew," she says. "I had mixers — three of them — all over the counter, and I converted a huge storage closet in my bathroom for candies and other things," she says.
Chandler became sort of a Craigslist cupcake lady.
"People had started ordering for birthdays and showers and other events. I'd bake their items and meet them with their items in parking lots or businesses," she says.
As the business grew, the baking became more than she could handle on her days off. She was baking on weekends and evenings, too.
"Finally, we got to where we were growing so much that we needed another space," she explains.
Discovering the kitchen of The Annex, and working with the building's owners to use equipment already there, she moved the business out of her kitchen (and bathroom) and to Herrin. She was baking and still working full-time. Like many entrepreneurs, she was nervous about taking on more.
"I was freaking out about the time the rent was due, I wasn't sure how I was going to do it," she recalls. "But to me it was like how Moses parted the Red Sea and the people came through. The day the rent was due, the people just started coming and by the end of the day, our sales were just $20 short of the rent."
She says the business has thrived ever since, even with no advertising outside of her Facebook page (where she lists the day's offerings) and word-of-mouth. Things have gone so well that she's given notice at her job and is interviewing a potential full-time baker. She's added items to the menu board and is even offering lunch items on Friday.
But what about the name? Who is Granny Puckett?
Chandler says she and a friend were trying to think of names for the new business, trying to find something unique and to capture the flavor of the entity. The friend, who now also works at the bakery, asked if Chandler had ever seen the movie "Hoodwinked, where a cartoon character played by Glenn Close called Granny Puckett.
"I said, 'Wait a minute. Granny Puckett? My grandma's maiden name was Puckett!' and immediately it was, 'Oh my gosh, this IS Granny' Puckett's!' That's exactly how it happened," Chandler explains.
She says she enjoys going to work every day and is having fun, adding that she hopes to expand and grow the business in the coming months.
"People always tell me how excited they are, but, the thing is, I'm just as excited to be doing this," she says.
The business news you need
With a weekly newsletter looking back at local history.