PINCKNEYVILLE — Residents of Perry County will have a new option for fitness. Pinckneyville Community Hospital ceremonially broke ground on a new Wellness Center Tuesday morning. Work on land remediation for the building is already underway.
Hospital Administrator and CEO Randy Dauby welcomed those gathered for the ceremony and thanked the board for its work to get to this point.
"This more than 16,000-square-foot building will have all therapy services under one roof," Dauby said.
Some of those services include physical, occupational, massage and speech therapy, cardiopulmonary rehab, sleep testing and wellness services for the community.
The building will include private therapy rooms for physical, occupational and speech therapy, a separate space for work hardening and massage therapy. Cardiopulmonary rehabilitation and sleep studies will move from the hospital to the Wellness Center. The fitness center will include a 32-foot by 25-foot pool that will be available for therapy or fitness, an indoor running or walking track, exercise machines, weights, group fitness area and locker rooms.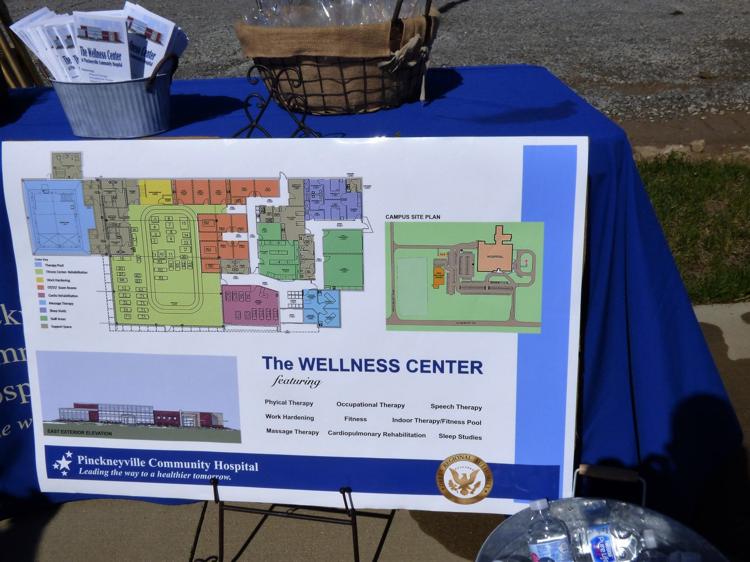 "It's going to be a huge investment in the hospital and the community," Dauby said. "Our goal was to bring it all to this campus."
Planning for the specifics of the project began more than a year ago, but it has been part of the hospital's long-term plan since before the new hospital was built.
Dan Varel, physical therapy and fitness manager, said this is one of the most exciting things to happen during his 20-year career.
"We are tremendously excited," Varel said.
He said the staff already provides great therapy, but now they will have a new building, too.
"Adding a pool and 24/7 fitness center is going to be a plus for community health," Varel said.
Architect Eric Spencer said the building is a reflection of what the therapy needs are and how the hospital board and staff wants the community to use the building. He said the fitness center will be a great environment with lots of light.
"The building is complimentary of the original hospital building. It will have the same brick and blue glass and the interior finishes will be complimentary," Spencer said.
Pinckneyville Community Hospital is located at 5383 State Route 154. The Wellness Center will be built on the southwest side of the hospital campus.