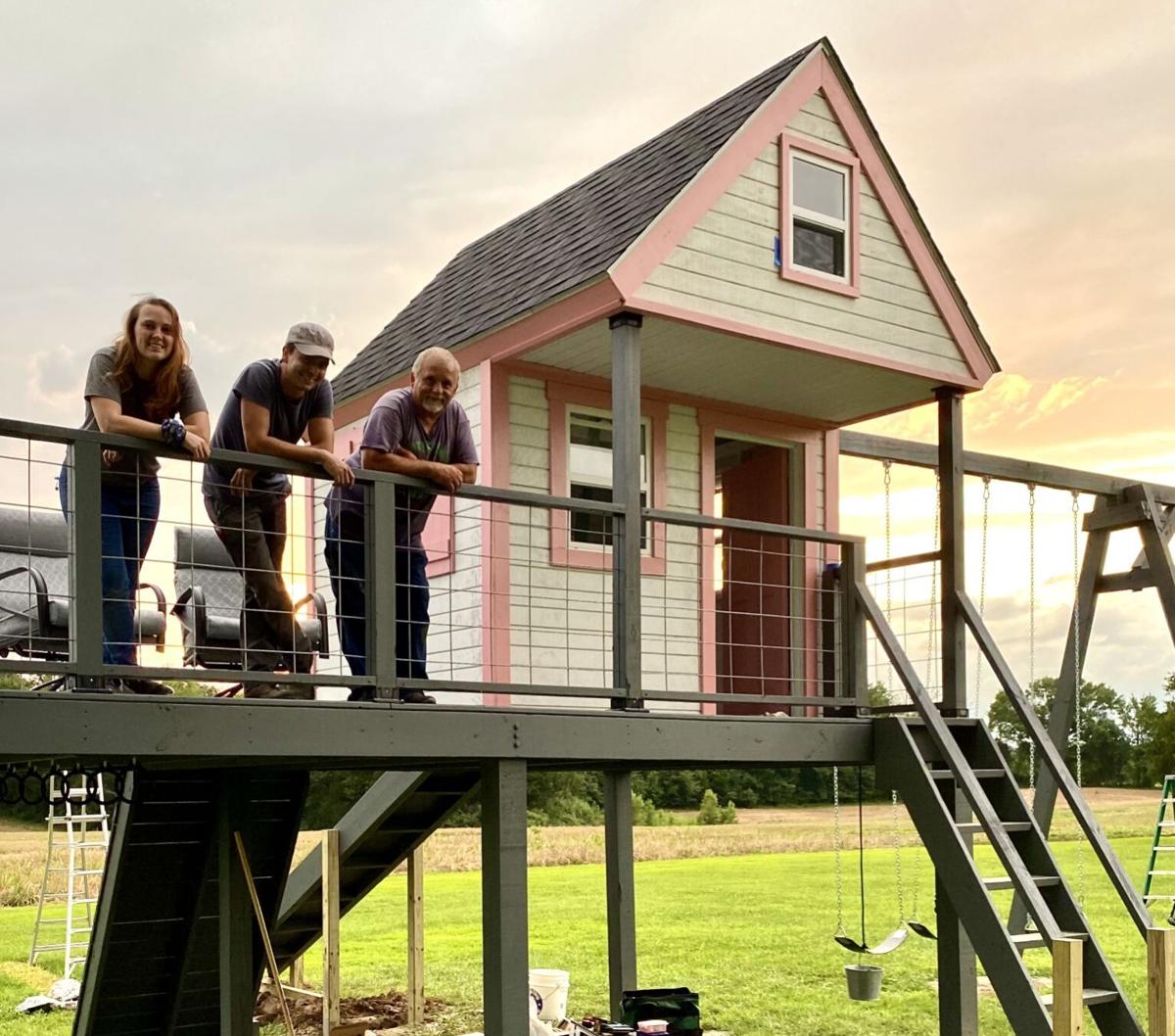 Can you think of a better "work happiness" situation than designing and building amusement attractions across the world for people to enjoy?
"It's what I know, what I'm good at, and what I love," said Polley, originally from Christopher and now residing in Granite City. "I wouldn't know what to do with myself if I couldn't create things that make people smile."
For the past 15 years, Polley has designed, built, maintained, themed, and operated haunted attractions across the world. His work has been featured on popular television shows and his global footprint reaches Ukraine, where his team built the country's first year-round haunted attraction at an amusement park in Kharkov. He and his wife, Ashley, run Pale Night Productions — a unique haunt company with the tagline: "We engineer fear."
Even as the COVID-19 pandemic puts a substantial squeeze on the tourism and attractions industries, Polley remains committed to leveraging his creativity and engineering knowledge to build haunted houses, escape rooms, and other interactive amusement attractions. As business has slowed, Polley has pivoted to building elaborate playhouses for families across Southern Illinois with the help of Ashely and his dad, Rick.
"Work is genuinely fun for me," Polley said. "I love that we create experiences that people enjoy and laugh about and tell stories about. We help families make memories."
Polley recently carved some time out of a business trip to Pittsburgh to reflect on his work happiness journey.
Full author disclosure, he also recently wrapped up a princess-themed playhouse for my three daughters that includes various obstacles, a giant swing set, a tiny house with a loft, and a wraparound deck. I recommend one for every girl dad in Southern Illinois!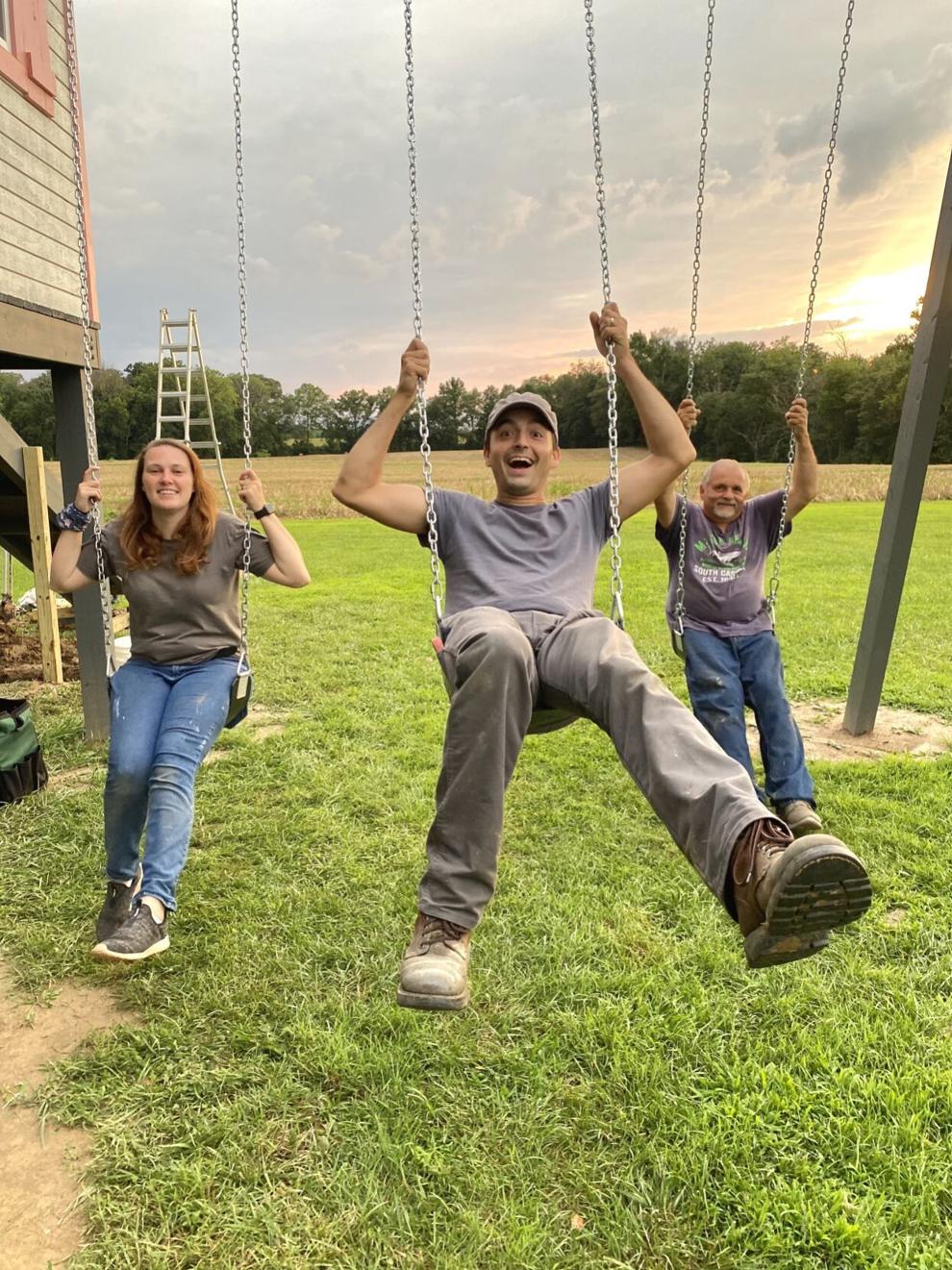 You've carved out a very unique niche — how did this come about?
I went to college to study Manufacturing Engineering and really intended to try to get into the amusement industry working on roller coasters and thrill rides. In particular, the control/safety systems were really interesting to me. While in college, I got a job at a local haunted house doing special effects makeup and maintaining all of the animatronic effects inside. That opened up a career path I'd never really considered and a year later I started my own company and set up my first tradeshow display selling our own line of animatronic characters and effects. A few years later, we started offering complete attraction design and development and things just really took off from there.
What's the biggest, craziest project you've worked on?
We were privileged enough to build a haunted house for the Hollywood Wax Museum at their locations in Pigeon Forge, Tennessee, and Myrtle Beach, South Carolina. They came to us with a big budget and very little direction. We were able to design the attraction we really wanted to build, an attraction loaded with high tech props and effects, and install it in two great tourist destinations here in the US. They were a terrific client and the project is still one of the attractions I'm most proud of.
What does your day-to-day look like for your work and how has the COVID-19 pandemic impacted your industry and your business specifically?
When things are normal, I usually spend my day either writing proposals for new clients and projects or out in the shop working on the projects we currently have. Typically, we do one to two major projects a year that take anywhere from four to eight months to completely build and install. The larger projects are often overseas so we build as much as we can in our shop, then ship it to the destination and spend a couple weeks onsite doing the install. That's all dried up now. The pandemic has been especially brutal to our industry. Theme parks and other entertainment venues have been shut down for months and are only now reopening with very limited capacity. None of them are spending money right now and the vendors, like myself, are really feeling that pinch. Most everyone I know is just doing what they can to survive and hoping that our industry can bounce back quickly.
You've been able to shift some of your work focus to building these big, fun playhouses for people in the Southern Illinois community. How important has it been to be able to still stay creative during a relatively slower business season for you?
It's been an incredible opportunity for me to shift into these playhouse projects. The work is important, certainly, I have a family that I need to provide for. But the creative outlet is incredibly important to me as well. These playhouse projects have been a great way for me to stay creative and keep busy at a time when our normal business is really at a standstill.
What about your work makes you the happiest?
My wife works with me. That's always been my favorite part of this. Since we had our daughter, she has stepped back from a lot of the operations, but I still really cherish all the time we got to spend together building this company. Beyond that, it's the ability to envision, design, and build crazy projects for clients all over the world. I often develop proposals for clients that really aren't sure what they want. I pitch them an idea, design the project, and then convince them to pay me to build it. I can't imagine a better job than that. I remember vacationing with my family as a kid and visiting haunted houses or amusement parks on those trips. We still talk about those trips and the fun we had. I love that we give families those same experiences.
What has this road to career happiness been like for you? What have been some of your primary challenges and how did you overcome them?
It hasn't always been easy. It's not easy right now! We've had many of the struggles that all small businesses face. Staffing has been an issue. Work being "feast or famine" has been an issue. We were able to build a loyal customer base over time which has been really helpful to our growth. We were also very persistent. When things got tough myself and my staff dug our feet in and refused to give up. Owning a small business is really hard. You need to love it. I do. I think that's why I can get up day after day and fight through the difficult times because I really love what we do.
When you were a kid, how would you have answered the question, "What do you want to be when you grow up?"
Honestly, I wanted to build rollercoasters. I build haunted houses, escape rooms, and other interactive amusement attractions and have built these attractions at a few different amusement parks around the world. I'd say I was close!
What's your advice to people who may feel like they are "stuck" in unhappy work situations?
I have days like anyone else where I don't want to go to work. Sometimes my clients aren't easy to deal with or looming deadlines are stressing me out. I just try to remember that the really hard times pass and that I really do love what I do. I love it enough to weather the storms because it's worth it on the other side. If someone is honestly, persistently unhappy at their job I'd encourage them to consider the possibility of a change. Maybe there's an opportunity out there where they could feel excited about getting up in the morning and enjoy the work they're doing. Your job doesn't have to just be a paycheck. It can be really fulfilling. We spend a massive amount of our lives at work. I think we should enjoy that time as much as we can.
Joe Szynkowski is a Sr. Director for NuVinAir Global, a Dallas-based company disrupting the automotive industry. Thanks to technology, he does so happily from his home east of Marion. Check out www.workhappiest.com for his WorkHappy Spotlights or email Joe@TheUpWriteGroup.com for more guidance on finding career joy.