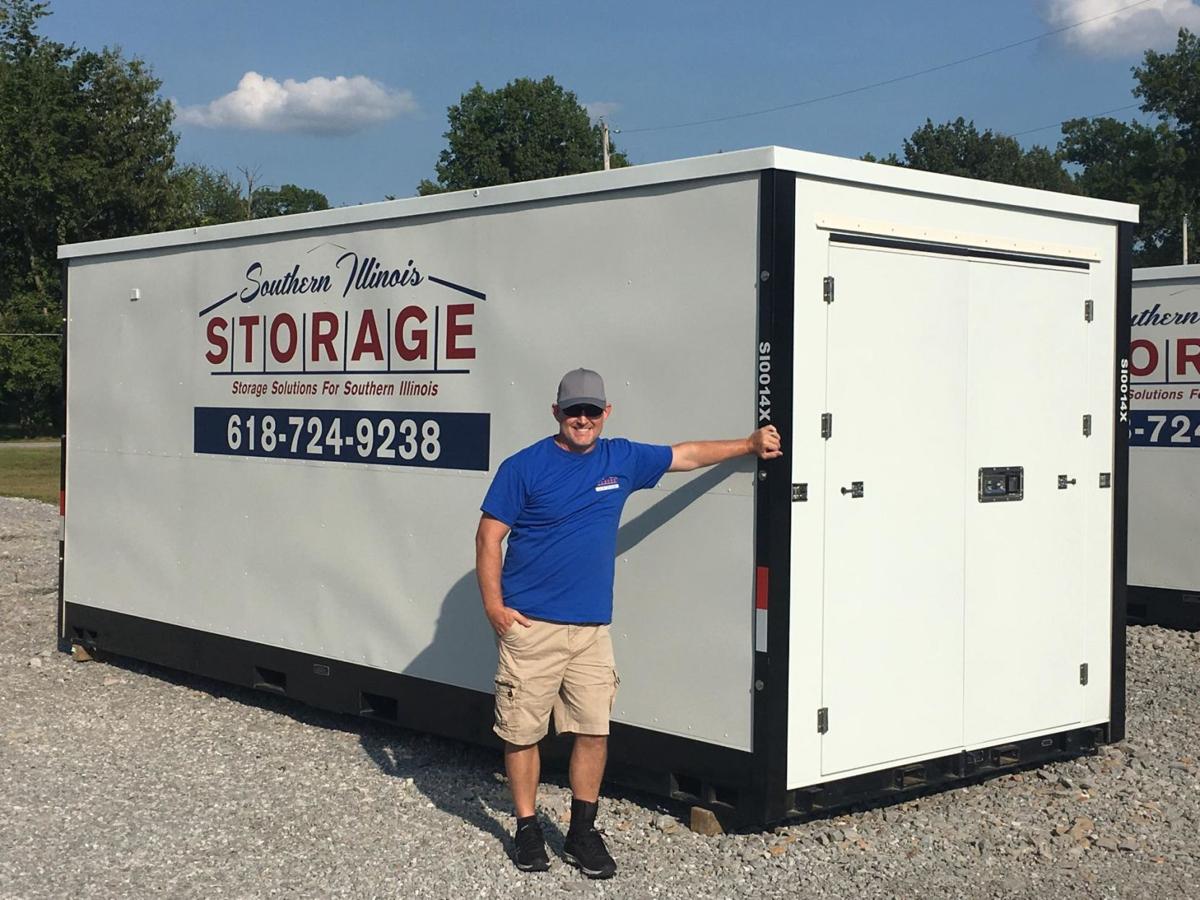 A common problem with home remodeling projects is what do you do with the stuff you have to move? For instance, in an extensive kitchen remodeling project, homeowners need a place to store everything from table and chairs to small appliances.
Fortunately, Aaron Eubanks had a solution — a portable storage container delivered right to the home. With everything stored conveniently, safely and securely, remodeling can get underway and everything is stored away safely.
For Eubanks, the delivery of the storage solution is just in a day's work. As the owner of Southern Illinois Storage, he has been helping people find a place to keep their things since 2002. In fact, the Buckner native has been thinking about storage even longer.
"Even when I was in high school, I was researching self-storage units and trying to get my dad to build one," Eubanks said. "I had always wanted to be an entrepreneur and do something for myself."
His first entry into storage was the construction of a self-storage facility in Buckner. Eubanks says that his facility has nearly 70 units. Then, in 2013, he expanded the business to include portable storage containers.
Eubanks says he realized expanding with containers rather than additional storage buildings meant he could serve a larger geographic area and offer a unique service to the region.
The containers, which come in both 8-foot by 16-foot and 8-foot by 20-foot sizes, are delivered to renter's home or business, where they can keep them on-site for as long as they need. Eubanks says that Southern Illinois Storage also can pick up loaded units and store them at his facility. The units rent for a few dollars a day.
"When we place them on your property, we unload them with a special machine. They come off the trailer level and it goes on level, plus we are unloading from the street; we don't back up on your property. We are trying to leave a minimal footprint," he said.
He says the containers have rubber feet on them so they don't mar driveways. On the inside, the units have hardwood floors and rails so that items can be secured within the containers. The company also offers moving pads, straps and other accessories.
Eubanks says while some customers use the containers for temporary storage during a remodel, others use them to temporarily store items for a rummage sale from one home to another. He adds that some retailers have rented the units to keep seasonal items. Additionally, he says, the units are great for moving.
"With the portable storage containers, they can take their time loading items. They don't have to be in a hurry because they only have a truck for a certain amount of time," he said.
Eubanks said that rental customers pay a delivery fee plus a monthly rental charge, but customers are refunded for unused days.
"We've had people use the units for just a couple of days and we've had others say that they only needed it for a few weeks, but sometimes that turns into months or years," he said.
Eubanks says one of the advantages of the containers and delivery system is he can get the units into narrow spaces.
"People often comment that I've probably moved these things before," he said. "I think they're impressed."
He adds that people are impressed with the level of service, too.
"I love providing a service and interacting with customers," he said. "I had one customer, she was out cutting branches off of the tree so it wouldn't scratch our container. I told her that she didn't have to do that, so I finished trimming the branches for her."
Eubanks says he has recently expanded to also offer the heavier shipping containers often required for construction or other projects, and he says he is grateful for the positive word-of-mouth Southern Illinois Storage has gotten.
"Our customers have been great all across Southern Illinois," he said.