Lindsey Perry admits that her approach to shopping is probably different than other millennials.
"I try to buy locally whenever I can," the 24-year-old from Herrin said. "I practically never buy anything online."
It's not that Perry is particularly against internet shopping. Rather it is because she sees the benefits of making purchases locally.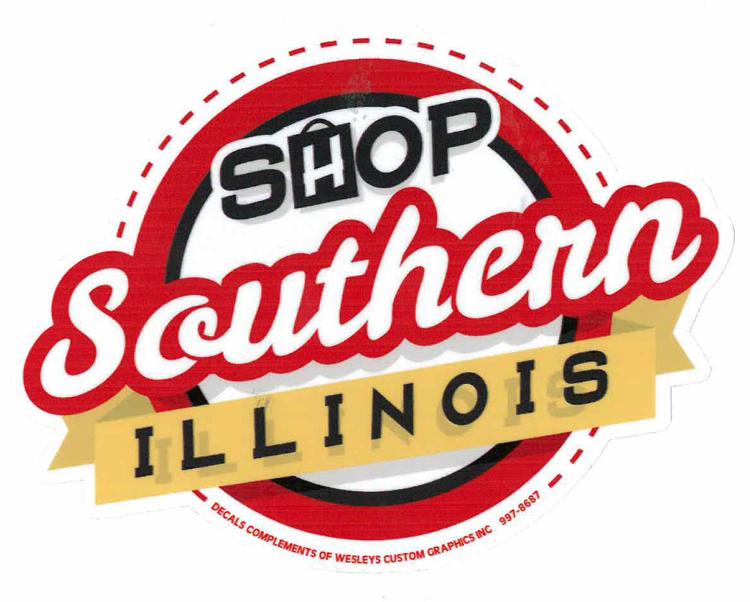 "I've worked at a family-owned business for five years," she said. "I've seen first-hand how local shopping affects individual shop owners, their families, employees and even the community. For that reason, almost everything I own, I bought in Southern Illinois, and probably all I'll buy for Christmas, I'll get locally, too."
Perry's way of thinking about shopping is exactly the approach University of Illinois Extension Educator Susan Odum wants others to take. Odum has been tracking what she calls "economic leakage" in 16 Illinois counties since 2012. She analyzes and then shares with civic groups and others about the flow of dollars in and out of rural areas. For that reason, she is a huge proponent of doing business locally.
"When people go online or out of state to make purchases, it's very unlikely that that money they spend will ever come back to their own region," she said. "We talk about what that means for the community when dollars leave. It goes and doesn't have the opportunity to come back to multiply and broaden the tax base."
Odum calls the need to encourage others to shop local a "community development issue." She said that economic research has shown that local spending has a multiplier effect, meaning that the impact of every dollar spent is much more than $1. For example, when someone buys tires at a local service center, that business is responsible for paying property and other taxes, utilities and salaries to employees as well as other expenses. Those employees, in turn, purchase clothing at a local shop. The clothier also pays taxes, employees and for repairs to her building. The repairman buys a pickup truck from a local car dealer who also pays his employees. It goes on and on.
If, instead, the original tires are purchased online, the buyer pays with a credit card and the money does not leaves the area without any sort of re-circulation.
"Studies have shown a multiplier of as much as seven in larger communities, but for many of our areas, it may be more like a multiplier of one or two simply because there are not that many places any more to turn the money over and keep it going," Odum said. "However, every time you do keep the money local, it supports the community, supports the tax base again and goes back into the community. When the money leaves, that multiplier is zero."
Making purchases locally ensures that money at least begins to multiply. That is one reason that efforts designed to promote local business are gaining traction. While these "Shop Local" campaigns are most prevalent during the Christmas holiday shopping season, experts say that it is a mindset that needs to be present all year long.
"Making purchases locally should be a year-round thing," said Herrin Chamber of Commerce Executive Director Jennifer Buckley. "It is not just a Christmas thing."
Many economic development leaders feel that by sharing the "shop local" message during the holidays when shopping is on the minds of many people, they can instill an attitude that will last throughout the year. They also strive to convince shoppers that even if they are not shopping locally to shop at near-by communities. That is the thinking of programs like the "Locally Fir$t," an effort started in 2014 by the Union County Women in Business who are reminding Union County residents to "Keep It in the County" and to "Think, Shop, Buy Locally Fir$t."
Using those two taglines, the pair is leading the charge to get consumers to, whenever possible, do business with local merchants and service providers. Charlotte Clover, an agent with Country Financial, who helped to establish the program, says the original plan was for a year-long effort.
"That was in 2014, and we're still plugging along," she said.
Co-founder of Locally Fir$t Evelyn Bailey said the concept is simple. "We realized that for a lot of our local people the need to purchase a birthday gift it automatically means a trip to Cape Girardeau. We want them to realize and consider what is right here. They could save time, money and contribute to our local economy. We want our people to shop here for local services and products. We want them to give our local businesses a chance."
Other groups are sharing the same message. Many downtown and Main Street organizations conduct local shopping promotional programs and participate in the Small Business Saturday celebration. "Shop Southern Illinois," an effort of area chambers of commerce reaching from Nashville to Metropolis which encourages holiday shopping in any community in the region.
Odum said local shopping is vital to the health of area communities.
"If we don't spend our money in local places, why would others want to come here to spend theirs? When we shop online or in other communities, we're cutting off our ability to support ourselves."
She said that another reason to support local business is that the businesses support the community in many ways.
"I'll often speak to local youth groups or classes about shopping locally and I always ask the students if they've ever been involved in any fundraisers for things like a graduation event, a band trip, 4-H or some other group. Without fail, the students say that they've done these fundraisers. I ask them then who do they ask for money and they always say, 'Well, we go to the local businesses.' Then I ask them if they could write letters to Amazon or some other online company asking for their support and they look at me as to say 'why would we do that, those companies aren't here.' I tell them that it is exactly my point. Local businesses are the ones that support you."
Efforts to promote local shopping are bolstered by the Small Business Saturday campaign begun in 2010 by American Express. The day, observed on the Saturday after Thanksgiving, encourages shoppers to do business with small, locally-owned shops and businesses. Its estimated that 95 million shoppers visited small businesses during the 2016 day.
"Small business owners and Main Street businesses are the fabric of our daily lives", Maria Conteras-Sweet, the head of the U.S. Small Business Administration, said in a press release about Small Business Saturday. "They have energy and passion for what they do, and when we support small businesses, jobs are created and local communities preserve their unique culture. More than anything, these entrepreneurs need customers. Small Business Saturday provides us an opportunity to honor and celebrate the hardworking men and women that are creating jobs and fueling the economy in their local neighborhoods."
Those are jobs like Perry's, and she understands the benefits to the area.
"Even by shopping locally, you're not only helping local families, you're giving back to the community."