Editor's note: This is the beginning of a series of articles by The Southern Illinoisan starting Sunday, June 12. This article is an overview of the next four Sunday editions of The Southern that will cover the business of gambling, alcohol and tobacco, sex shops and strip clubs, and fireworks.
Some of the industries in Illinois that people tend to look unfavorably on at times are also the same industries that bring in millions of dollars to state and local budgets each year.
Gambling, alcohol, tobacco, strip clubs, adult stores, and — in Illinois — even fireworks are considered taboo.
Yet, outside of the fireworks, all of these things in Illinois are legal. However, alcohol and tobacco users have recently been the target of a tax increase, and establishments with adult entertainment either must charge patrons at the door, or pay a flat fee determined by its gross receipts at the end of the year.
Riverboat casinos are hit with an admissions tax and also a percentage of its annual adjusted gross receipts are turned over to the state, according to the Illinois Gaming Board.
Another aspect of gaming is the video gaming terminals that went live in October 2012. The state receives 25 percent of the revenue that is distributed each month.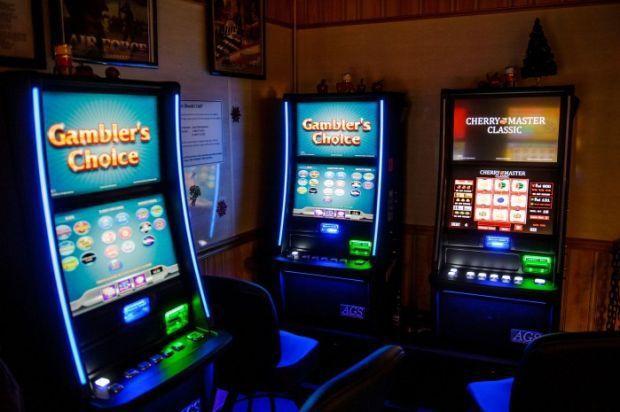 Gambling
In April, Harrah's Casino in Metropolis had an annual adjusted income — the establishment's total gross income minus certain deductions — of $7,254,991, according to the Illinois Gaming Board.
The casino hasn't had an income of more than $10 million since 2007 when it saw multiple months of more than $13 million.
Metropolis Mayor Billy McDaniel said the decline started in 2007 when the economy started to dip, and it was down about 42 to 45 percent.
"It has never recovered," he said. "The economy hurt and the extra money wasn't there to spend."
As for the city of Metropolis, McDaniel said the city receives about $356,000 a month. He said that is more than half of what the city received in July 2006 when it received about $800,000.
He said the revenues from the casino can fluctuate heavily one way or the other. He said in 2015 there was a month where revenues were 17 percent higher than the year before, but there was also a drop of 18 percent in another month compared to the previous year.
"(Harrah's) has been vital from the onset and it was tremendous," McDaniel said, speaking on the casino's impact to the city. "We have actually tried to wean ourselves from it. We are not there and if the casino was nonexistent, it would have a tremendous effect on the city of Metropolis.
On Aug. 23, 2005, new admission tax rates became effective. Riverboat casinos were charged $3 a person. For each admission, $1 goes to the host community and the remainder goes to the state.
For the annual adjusted income, the casino is taxed 15 percent of its income up to $25 million — and the percentages get larger as more income is collected, according to the Illinois Gaming Board. Local communities receive 5 percent of this share.
In 2015, Harrah's had an adjusted income of $83,432,264. The state received $16,178,209 and Metropolis received $4,851,281.
McDaniel also said the influx of video gaming has also contributed to the decrease of players at actual casinos.
CARBONDALE — Video gaming in Illinois has become a nearly half-billion-dollar industry, acco…
"Rather than go to a casino, you can go somewhere off-site," he said. "They actually pay better than the casino. The percent of payout is much better in the slots."
According to state records, the state has received $563,042,845.78 in revenue since video game machines went live in October 2012.
In Southern Illinois, local leaders aren't necessarily thrilled with the idea of video gaming to pump money into the city, but some are glad to see the dollars.
Bob Butler, mayor of Marion — Southern Illinois' second largest city in terms of population — said it is a travesty for the state government to rely on gambling to receive funds, but the money the city receives is appreciated.
"In my mind, it is tainted, but we can spend it for a good purpose," he said this past March.
The revenue from video gaming goes straight into the city's general fund. The city of Marion has received $190,146.27 in video gaming funds since April 2015 to April 2016.
However, in Carbondale, the mayor has said in the past that the he doesn't think the social cost of gambling is worth the revenue. He would rather see the money come from other sources.
"This is making gambling accessible to the masses," said Carbondale Mayor Mike Henry. "A lot of those folks really can't afford it and they have their hopes on it."
Alcohol
In Illinois, the state imposed an increase in the liquor gallon tax in September 2009. It bumped the price of beer, wine and spirits on sellers of alcohol, including airlines, direct shippers, distributing companies and manufacturers.
The question: How do government regulations continue to affect your business?
The amount of tax placed on the alcohol is determined by its alcohol content. For beer, or any drink with an alcohol content of 0.5 percent to 7 percent, has a $0.231 per gallon tax.
For wine or liquor — alcohol other than beer — with an alcohol content of 14 percent or less has a tax of $1.39 per gallon. Additionally, a spirit with an alcohol content of more than 14 percent, but less than 20 percent is also $1.39 a gallon.
For an ever bigger jump, those spirits with an alcohol content or more than 20 percent, there is a tax of $8.55 per gallon.
For comparison purposes, the states that touch Illinois all have a lower tax on alcohol, which may make it desirable to drive across the state line, according to the tax policy center.
In Missouri, the beer tax — less than 7 percent alcohol — is $0.06 per gallon. The wine tax — less than 14 percent alcohol is $0.42 per gallon, and the liquor tax — more than 20 percent alcohol — is $2 per gallon. The state also has a state sales tax of 4.23 percent. Illinois is at 6.50 percent sales tax.
In Kentucky, the taxes are a bit higher than Missouri, but much lower than Illinois.
The beer tax in Kentucky is $0.08 per gallon, the wine tax is $0.50 per gallon, and the liquor tax is $1.92 per gallon. Kentucky has a state sales tax of 6 percent.
Indiana boosts a $0.12 per gallon beer tax, a $0.47 wine tax, and a $2.68 liquor tax. However, Indiana does have a higher state sales tax than Illinois at 7 percent.
According to the Commission of Government Forecasting and Accountability's Economic Forecast and Revenue Estimate for Fiscal Year 2017, the liquor tax has been bringing in more than $200 million in revenue since FY 2012. That year, the revenue jumped from $182 million to $279 million.
WEST FRANKFORT — To promote more of a business-friendly climate, West Frankfort officials ar…
According to the commission, the liquor tax brought in $283 million in FY 2015, and is scheduled to bring in $285 million and $287 million the next two years.
Tobacco
Smoking and tobacco use taxes have been in the news and debated for several years in Illinois. In 2007, the state made it illegal to smoke indoors and within 15 feet of the entrance of the establishment with the Smoke-Free Illinois Act.
In 2012, the state voted to increase the statewide tax on packs of cigarettes from $0.98 cents to $1.98 cents. That didn't include home-rule municipalities and counties that can add additional taxes if those leaders choose to do so.
In Chicago, packs of cigarettes are approaching $12 a pack for brand name products. According to tobaccofreekids.org, this includes an additional $1.18 from the city of Chicago, $3 from Cook County and then it adds Illinois' $1.98 per pack, it's easy to see how the price gets high.
When comparing this to other states surrounding Illinois, it is not uncommon for those in Southern Illinois who smoke to make a trip to Missouri where the tax on tobacco products from the state is about 11 times cheaper.
According to the tax policy center, Missouri imposes a $0.17 tax per pack.
While Missouri is much lower, other states including Kentucky at $0.60 per pack and Indiana at $1 per pack are still much lower than Illinois.
According to the commission, state revenues for the cigarette tax started to dip after FY 2007, after the state implemented the smoke-free law.
Revenues continued to dip, falling below $600 million and staying below that number until FY 2012 when it reached $606 million.
FY 2013 is when the state saw the big jump in revenue from the cigarette tax, and it was also the first year after doubling the tax per pack. In FY 2013, the state generated $856 million from the cigarette tax.
The tax has remained stable at about $860 million, the commission reports, but with estimated drops in FY 2016 and FY 2017 of $834 million and $813 million, respectively.
Strip clubs and adult entertainment
What is probably the most controversial industry when it comes to what some would call a morality issue is strip clubs and adult entertainment shops.
Whether visiting the Lion's Den Adult Superstore in Marion on Illinois 148, or driving on U.S. 51 to De Soto to the Coyote Club, these places exist and have to pay some taxes as well for the entertainment provided.
The state passed what the Live Adult Entertainment Facility Surcharge. It was created in response to declining state funding for rape crisis centers. The law allows the Illinois Department of Human Services to administrator the funds to the centers.
According to the statute, a live entertainment facility is a business that serves or allows alcohol consumption, has provided nude or semi-nude activities predominately related to an interest in nudity or sex and those activities include those performed by a person who is entirely unclothed or who appears to be nude or semi-nude through transparent clothing.
According to the Illinois Department of Revenue, the surcharge is calculated by using either the number of admissions into the facility or the gross receipts collected by the facility operator.
The facility can choose to pay $3 for each person that walks into the facility or pay on a tiered basis by how much revenue is collected in a year.
If the facility collects less than $500,000, it pays $5,000. If it collects more than $500,000, but less than $2 million, the fee is $15,000, and if a facility collects more than $2 million, it must pay $25,000.
Fireworks
Certain fireworks are illegal in Illinois, but the state could be missing out on tons of money by continuing to disallow residents to buy these Independence Day staples.
Residents can buy novelty fireworks like sparklers and cap guns, and other legal fireworks can be found on the Illinois State Fire Marshal's website. The illegal ones can be found there, too, like hand-held fireworks, bottle rockets, firecrackers and Roman candles.
Because our neighbors to the east in Indiana have more relaxed laws on fireworks, Illinoisans may be tempted to drive across the border, but it can be considered a federal offense to transport fireworks across state lines, which could be punishable by up to a one-year sentence in prison, according to the Illinois State Police.
For those individuals who like to have a display on their property, the Fire Marshal's Office said to check with your municipality to make sure an ordinance has been passed allowing it. Also, adults must attend training conducted at the local fire department. That person must have their site inspected by the fire department and then apply for a permit.
Once the permit is approved, the Fire Marshal's Office said the consumer can purchase approved consumer fireworks from a registered consumer fireworks distributor. A list of such retailers can be found on the Fire Marshal's website.
According to the American Pyrotechnics Association, the United States has been on an upward trajectory with firework revenue. In 1998, the nation generated $141 million based on display firework presentations and $284 million from consumers buying fireworks.
In 2015, those numbers have more than doubled with $340 million generated from display presentations and $755 million from consumer purchases.
Julie Heckman, spokesperson for the American Pyrotechnics Association, said many states have been relaxing on firework laws because they see the revenue potential from it.
She said states are making multiple millions of dollars annually from consumer fireworks and Illinois is definitely missing out because consumers are heading to Indiana or Missouri to buy it.
She said firework sales in West Virginia just became legal in 2016, and the state is taking the money to fund homes for veterans.
"States are looking at what can be funded with such a tax," Heckman said.
The professional fireworks that shoot in the air during a holiday celebration aren't available except to licensed professionals, and those are regulated by the Bureau of Alcohol, Tobacco, Firearms and Explosives, she said.
However, the massive growth in fireworks throughout the years has been on the consumer side, not the professional side.
618-351-5823
on twitter: @zd2000