Remove Leaves
It is nice to look out your windows and see the different colored leaves blanket your yard however it is best to rake up the leaves as they start falling. Leaves that lay on the ground can block out the sunlight and suffocate your lawn leaving dead spots in the spring. Note: Burkdell Mulch has a large selection of yard tools that will help make the job easier. Come in and see us in either Carbondale, Benton or Mt. Vernon
Keep cutting the grass
You have likely seen a large downturn in the growth of your lawn, however grass will continue to grow up to the first thick frost so keep mowing your lawn on a regular basis well into the fall season. Ideally you want to keep your grass at about 3".
Add fertilizer
Your grass may be slowing down its growth above ground but the roots are still in full force well into the fall season which is why adding a fertilizer to your lawn in the fall is a great idea. You can visit any of our three locations (Carbondale, Benton and Mt. Vernon) for Endure's 26-0-3 Endure Winter Root Builder Plus.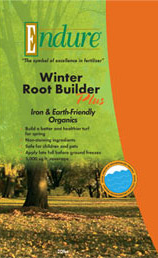 Check out the full Endure brochure here

Applying fertilizer is easiest with a walk behind spreader from Burkdell Mulch. Using a walk behind spreader will allow you to apply the fertilizer evenly in your yard.
Spread seed
The fall season is also a great time to take care of any bare or dead spots in your yard. Over seeding your lawn in the fall will help a nice thick lawn grow in the spring. Fall is a prime time to spread seed because of the abundance of moisture in the ground and also the sun is not as hot in the fall.