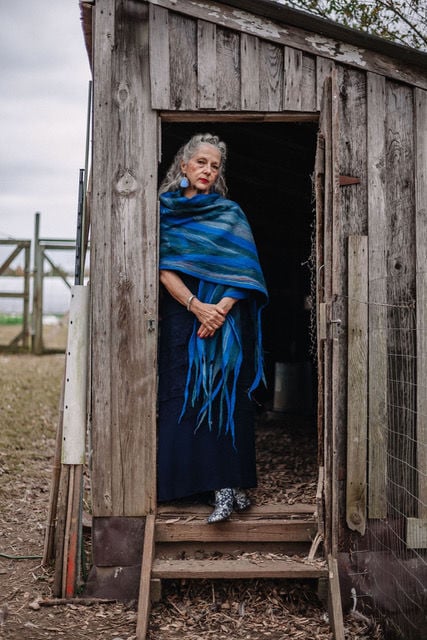 Andrea LeBeau is a Carbondale fashion designer and artist who creates what can only be described as wearable art.
With a background in painting, LeBeau uses the process of fusion felting, a practice more than three thousand years old. LeBeau utilizes materials including organic silk chiffon, Merino wool and bamboo silk, and with the application of heat, moisture and pressure, layers of wool are applied onto a flat piece of fabric.
"What fashion conscious means right now, in my case, it's sustainable, it's eco-friendly, it's strong yet elegant, and versatile in its function," said LeBeau.
The pieces are warm in the winter and cool in the summer. In the current season, scarves, shawls, capes and wraps are garments that can be layered and used as statement pieces while also providing cozy comfort.
As she has done for several years, LeBeau continues to sell to stores and boutiques across the United States, but she says she always loves making connections with individuals shopping for unique, wearable art. A hardship for many artists in the current pandemic is the loss of opportunity to show pieces to potential customers with the move mainly to an online venue.
"Since there's not a platform to show new pieces in the physical form, it all remains online," said LeBeau.
While the photos of LeBeau's work are stunning and detailed works of art themselves, the experience of feeling the different fabrics and viewing the color combinations in person cannot be replicated. For now, LeBeau remains busy doing the extra work needed to help her customers explore the designs through videos on her social media pages and working individually with buyers. 
Something new for LeBeau this year is that she has expanded from just working as an artist and designer and now attends fashion shows to display her line. She is part of Curate International Collections designers group, a company that selects an elite group of fashion designers to showcase their artwork for buyers. The in-person event will not take place in New York this year as usual, but Curate has created a Virtual Trade Show for its designers. The site is mainly for boutique buyers looking for fresh, exciting inventory, but the collection can be viewed by anyone.
The bold colors and lines of the shawls, tunics and wraps are timeless and can be used for a lifetime. Themes of the natural world show up in some the items, with bright red, green and pink flowers and peacock feathers, with more geometric patterns appearing elsewhere with blocks and lines of white and black. With the many different themes and motifs, Andrea LeBeau Designs appeals to a variety of tastes.
As LeBeau is fond of saying, "Fashion is for everybody."