He was once a familiar sight on the streets of Cobden: a wizened, bent old man who carried a sharpened sickle.
Residents knew Leslie McDonald as a local character who earned pocket money for cigarettes by cutting weeds with the old-fashioned farming tool. For photographer Keith Cotton, McDonald became the subject of a documentary project that spanned 12 years.
An exhibition of "The Return of Leslie McDonald" will run Oct. 6 through Nov. 12 at Longbranch Café & Bakery, 100 E. Jackson St. in Carbondale. An opening reception will be held from 7 to 9 p.m. Oct. 6.
In the summer of 1992, Cotton was fresh out of Southern Illinois University and had begun renting his first photography studio in downtown Cobden. McDonald frequently dropped by, and Cotton, intrigued by the old man's look, started photographing him.
"If you came to Cobden and saw this guy, you would want to stare at him. There's no doubt. He demanded your attention, because he was so intriguing, he was such a neat-looking character with his skin, his wrinkles — his posture was just horrible. I mean, literally, he was bent over like a suitcase when he would walk," Cotton said.
The pair struck up an unlikely friendship. McDonald would hang around the studio as Cotton took family portraits for clients.
"You also could not carry on a conversation with him, so to speak. I never really knew what handicap he had, I just knew that he lived in a home up the street," Cotton said.
McDonald seemed to like the attention that came with being photographed. He signed a model release form, and the profits from his portraits helped pay off the cigarette debt he'd accumulated at the local gas station.
"Once the photography kicked in and we sold some pieces, I think it dawned on him — like hey, getting my portrait taken equals money, which equals cigarettes and coffee," Cotton said.
Over the years, Cotton created thousands of images of McDonald. They were shot on film in traditional black and white and developed in a darkroom.
"That component of it adds to the integrity of it for me. It feels more like it'll go the distance. The craft of it itself is more hands-on, instead of shooting and looking at the back of the camera and processing some digital files," Cotton said.
The project gave Cotton an excuse to try out new lighting techniques and broaden his horizons.
"As those accumulated, I thought, 'Oh, these are really about him, the way he dresses, his habits of smoking, the coffee-stains on his hands, the nicotine from the cigarettes — all those details about him show more real for the fact that it was shot on film,'" Cotton said.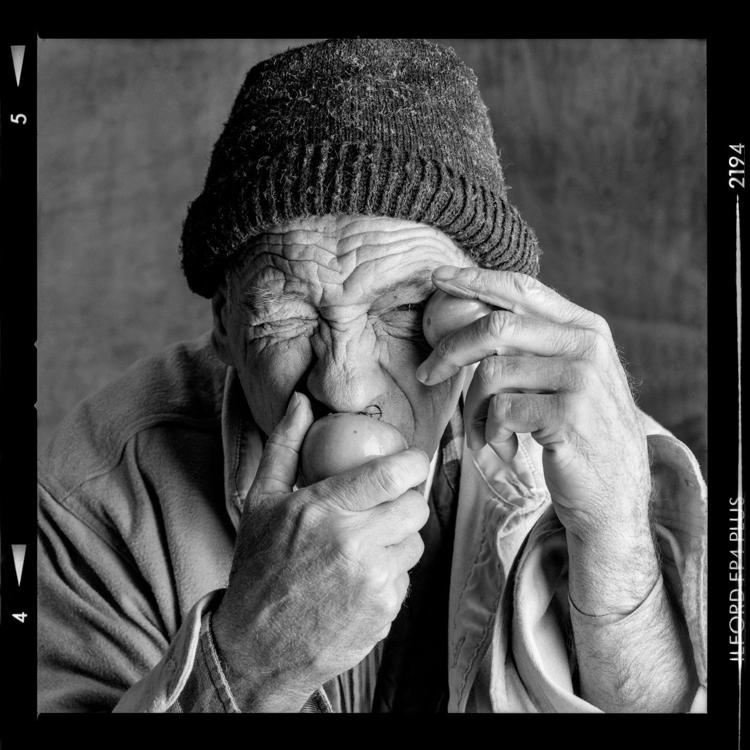 Cotton now runs a photography studio in Peoria, where he does commercial photography, portraits and landscapes. He still cherishes the time he spent in Cobden — and the time he spent with McDonald, who passed away in 2007.
"With Leslie, there wasn't any pretense, there was no vanity. He did not care, you know, what his hair looked like, or anything. … Here in Peoria, I deal with people who are overly worried about their appearance, and it's gotten to the point where I don't even like to photograph them, because it doesn't feel as genuine," Cotton said. "But Leslie was raw."
As his photography business celebrates its 25th anniversary, Cotton said he's looking forward to returning to Southern Illinois, where his career began.
"I can't wait to get this back in Southern Illinois, where people know Cobden, know Leslie and remember the studio. … It feels awesome to be invited back to my roots, basically," Cotton said.