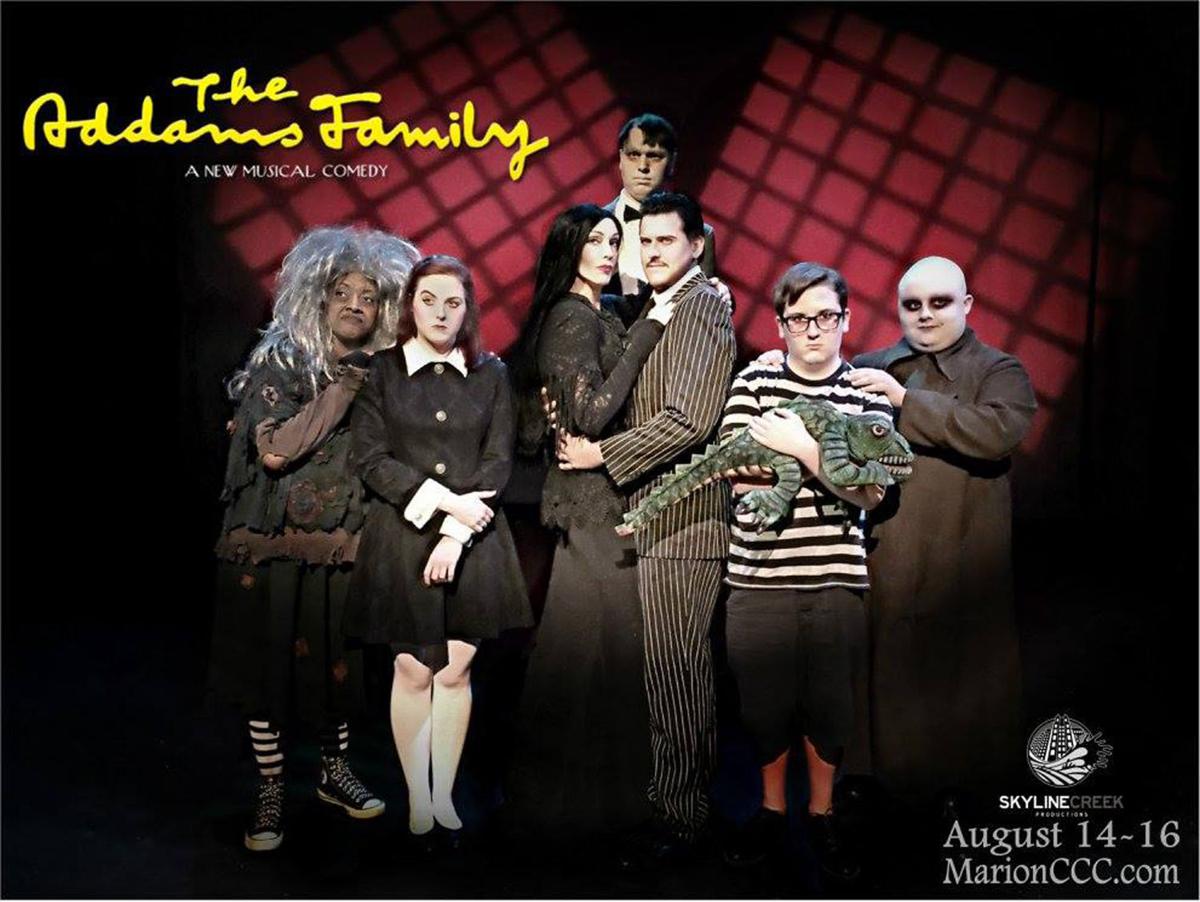 They may be creepy and kooky, but in "The Addams Family Musical," Gomez Addams is also distraught.
He is experiencing every parent's nightmare. His daughter, Wednesday, is engaged to a boy that is — dare I say it — from a nice, normal family! Adding to his horror, Wednesday asks her father not to tell her mother, Morticia.
And, guess who's coming to dinner at the Addams family Mansion in the darkest part of Central Park? The fiance and his family. 
Calamity and humor follow the family in this new story which takes the stage this weekend in Marion Cultural and Civic Center.
Skyline Creek Productions will present "The Addams Family Musical" at 7 p.m. Friday and Saturday and 2 p.m. Sunday in the civic center. Tickets are $15.
"The voices are beautiful and the acting is great," Segretario said.
Brandon McGee is directing the musical.
"This is the first time he is directing, and I am proud of his work." said Barbara Segretario of Skyline productions.
The cast includes: Kaleb G. Triplett as Gomez, Lori Eisenhauer as Morticia, Bonnie Stuck as Wednesday, Aaron Elliott as Pugsley, Jayden Roper as Fester, Keisha Rafe as Grandma, Adam Floro as Lurch, Cary Laake as Lucas Beineke, Katherine Gant as Alice Beineke and Kevin Rathunde as Mal Beineke.
Cameron Smith, Taylor Vessel, Briar North, Steven Crawford, Dylan Comer, Aubrianna Rathunde, Hannah Borowitz, Samantha Ridenour, Tommi Poe and Delenn Olsen round out the cast as Addams family ancestors.
Fester and Alice will surprise the audience, according to Segretario.
"Fester melts your heart, and you will laugh crazy mad at Alice," she said.
Segretario said the set for this production has been more of a challenge, but it has worked out.
The cast has helped with set and other aspects that do not normally involve actors.
"This is seriously the best cast to work with. They have been phenomenal," she said.
Segretario said this is the group's third summer show. They also produce "The Rocky Horror Picture Show" every year.
Skyline Creek caters to teen and adult actors who used to be part of the theater community at their high schools and colleges, but no longer have a place to perform.
"When you look at these kids in the show, you don't see them anywhere else," Segretario said. "They go back to what they loved in high school, what they loved in college."
Like the website the for Broadway musical says, "Come meet the family. We'll leave the lights off for you."
Stay up-to-date on what's happening
Receive the latest in local entertainment news in your inbox weekly!