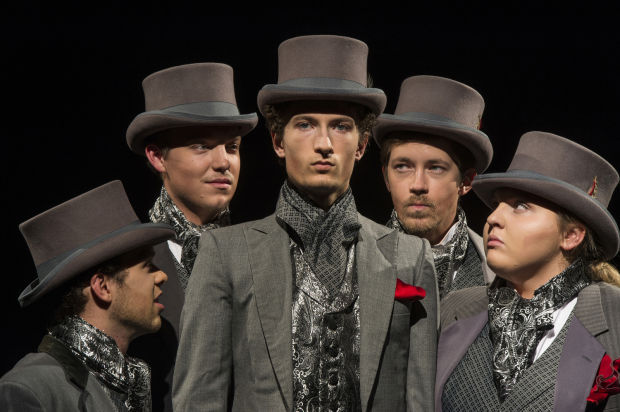 Every story has two sides, and, in the case of Jeffrey Hatcher's "Dr. Jekyll and Mr. Hyde," every character does, as well.
Adapted from the classic Robert Louis Stevenson title of a similar name, the theatrical production explores the efforts of a scientist to study the mind, which causes him to lose his own in the process.
Traditionally, the doctor's personality is balanced with that of a literal monster, but this version of the story takes a more grounded approach.
"In our show, we didn't depict him as a monster so much as two sides of the same person," said Chloee Abigail Leos, who portrays Hyde's love interest, Elizabeth, in the SIU Department of Theater's production of the play, which opens tonight at the C.H. Moe Theater in the Communications Building.
Exploring the two sides of Jekyll and Hyde has been a challenge and an opportunity for actor Jack Russell Rose, who is making his first attempt at a leading role.
"He's experimenting on himself, and, as a result, loses his mind, so when I'm playing the character, I have to lose my mind, too," he said.
In the early stages, Rose wasn't sure how much pleasure he'd find in the role, but much like the character, he has discovered another side of his personality.
"As I started getting into it, I really enjoyed it," he said. "It's gone from a bad anxiety to a good anxiety."
Likewise, Leos has had the opportunity to discover a different side to the Elizabeth character, too.
"Reading the script, I thought it would be more of the damsel in distress, but she's nothing close to that," Leos said. "She's a very strong woman, which was unusual in the Victorian era."
While Elizabeth has the courage to stand up for herself, she also faces inner struggles, making her not so different from Jekyll and Hyde.
"The theme of having two personas really runs through all the characters in the show," she added.
When audiences watch the production, which runs through Sunday, the actors hope it does more than entertain. Both Leos and Rose said the show inspires an introspective look into one's own personality, contemplating what other personas might exist.
"The fear we could all be crazy at some point and how everything changes is interesting," Rose said. "Jekyll is really no better than Hyde, even though he likes to say he is."
The all-sensory experience, which will employ the audience's senses of sight, sound, smell -- and fears -- runs at 7:30 p.m. Thursday to Saturday and 2 p.m. Sunday. Tickets are $16 for adults and $6 for students and can be purchased at the McLeod Theater box office, by phone at 618-453-6000 or online at theater.siu.edu.
A preshow lecture in the MCMA dean's conference room at 1:30 p.m. Sunday will feature dramaturge Kirsten Easton, who will discuss the history of the classic story and offer background on Carl Jung's experience of shadow and the Victorian era. The lecture is free.
Stay up-to-date on what's happening
Receive the latest in local entertainment news in your inbox weekly!