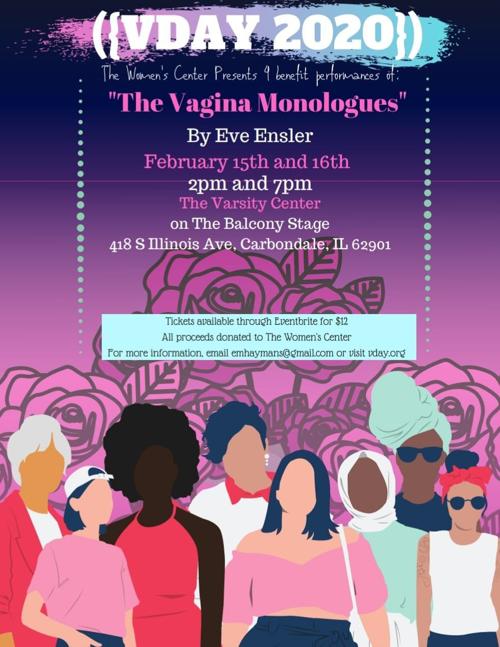 What began as an oddly-named off-Broadway production in 1996, "The Vagina Monologues" has since grown into a spark over two decades of worldwide productions. A production of the play is coming to Carbondale to ignite the flame of female empowerment.
"This is an important show," said Emily Cook, director of the Carbondale production, which will be running at The Varsity at 2 p.m. and 7 p.m. on Feb. 15 and 16.
The play features a series of monologues that author Eve Ensler wrote based on experiences of women she interviewed.
"I've never met a woman who came to the show that didn't leave feeling empowered," Cook said. "Now more than ever, we need to speak out and protect people, we need things like this."
The Carbondale production marks the third time Cook has directed the show.
Since its inception and original run 24 years ago, "The Vagina Monologues" has had a lasting impact on the world through both the ever-evolving episodic play itself, as well as the work of V-Day, an international nonprofit that has been raising money for groups working to end violence against girls and women since 1998.
The monologues in question focus on the vagina as a tool of female empowerment. Through various personal stories read by a cast of diverse women, subjects such as sex, rape, orgasm, body image, menstruation and several other topics, to include trans women and their experiences, names for the vulva (the vagina refers only to the birth canal), and self-exploration.
"It's a very progressive show," Cook said, explaining that the monologues are updated and changed each year to include relevant experiences of women in the modern world.
Each year, V-Day events take place between Feb. 1 and March 8, in which the "Monologues" are performed. There is a script that productions must follow for that year, to ensure that topics will be continuously updated and significant to the lived experiences of women from all walks of life. On Feb. 21, 2004, the first all-trans performance of the monologues was performed, which was the subject of the 2006 documentary "Beautiful Daughters."
Having been a part of the "Monologues" for what will now be her tenth time — in addition to directing the show, she has performed a monologue in eight different productions —  Cook can attest to the power of the show and its nonprofit leadership. "I've been approached by people months after they've seen the show, letting me know it helped them."
For local organizations wishing to chair a free informational table at the event, there is still time to be included. Email emhaymans@gmail.com for more info.
This year's production takes place at the historical Varsity Center, in the Balcony Theater.
"We regret that it's not a wheelchair-accessible space, but we are taking steps to offset that shortcoming," Cook said. In addition to assisting with tickets for the show itself for anyone unable to attend because of the location, the show also will also be broadcast in The Varsity's lounge area, where the bar and concessions are located.
The Varsity Center is located at 418 South Illinois Avenue in Carbondale. Tickets are still available at bit.ly/monologuescarbondale, and cost $12; all proceeds go to benefit The Women's Center in Carbondale. The Women's Center provides services to survivors of sexual and domestic violence.
Stay up-to-date on what's happening
Receive the latest in local entertainment news in your inbox weekly!