Brett Morrison has been working in a vineyard since he was a teenager. His passion for winemaking took him and his wife, Regina, from Pennsylvania to the rolling hills of Southern Illinois in pursuit of a dream. The couple, which own StarView Vineyards in Cobden, never imagined they would have to shut down in-person visits while working through a pandemic.
Winemakers across Southern Illinois are preparing to reopen their wineries with limited outdoor seating this weekend after Illinois Gov. J.B. Pritzker last week announced new regulations for bars and restaurants for Phase 3 of the state's reopening plan. Pritzker on March 15 had ordered bars and restaurants to close for in-person service as part of the state's measures to stem the spread of COVID-19.
As the southern region in Pritzker's "Restore Illinois" plan, which encompasses Illinois' southernmost 27 counties, is slated to move to Phase 3 on May 29, some feared eateries and bars would be left behind. The reopening regulations first put forward by the governor banned any dining or drinking inside establishments until Phase 4, which would not arrive earlier than June, but the governor cited the modifications to declining cases across the state.
In Phase 3, bars and restaurants have the option to resume business for outdoor seating only. Tables must be 6 feet apart and away from sidewalks. Masks and distancing measures for staff must continue.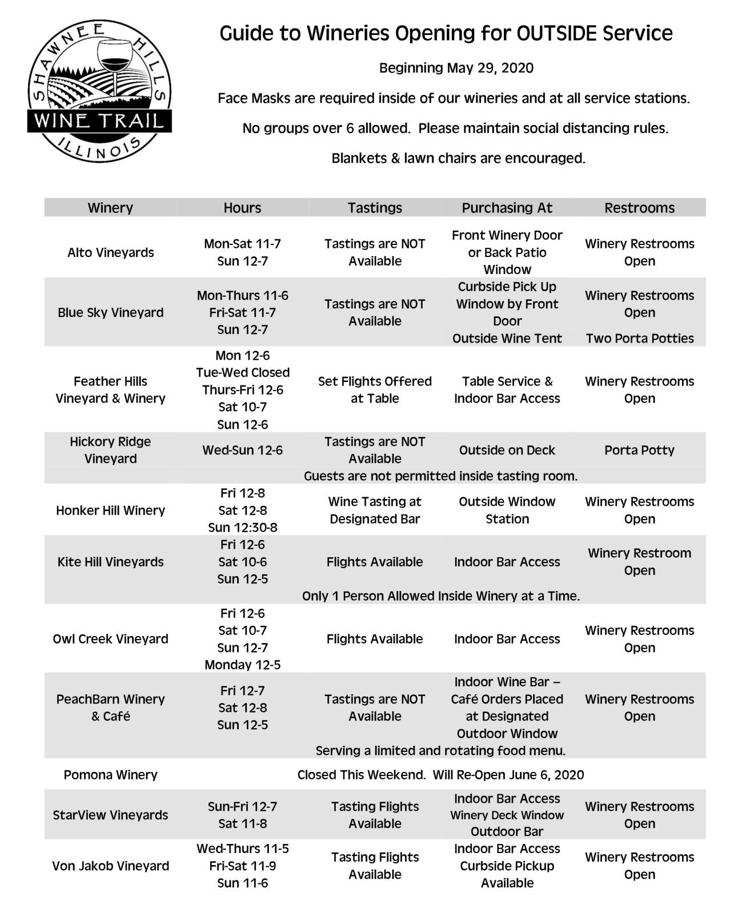 "We're going to follow the regulations as they're written because we have to abide by the health department code," said Brandy Nance, executive director for the Shawnee Hills Wine Trail. "We just want to keep ourselves, our employees, and everyone who comes down here to visit healthy, happy and safe."
Nance said things will be different, and while the reopening with guidelines is happily welcome, it isn't something wineries "were ready for just yet" as many of them were expecting to reopen on July 1. She encourages patrons to be patient with reopening businesses as they work through new public health guidelines and regulations.
Economic impact
Restrictions being loosened on bar and restaurant reopenings come as a win for the Illinois Restaurants Association, which lobbied for the reopening of restaurants after the industry has seen "hemorrhaging for the past nine weeks," said Sam Toia, the restaurant association president, during a May 20 press briefing.
Toia said the expansion of outdoor dining was "a glimmer of light at the end of this very dark tunnel," and while he understands this won't provide a solution for every business, "it is a step in the right direction for restaurant, diners (and) communities around the state from Springfield to Carbondale to Rockford to Champaign to Chicago."
The Illinois wine industry, made up of roughly 165 wineries, brought nearly $5 billion to Illinois last year, but the impact of COVID-19 on the industry this year remains unknown. Area vintners have said they've lost out on a major part of their season, which revolves around events such as graduation and Mother's Day.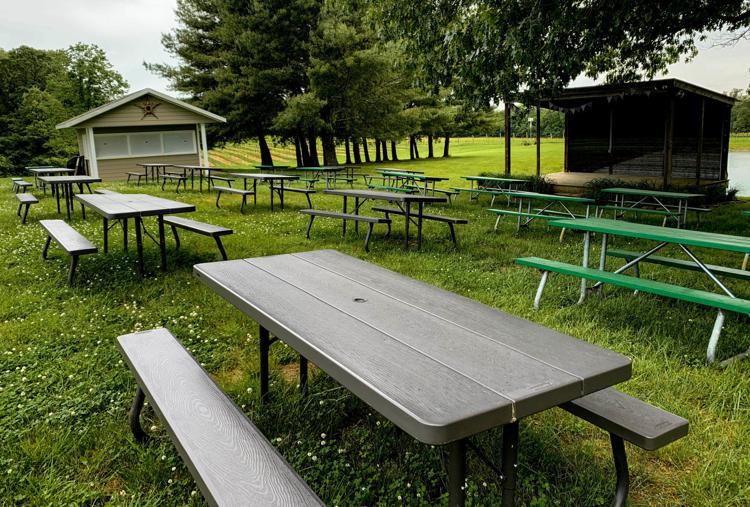 "May is definitely one of our biggest, if not our biggest, month, and obviously it will be different this year," said Regina Morrison, co-owner of StarView Vineyards in Cobden. "Business in May is what helps us get through the slow winter months, and that's a little nerve-wracking and will be in the back of our minds, but we'll make it through."
About 278,000 individuals made over 900,000 trips to Illinois wineries and vineyards last year, according to the 2019 Illinois Wine Economic Impact Study by John Dunham & Associates, which was commissioned by the Illinois Grape Growers and Vintners Alliance.
"In addition to spending in the wineries and vineyards on wine, food, events, etc., these people spent an estimated $1.09 billion in the Illinois economy," according to the study. The economic activity created by the visitors directly generates about 5,700 full-time jobs — paying about $167 million in wages and benefits while contributing $381.4 million in economic activity to the state.
'Resilient people'
Lisa Ellis, executive director of the IGGVA, said while the times have caused challenges, the individuals in the wine industry are a strong group who have a history of overcoming obstacles.
"Winemakers and winery operators and grape-growers are pretty resilient people and it's just the nature of the business," Ellis said. "Really, they have been rolling up their sleeves and doing what needs to be done so they can stay operational and be prepared for when people can come back."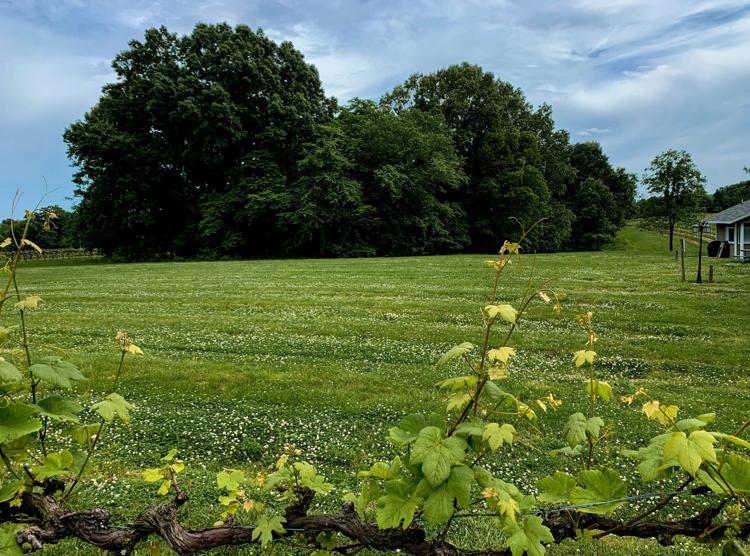 Moving forward, Nance said there are changes that Shawnee Hills Wine Trail member wineries are taking to protect both the staff and the public. Member vineyards are requiring face masks inside of the wineries and at all service stations, are limiting groups to six people or fewer, and are asking patrons to maintain social distancing. Blankets and lawn chairs are also encouraged at the Shawnee Hills Wine Trail wineries.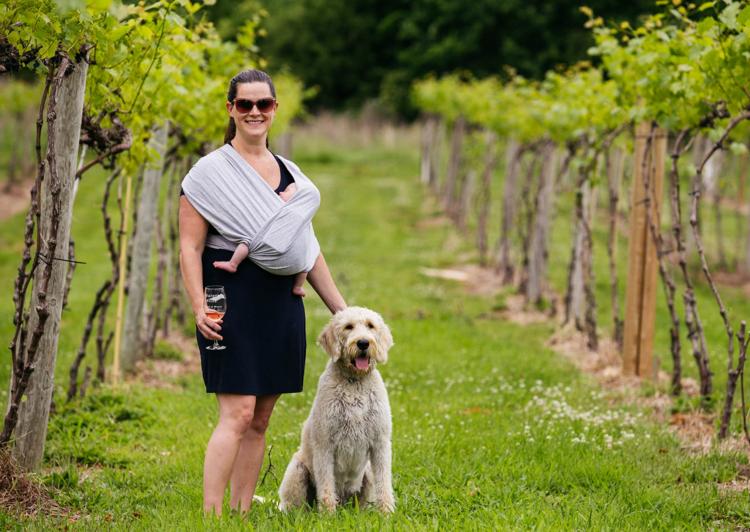 Renee Feather and her husband, Randy, own Feather Hills Vineyard and Winery in Makanda. While the temporary shutdown of in-person dining and drinking has been difficult for many business owners, she said she found it to be somewhat of a relief — she gave birth to her daughter, Charlotte, two days before the governor's stay-at-home order was enacted.
The couple has a unique perspective on the pandemic as Randy works at the Union County Hospital in the emergency room and Renee works as a physician at Heartland Regional Medical Center. "We've been seeing it develop a little more and now we both feel very comfortable getting people back here," Feather said. "Please be patient with us as we try to figure this all out together."
Regina Morrison shared similar sentiments and encouraged patrons to be patient with wineries, and reassured the health precautions won't be taking the fun out of anyone's trip to Southern Illinois' wine country.
"We've missed everyone and can't wait to see them," Morrison said. "There will be some extra precautions we'll have to take, but everyone should still have a great time."
Concerned about COVID-19?
Sign up now to get the most recent coronavirus headlines and other important local and national news sent to your email inbox daily.