Twice a month on Sundays, The Varsity Center is home to what organizer and emcee Nathan Colombo hopes is a launchpad for comedy dreams.
Sunday Stand-Up at The Varsity is free, and the shows usually last about two hours. Seasoned comedians perform alongside total newbies in a casual, open-mic format.
The bimonthly amateur comedy showcase started in July, and has happened about a dozen times, Colombo said. There are two more shows set for December, and Colombo expects to announce about six months worth of shows early in 2020. (By the way, yes, Colombo is that Nathan Colombo: community organizer, former Carbondale mayoral candidate, and the guy behind the popular comedic Facebook account "WTF Carbondale.")
"My hope is that through the work that we're doing now hosting these shows … that we'll be able to find our next shining star and connect them to Carbondale somehow."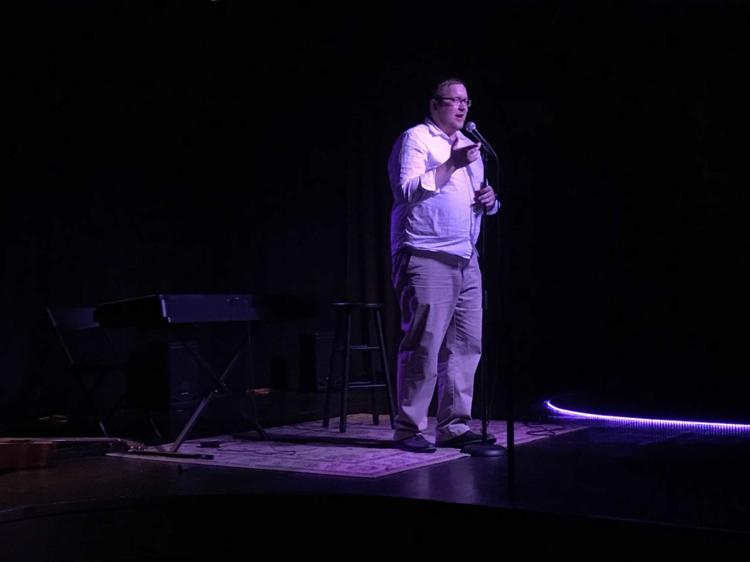 Colombo said the idea is to provide a space for comedians from around the region — from southeastern Missouri to western Kentucky and, of course, Southern Illinois — to work out their material and get comfortable in front of an audience.
As Colombo put it from the stage this past Sunday: "Everything you saw tonight was completely f------ amateur."
I checked out the show this past Sunday with my husband and a friend, joining about 25 people who had the same idea, in the small, intimate upstairs Balcony Theater in the The Varsity.
Unlike a bar-turned-comedy-club — Hangar 9, across the street from The Varsity, also hosts stand-up comedy nights — there's no background chatter, no tinkling of glasses that din behind the delivery. Silence somehow feels louder up here in the quiet, partially carpeted Balcony.
But, then again, the laughter feels louder, too.
Comedians from four states — Illinois, Missouri, Kentucky and Virginia — took turns on the mic. We saw a five-year veteran of the Cape Girardeau comedy scene, a young Carbondale man who was doing stand-up for only the second time ever, and a smattering of comics in between.
Highlights: Cape Girardeau comic Thomas Shaner's deadpan commentary on current events and pop culture. David Alvorado, who moved here from the Netherlands about five years ago, and has been a regular at Hangar 9 stand-up shows, made his Varsity debut, with a hilarious outsider's take on the mystique of Rural King. Tom Cook, also of Cape, got a gold star for crowd work — the only comic to try it on Sunday — and for his reappearance later in the show, shirtless, to deliver pizza to an unsuspecting audience member.
Tyler King's musical finale made me laugh until I cried, with a song called "The Island," an earworm that went from pure silliness to a scorching critique of the power structure that allowed Jeffrey Epstein to (allegedly) get away with repeated child rape.
Colombo cautions that content is "not necessarily church-going comedy," warning it "may not be something that's comfortable for everyone." There's no content restriction for the show. We heard jokes about everything from 9/11 to getting older to sexually-transmitted infections to rape (dangerous territory for amateur night, but after all, open mic night is a place for performers to try things — and occasionally fail).
You have free articles remaining.
Keep reading for FREE!
Enjoy more articles by signing up or logging in. No credit card required.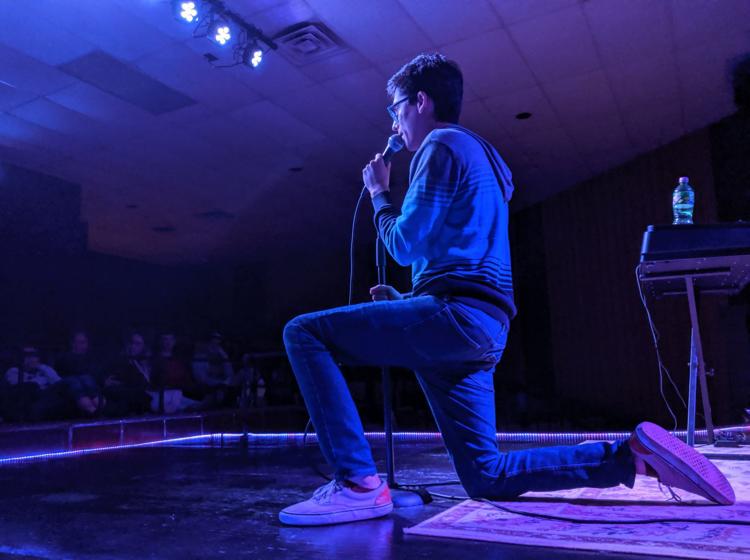 A number of the performers uttered the phrase "I love women" throughout the night, yet women were conspicuously absent from Sunday night's sausage party. Colombo assured me afterward that I'd just happened to catch them on a night when the lineup was a bit homogeneous — 100% male and 90% white. 
In general, he said, the turnout for performers can sometimes be a roll of the dice, since it's an open invitation. But, he acknowledged it can be a bit of a white boys' club.
"I make it a point to not just book people who look like me, and to encourage people who don't look like me to participate with us … and make sure the show is approachable," he said in our Tuesday interview. Colombo has booked a few professional comedy gigs around the region — including two filmed comedy specials — and the lineup has been decently diverse, with women and people of color headlining.
On the mic on Sunday, he encouraged a more varied participation as such: "We would like to hear more than what white men like to do with their d---."
Colombo and the other comics certainly have created a safe space for beginners to cut their teeth. Colombo said he walks all new performers through the stage, the lighting and the audience before the show.
"It's way different from most open mic nights where performers get five minutes, no setup, and little if any coaching from the venue," he said.
At the start of the show, the friend who'd come with me — who also kind of knows Colombo — was talking back just a bit too much as he went through his opening bit. Colombo looked straight at us and kindly and firmly discouraged such behavior.
It went something like this: This is how this works. We do the talking. We come up here and we perform, and you laugh. Practice that. HA. HA. HA.
Henceforth, there was no heckling. At times, there was patient silence, but mostly, we all knew what we had gotten ourselves into. We were willing test subjects. 
Colombo said his open mic night is as much about the performers as it is the audience, but trust me, the audience isn't suffering — Colombo's structure of the show is so thoughtful, I first thought he had carefully curated it.
Future stand-up nights are at 7 p.m. Sunday, Dec. 1 and Sunday, Dec. 15, at The Varsity, 418 S. Illinois Ave. Sign-up starts at 6:30 (here's looking at you, non-cis-hetero-white-dudes). To stay in the loop for future shows, follow The Varsity on Facebook at facebook.com/VarsityCenter.