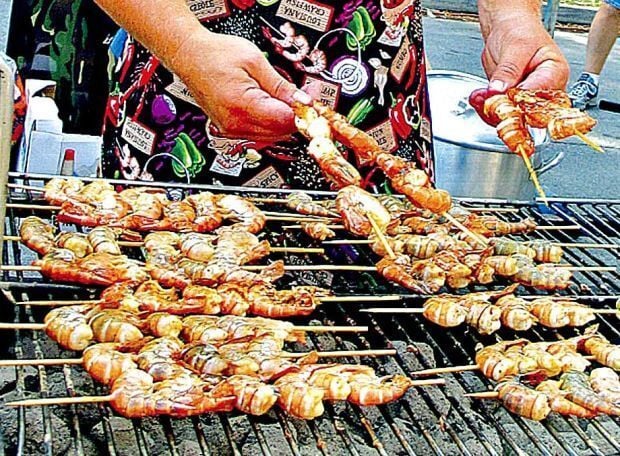 GOLCONDA — The Golconda Shrimp Festival board of directors has voted to skip this year's event, citing the rising number of COVID-19 cases in Southern Illinois.
The festival was scheduled for Sept. 19.
The Golconda Shrimp Festival in the small town of Golconda on the Ohio River banks began in 2001 as a way to celebrate the harvest of locally raised freshwater shrimp. Each year, crowds of more than 5,000 people come to taste dozens of different freshwater shrimp dishes, enjoy the live music, and explore the charm of the historical riverside town.
"We put off this difficult decision off as long as possible and even had discussions with the Southern Seven Health Department on how we could still put on a festival with guest safety in mind," Nathan Ryder, president of the Mainstreet Golconda board, said in a press release issued Friday.
Mainstreet Golconda is the nonprofit that puts on the yearly festival; the civic organization dedicated to growing business and tourism in Golconda and the greater Pope County region relies on the event as its primary fundraiser for the year.
Ryder said that the Golconda Shrimp Festival has a history of persevering through challenging times. The inaugural festival was scheduled well in advance of the event, but the organizers worried about carrying forward with it after 9/11 occurred. Ryder said it ended up offering the community an opportunity to come together and heal, and provided some sense of normalcy in uncertain times.
"We were hoping the situation with COVID-19 was going to be similar, that infection numbers would be declining, and we could fill the streets and celebrate a return to normal," he said. "Unfortunately, we just don't see that as being a safe opportunity this fall."
But organizers aren't letting the pandemic dampen their spirits toward the quirky little festival celebrating a unique slice of Southern Illinois. He said they look forward to planning a "bigger and better" festival for 2021.
What's more, festival enthusiasts can purchase commemorative T-shirts of this year's non-event to help with fundraising. Continued sponsorships and donations are tax deductible and will help Mainstreet Golconda continue its community outreach activities in Pope County, Ryder said.
618-351-5079
On Twitter: @MollyParkerSI ​
Concerned about COVID-19?
Sign up now to get the most recent coronavirus headlines and other important local and national news sent to your email inbox daily.