CARBONDALE — It's been 40 years since a pole barn was erected on The Strip that had City Council members confused.
That mysterious pole barn would later be known as Hangar 9, which has been one of the premiere spots in Carbondale sine 1978 for live music, daily attractions and top-notch performing acts each week. The bar has survived throughout the years as one of the remaining staples of Carbondale nightlife.
Hangar's owner, Sally Carter, has been at the forefront of changes in the music and entertainment scene. Hangar was one of the first bars to charge cover fees for national touring acts. And, Carter fought to lower the bar age to accommodate college students, and pleaded with City Council to lift the bar ban that forced Hangar, Stix and Sidetracks to close on Halloween years after raucous downtown parties rocked The Strip and rattled the city.
Hangar is giving back to its patrons this weekend with fun and memories to celebrate its 40th anniversary.
The celebration will last all weekend, getting kicked off with Lone Howl taking the stage Friday night. On Saturday, The Venturis will grace the Hangar stage, featuring Robbie Stokes, who has a long history with Hangar 9 as a performer and sound technician.
Saturday night will also include a barbecue dinner from 5 to 7 p.m., for $10 a plate, with all the profits being donated to the Humane Society of Southern Illinois. The menu includes pulled pork sandwiches and vegetables, and also has vegetarian options.
On Sunday, the bar will open at 11 a.m. and then a group will make the short walk to the field on Washington Street for a kickball tournament. The bar obtained a fair days resolution from the city, so the tournament is BYOB and wristbands will be sold at Hangar in order to drink from a keg at the field, Carter said.
The weekend is an appreciation for anybody who has been a patron and employee, said bar manager Elizabeth Yewell, who has worked at Hangar for 16 years.
"This is an event for them," she said. "People have a love and appreciation for Hangar and we have a love and appreciation for them."
She said there will also be a family photo op on Sunday at the bar before the kickball tournament for anyone who has been affected by Hangar 9.
According to a Dec. 22, 1977, Southern Illinoisan article, Gary Lotz and Ed Maher built a metal building at 511 S. Illinois Ave., on a site left vacant after a fire destroyed Rocky Mountain Surplus and the Mandarin Garden restaurant. This was the birth place of Hangar 9.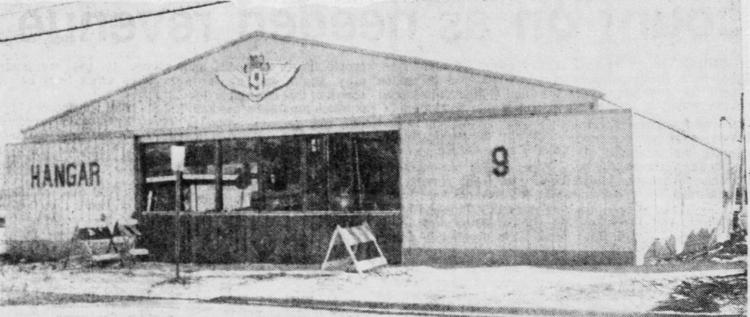 The article said Lotz and Maher were aviators who spent time together flying out of a Hangar 9 in Germany — the inspiration for the name of the popular bar that remains the spot's moniker in 2018.
Lotz himself was the early owner of the bar and fought to keep Hangar a place for students, even if they weren't old enough to drink. A Dec. 18, 1979, Southern article said he was already creating two separate identifying factors for people who were old enough to drink alcohol and those who couldn't.
"I'd rather sell (soda)," Lotz said in the article. "I'd sell it all night long if I had to."
At the time, it was noted the venue was a popular downtown bar that often had bands and collected a cover charge.
Carter kept that spirit alive throughout the years, arguing in 1984 to keep minimum bar age at 18 and relenting a bit in 1994, saying she could live with the age being raised to 19.
Hangar was gaining steam as one of the popular venues for all local bands, including a modern-day fixture for the bar today, Robbie Stokes. In a Feb. 17, 1980, Southern article, it was a mentioned that a woman jumped on the old Hangar stage, took off all her clothes and began to sing with Stokes during a performance.
In June 1980, the liquor license for Hangar was transferred to Toomey Enterprises Inc., which is owned by Carter. She was an employee of the bar when it first opened and transitioned to ownership around that time.
By early 1981, there were advertisements for bands every weekend at Hangar 9.
By the mid-90s, the Carbondale government started to put more restrictions on alcohol-related establishments as it became concerned with the amount of underage drinking and its hard-partying image to the outside world. One ofd those results was shutting down bars on The Strip for two days the weekend before Halloween.
Carter, in an effort cater to younger students who couldn't drink alcohol, implemented the first alcohol-free hours in August 1996. The bar would admit anybody who wanted into the bar until 10 p.m. with no alcohol served to anybody. Everybody had to clear out of the bar by 10:15 p.m., and the bar would re-open at 10:30 to just those 21 and older and alcohol was served.
In January 2009, disaster struck.
After an ice storm left significant amounts of ice on the roof of the old bar, several inches of snow was packed on top of that ice and the weight of the elements caused the roof to collapse. City officials declared the building was unsafe and Carter shut down operations when the structure began to fail further.
Carter had to completely start from scratch — she constructed a new building. In December 2010, after almost two years out of business, Hangar was back with a new design. Once the bar was back, so was the music. Even Grammy-winning hip-hop artist Kendrick Lamar played a set on the new stage on Nov. 3, 2011.
In 2013, Carter successfully lobbied the City Council to open the bar and others during Halloween that year. Bars have been allowed to open on Halloween ever since.
Music was always the focal point of the bar, Carter said. After the bar became entrenched in the region, musicians would play the venue and while out on the road, share their experiences in Carbondale.
"We became to reliable place to book a band," Carter said.
She said acts still contact them. It became known as the bar was a good routing date if an act was coming through from Chicago, Memphis or Nashville.
Now, she is still working with those around her to figure out what the college kids want to hear in 2018 and beyond.
"The taste in music has changed a million times," she said. "It is always to keep up with what the kids want now. The large college crowds are the ones you have to cater to in order to stay in business."
Right now, the big draw is electric dance music, or EDM, she said.
"You have to keep hiring people that know that music and stay on top of the scene," Carter said.
Another change after the new building was constructed was the emphasis on craft beer. Carter said when the venue reopened, it had 18 craft beer taps — far more than any other bar downtown.