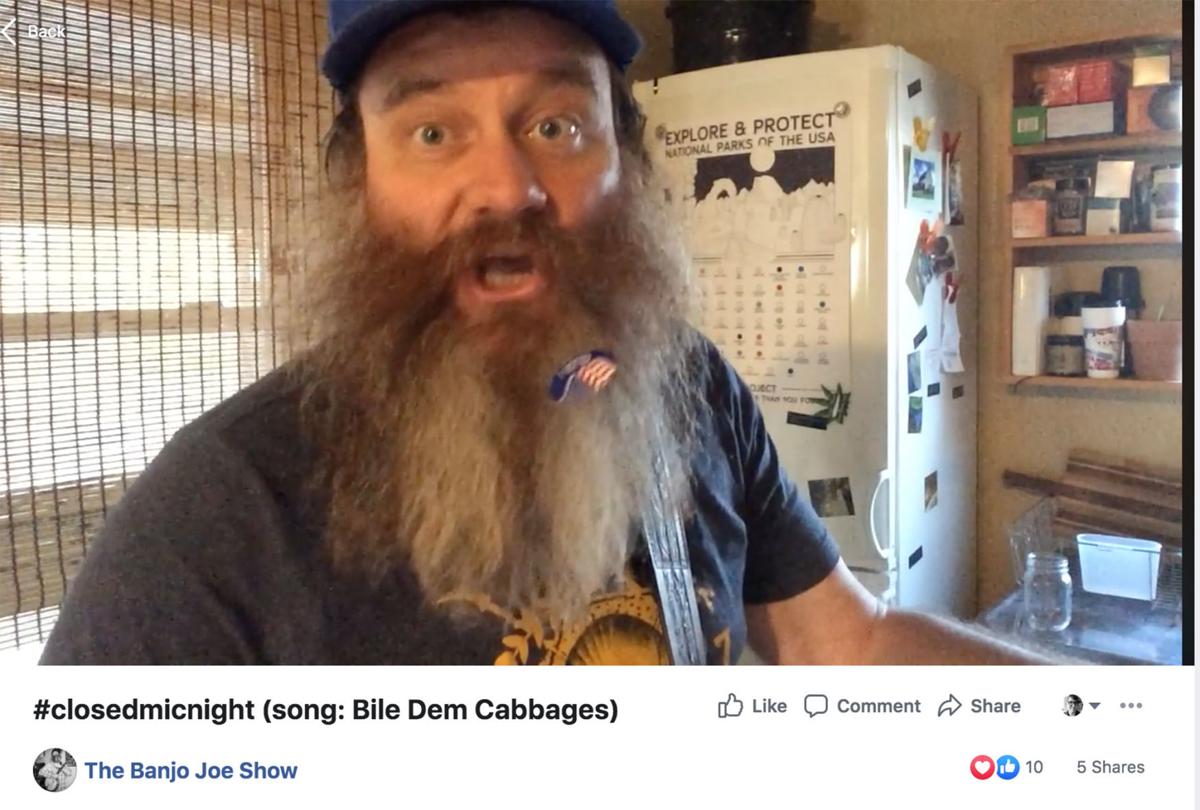 On a typical Tuesday night, a lineup of local musicians entertain a gathering of regulars nursing drinks at Tres Hombres in Carbondale for Open Mic Night. But this past Tuesday was not a typical night.
Illinois Gov. J.B. Pritzker ordered that all restaurants and bars in the state close to dine-in service on Monday through the end of March as part of a social distancing effort to limit the spread of COVID-19. Gatherings of 50 or more are banned. That means many restaurants are offering curbside pickup and delivery. Meanwhile, bars and music venues — like wineries, breweries and theaters — are closed.
Aside from the bartenders, staff and owners who are facing work stoppage (and lack of cash flow) as a result of the closures, this leaves Southern Illinois' musicians and entertainers off the stage and out of work. And it leaves the rest of us stuck at home, sufficiently bored, missing our friends, and looking for stuff to do.
The Tres Open Mic Night gang spent Tuesday night livestreaming in a #ClosedMicNight from their homes. Jenny Johnson and Alexander Pape, Kendall Bell, Hugh DeNeal, Ben West, Bosco & Whiteford and Nathan Graham — among others — played music from home via Facebook Live (I personally loved Graham's feed, which begins with a cozy-looking dog lying belly-up at his feet). All of their live feeds were accompanied by a place to donate to Tres staff who aren't working right now — paypal.me/treshombres.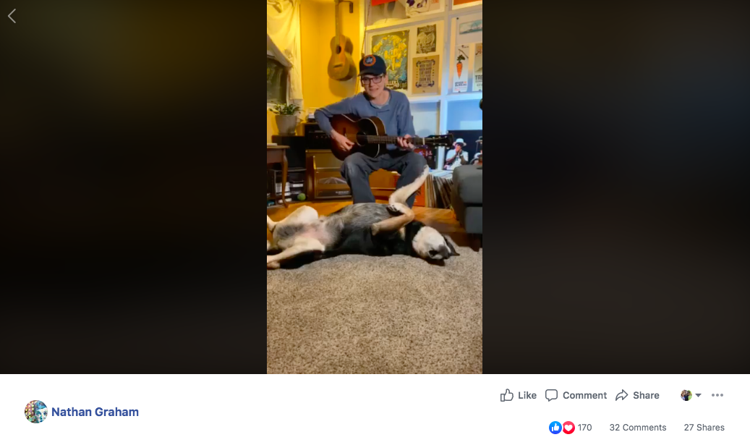 Graham, who hosts Tres' Open Mic Night, said it's not unusual for the Open Mic crew to give money away. At the regular weekly performances, they put out a bucket and collect money for a charity of the month. At the end of the month, the money collected is donated to that charity.
Graham said by 6:30 p.m. Tuesday there were 20 or so videos from musicians in Southern Illinois, as well as musicians in Chicago, Texas and Kansas City who used to be part of the local scene. They were able to raise more than $700 (as of Wednesday evening) for Tres' staff. Somebody even sent 5 euro from Ireland, Graham said.
The musicians plan to recreate the event, with the same hashtag, in support of PK's bartenders, since many of the musicians who play at Tres' Open Mic also often book gigs there. The streams and videos are expected to start popping up on Facebook around 5 p.m. Sunday. The best place to find them all, and the donation link, is facebook.com/pkscarbondale. Or search the hashtag #ClosedMicNight.
Around the region, a growing number of venues and entertainers are putting together virtual events to entertain those of us stuck at home, and to raise money for those in the entertainment industry currently in a lurch.
On Friday night at 7, husband-and-wife duo Bosco & Whiteford will livestream a show, which will surely include the new (very catchy and funny) song "Quarantined with You." Visit facebook.com/boscoandwhiteford for more information.
The Marion Cultural and Civic Center, having postponed all of the entertainment scheduled in the next six weeks, is launching the Empty Concert Series. At 7 p.m. on Tuesdays, Thursdays and Saturdays, Southern Illinois musicians will perform on stage at the Marion CCC to an empty theater, with a crew of about six people manning the technology to livestream the concerts to Facebook (visit facebook.com/marionccc for information about accessing the streams).
None of the performers were originally scheduled to perform at the Civic Center during the cancellation period. Executive Director Josh Benson said tickets for postponed events will automatically transfer for the reschedule dates.
"The beautiful thing about this, for us, is one, it gives us and our staff something to focus on that isn't just cancellations and rescheduling," Benson said. "With all of the local artists, they're typically playing restaurants, bars and wineries, and their calendars are getting all but wiped out, and in turn, it gives them an outlet to play and still connect with the comm artistically."
Benson said the venue is "modestly" supporting the artists, and that the live feed will have a "donate" button for anyone who wants to give more.
In Murphysboro, Molly Blew, co-owner of Molly's Pint, said it was disappointing that her brewpub wouldn't be able to host its third anniversary party this Saturday, for which a number of musical acts were slated to perform. Her venue has partnered with the nearby Liberty Theater — which is a nonprofit and is also unable to have events right now — to host a virtual party on Saturday, with all the musicians scheduled to play performing in the empty brewpub for a web audience.
Update (Friday, 5:30 p.m.): The Molly's Pint livestream event has been canceled. According to a post in the Facebook event, organizers say it's because the stay-at-home order issued Friday means the musicians can't come to the brewery.
"Murphysboro is a tight-knit community," Blew said. "This came about because we're all just trying to take care of each other."
The lineup includes Sims and Roudybush, The Big Hurts, Bruce Blew, Carr and Tejada and Tim Crosby. Music starts at 2 p.m. Visit facebook.com/mollyspint and go to the Events tab to find out how to livestream.
Blew said that, through sponsors, the musicians will be paid. But, there is an option to donate at paypal.me/historicliberty. The donations will be split three ways among Molly's Pint, the Liberty and the musicians.
"We're kind of hoping it'll be an uplifting thing for people stuck at home," Blew said. "We just want them to feel like they're having a good conversation and a beer with friends again."
Blew also said the brewery is still doing growler fills. The brewery ramped up production in anticipation of its annual St. Patrick's Day party and its anniversary party — both usually provide an essential infusion of cash to the small business — so there's plenty of beer.
Nathan Colombo had a lineup of free Sunday night comedy shows on the books at The Varsity in Carbondale. He's planning an online comedy stream that he hopes will feel as much like a live comedy open mic as possible.
He's calling it The Comedy Server, and it'll stream at 7 p.m. on the second and fourth Sundays of the month (look for the first one on Sunday, March 22).
Colombo is still in the planning stages, but says the goal will be to have a host, just like a regular open mic night, comedians, and even a couple of audience members — what he calls a virtual laugh track — participate in a live feed that will look something like this: The comedian on the "mic" will occupy 90% of the screen, and the host, other comedians and audience members will be visible in smaller screens off to the side.
The goal will be to stream to three different platforms simultaneously: Facebook, YouTube and Twitch. Colombo is hoping the first show will feature comedians from Carbondale, Nashville, Chicago and Los Angeles.
"In the world of comedy, I see this as a huge opportunity to build community for performers across physical divides," Colombo said. "As for the people at home, I think it'll just be nice to hear laughs that aren't their own for a little while, and that's the goal."
Concerned about COVID-19?
Sign up now to get the most recent coronavirus headlines and other important local and national news sent to your email inbox daily.