Just around the corner, the chanter, Rebecca Kagaris, comes into view, standing between two men, one clad in all black with his head covered. From time to time, Monk Symeon motions to Kagaris and the other man, Walter Ray, who take turns singing psalms from papers in front of them.
A handful of people follow along in the service, reciting the psalms and scriptures from turquoise-colored handbooks, occasionally joining in for a congregational read.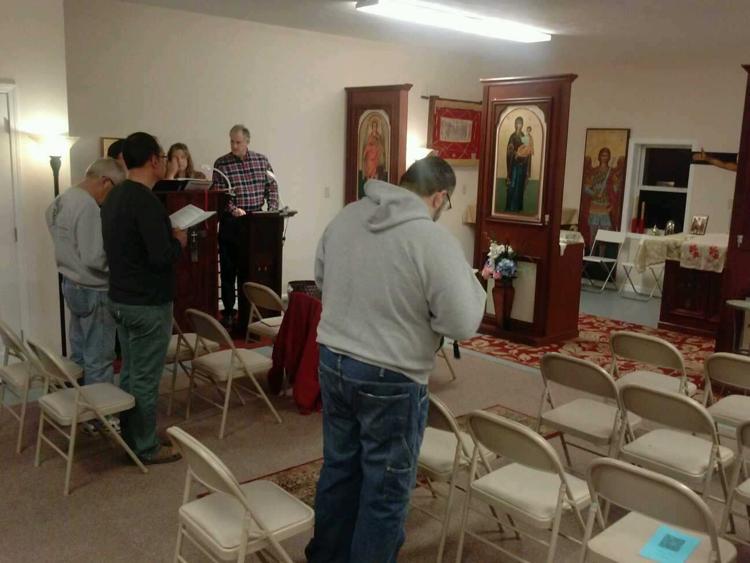 This particular type of service, vespers, is a first in Carbondale, which can now lay claim to having it owns Orthodox Christian church. Organizers are celebrating the church's first year with a Fall Food Festival from noon to 4 p.m. Sunday at the church at 1320 S. Giant City Road.
Coming together
The church started forming after Kagaris and her husband, Dimitri, opened their home about three years ago. She had just moved here three years ago from St. Louis; her husband, who was born in Greece and grew up in the Orthodox tradition, had called this area home for about 20  years. Rebecca said she Orthodox Christianity after attending a Greek festival in St. Louis.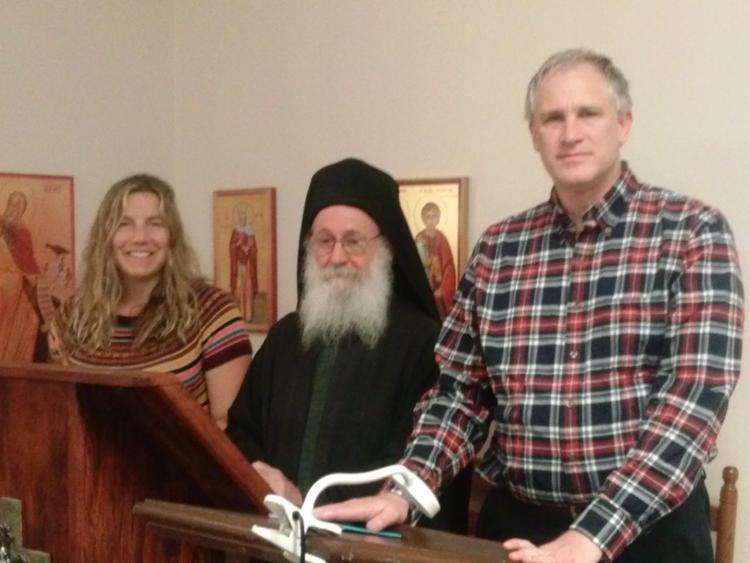 Interested Orthodox families came together with the intent of creating their own church here. They realized they wanted something closer and more convenient for believers, especially those with smaller children.
"And it all started in our basement on Chautauqua," Rebecca Kagaris said. "So we started meeting in our basement, exactly a year ago this weekend, so it's kind of our year anniversary. We had enough families to get a building on Giant City Road and that was in March of 2015."
The gathering also met in the home of co-founders Nader and Rania Dababneh, who are from Jordan. Rania noted that Jordan is 4 percent Christian, of which one-third are Orthodox Christians.
Rania said she tried visiting other Christian churches in this region, but "it never clicked for me."
She said, the way she was raised, she doesn't separate her religion from other aspects of her life, so not being able to worship in an Orthodox setting was troubling.
"You can't just separate it," she said. "So having it here, you've just found the lost part of the puzzle. You have all the different pieces together (now)."
The faithful Orthodoxy
Carbondale's new church represents a mixing of the old and the new, a gathering of like-minded people who started meeting a year ago in homes of some of the area's newest residents. The new faithful include those who have been Orthodox for many years, such as Theodore 'Ted' Amigdalos, who is from Greece, and Fotios "Frank" Karayiannis, owner of the Pinch Penny complex, who is also from Greece, where he said he was born into Orthodoxy.
Followers say the religion stems from New Testament days, when Jesus Christ walked the earth with his disciples, or apostles.
Orthodox Christians are 12 percent of the world's Christian population, according to a 2011 Pew Research Center Religion and Public Life study. They are heavily concentrated in Europe. The largest percentage are in Russia (39 percent), followed by Ethiopia (13.9 percent) and the Ukraine (13.4 percent); Romania, with 7.2 percent; and Greece, with 3.9 percent.
The United States ranks 16th in terms of the number of Orthodox Christians it has — with 1,870,000 — sandwiched between India's 2.37 million and Bosnia-Herzegovina's 1.44 million.
Carbondale's new church is home to about 30 to 40 individuals, co-founder Rebecca Kagaris said.
A multi-ethnic church
Near the end of the service, Ray leads the group in reciting the "Lord's Prayer" in English.
Rania Dababneh recites the prayer in English, then repeats it in Arabic, her daughters, Lena, 7-and-one-half, and Kimberly, 5, in the back of the church, chiming in in both languages. Others recite the prayer, in Russian and in Greek.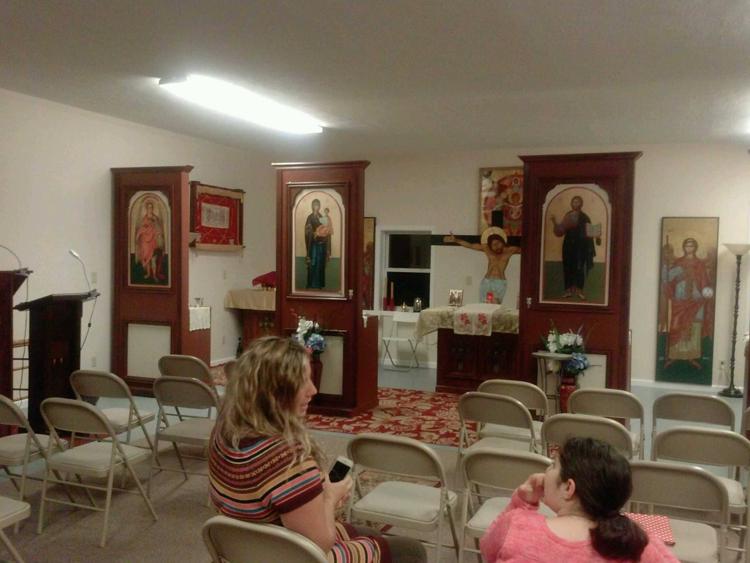 The multiple languages represents the inclusivity and diversity of the church, made up of some who might have grown up in predominantly Greek or all-Russian or some other ethnic Orthodox church.
Because there are too few of any one ethnic group to sustain an entire church, they have come together. This ethnic mix includes worshipers from Greece, the Middle East and the United States and includes converts, such as a Native American from South Dakota.
Frank Karayiannis said he and his wife were married in Chicago, but had a wedding at Protection of the Holy Virgin Mary Orthodox Church in Royalton, where his three sons were baptized. 
ROYALTON — The morning of Oct. 27, 1914, Frank Derbak was late to work for his job at the Fr…
He said he felt welcomed by the Royalton congregation, founded by Slavic immigrants who worked in the area's coal mines. That church just celebrated 101 years.
He noted that in his younger days, he was a merchant marine who traveled to different countries, learning to accept people and their various beliefs.
"We all have the same beliefs and that is great," he said of new church.
Rebecca Kagaris agreed: "It's the ancient Christian church, but it's alive and well today, for anybody."
Building anew
The Orthodox churches, such as St. John Damascus in Carbondale, are typically filled with icons — multiples images and paintings depicting Jesus Christ, the Virgin Mary and Christ the 12 apostles and various martyrs and saints; and the archangels Gabriel and Michael on either side of the altar.
Karayiannis is relishing the fact that Carbondale has its own Orthodox church, one that he can actually walk to, if he so desired.
"It's something that will help us keep that tradition we have learned in our lives," Karayiannis said. "(It's) also a place to pray and keep the religion going."
"I join and I will try to do what I can to progress (the church) and after that, we will see," he said.