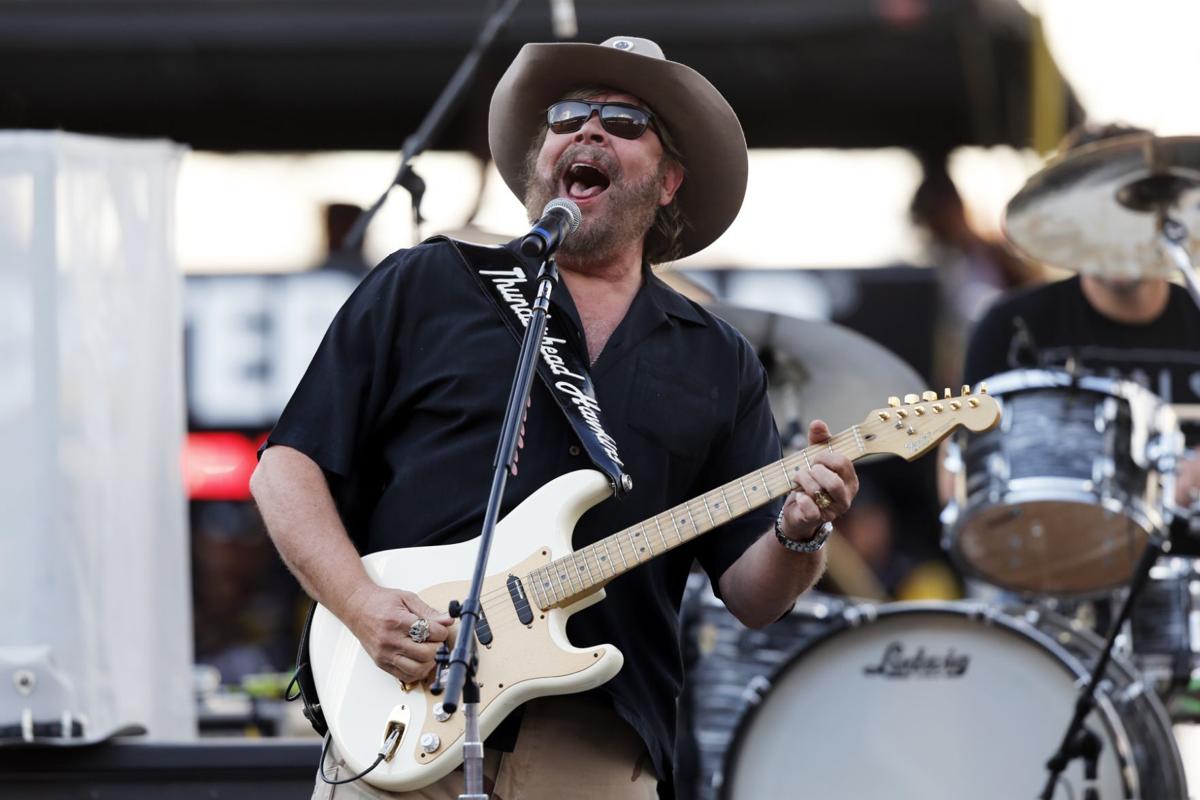 Father's Day is coming up this Sunday, and although you and Mom are down there in Vero Beach, Florida, I wanted to take this opportunity to thank you for everything you've done for me.
You taught me the proper way to mow a lawn, which was good preparation, I suppose, for three years of cutting grass at the golf course adjacent to our Orland Park subdivision. Sorry, but I can't explain how I ended up in journalism.
As most readers are aware, I'm also a musician, thanks to my music teacher mother.
With that background, I thought it appropriate and touching this week to look at the many family legacies in musical entertainment. I did a little research and found no fewer than 44 examples.
There are Paul and James McCartney; John, Julian and Sean Lennon; George and Dhani Harrison; and Ringo and Zak Starkey.
Crooner Frank Sinatra's daughter is actress and recording artist Nancy, best known for her 1966 hit song "These Boots Are Made for Walkin'".
Elvis Presley's daughter Lisa Marie is a singer who, interestingly, was once married to Michael Jackson as well as actor Nicholas Cage, for two years each.
From her second marriage, Priscilla Presley's son Navarone Garibaldi is a guitarist and lead singer in the Los Angeles-based rock band Them Guns.
Johnny Cash, Bob Dylan and Nat "King" Cole all have Grammy Award-winning offspring in Roseanne, Jakob and Natalie, respectively.
In the world of rock, Jason Bonham, the son of late Led Zeppelin drummer John Bonham, bangs up a storm in reunions with surviving band members as well as other combos. The late Eddie Van Halen's son Wolfgang is a bassist; Carlos Santana's daughter Stella Santana is a singer; and Mick Jagger's son James is an actor and singer in a punk band.
David Crosby's biological son, James Raymond, was given up for adoption in 1962 but reunited with his father as an adult and has performed with his dad on stage and in the studio since 1997.
Country legend Waylon Jennings has a singer songwriter-guitarist son, Shooter, who has released seven albums.
Ben Taylor, the son of singer-songwriters James Taylor and Carly Simon, has released several albums, one of them featuring his mother on backup vocals and actor-musician Kevin Bacon on bass.
The late Motown singer Marvin Gaye's daughter Nona is a recording artist, model and actress famous for her roles in both sequels in "The Matrix" series.
There are several examples of multiple children or even generations of successful musicians.
One of the most recognizable likely is Country music pioneer Hank Williams, his son Hank Williams Jr. and Hank Williams III.
The Carter family includes generations of musicians including "Mother Maybelle" Carter, Johnny Cash, June Carter Cash, Carlene Carter, the aforementioned Roseanne Cash and several others.
Willie Nelson's sons Lukas and Micha both currently perform in Neil Young's backup band.
From multiple relationships, the late Bob Marley had 11 children, including sons Ziggy, Stephen and Damian, who carry on the reggae tradition.
Black Sabbath vocalist Ozzy Osbourne's children, Jack and Kelly, are musicians.
Band leader and actor Ozzie Nelson's son was 1950s heart-throb Ricky Nelson, whose twin sons Matthew and Gunnar Nelson currently lead a rock band.
The late legendary experimental rock guitarist, singer and composer Frank Zappa was father to musicians Moon Unit, Ahmet, Dweezil and Diva.
The list of familiar family musician names might end there, but includes many others like Leonard and Adam Cohen; Billy Ray and Miley Cyrus; Tim and Jeff Buckley; Max and Jay Weinberg; Billie Joe, Joey, and Jakob Armstrong; and Enrique and Julio Iglesias.
Actor and rapper Will Smith, also known as the Fresh Prince, is father to musicians Jaden, Willow and Trey Smith.
Other musician families include Lenny and Zoe Kravitz; Brian, Carnie and Wendy Wilson; Ravi Shankar and daughter Norah Jones; Steve and Justin Townes Earle; Loudon Wainwright III and son Rufus; Rev. Run (of Run-D.M.C.) and Diggy Simmons; Lil Wayne and Reginae Carter; Don, Eagle Eye and Neneh Cherry; Richard, Linda, Teddy and Kami Thompson; and Cheap Trick guitarist Rick Nielsen and musician sons Daxx and Miles.
But wait, there are even more musical families with whom you may not recognize.
There are jazz musicians Olu Dara and son Nas; rapper Master P and his actor-rapper son Lil Romeo; and Nigerian Afrobeat musician Fela Kuti, the father of singer, songwriter and saxophinist Femi Kuti.
The daughter of French singer-songwriter Serge Gainsbourg is actress and singer Charlotte Gainsbourg.
Gospel music husband and wife David and Delores Winans have daughters BeBe and CeCe carrying on the family tradition.
Finally, music producer and Rock and Roll Hall of Fame inductee Glynn Johns' son Ethan is a musician who waited until age 43 to record his first album.
There doubtlessly are many more examples of musical families throughout the years that I missed.
For me, it consists of my violin-playing grandfather, who immigrated from Poland, my pianist and career music educator mother Dorothy, and your humble narrator, still pluggin' away on guitar, bass and vocals.
Happy Father's Day to all!
Gary Gibula is an SIU alum, musician, writer, editor and author of the Music Historicity columns.