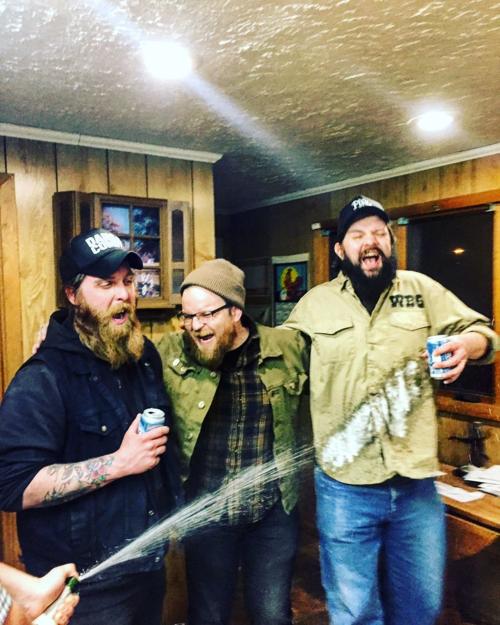 The ghosts of Southern Illinois American roots rockers County Graves arise once more to return to one of their favorite haunts on Black Friday.
Downtown Carbondale dive bar PK's has been home to shenanigans and seriousness alike for the musicians resurrecting County Graves. The group has had a number of lineups in its nine-year history, ranging anywhere from a duo to an eight-piece ensemble. Friday night's show sees friends and bandmates reconnecting for the first time under this particular banner in six years.
"We still get together and play once or twice a year," said Ben West, referring to his friend and bandmate, W.T. Newton.
"It'll be the first time he and Kasey (Rogers) and I all played together as County Graves in six years or so," explains Newton, referring to the group's bass player, Kasey Rogers.
Truly a band built on the bones of its own grave, County Graves put out one album together, released in 2017, after the then-six-person group had already disbanded and reconvened as a three-piece act.
"We've still got an unreleased live album we recorded at Hangar 9," Newton said, reflecting on some of the memories and growth since the band first started playing together in July of 2011. A decade later, it is easy to see West and Newton have both grown as men and musicians.
"We've played something like 600 or 700 shows together," Newton said, explaining the repertoire and rapport he and West have built through the years.
Adding to the dynamic musicianship for Friday's show are two confirmed guest performers and the possibility of more surprises to come. Joining in on guitar will be Mike Lighty, who plays with Kasey Rogers in the local hard-rock group Buzzzard. Additionally, Kyle Triplett will be joining on banjo.
You have free articles remaining.
Both Newton and West are talented songwriters and multi-instrumentalists, and both spoke about this Friday's show with such excitement and joy that, despite self-describing themselves as "just awful" to interview, the conversation flowed freely and excitement swirled around the upcoming show.
"I'm excited to play with the fellas," said West. "Travis (Newton) writes fantastic songs and has a powerful delivery, Kasey Rogers is a dynamic bassist and a great noise machine, Michael Lighty doesn't know how to play guitar poorly and can sound better than just about anyone, and Kyle Triplett is arguably the best banjo-player I've ever seen in person. It's gonna be quite a lineup. We kind of get whomever to play when we're in KC (West and Newton have played together and separately in Kansas City, most notably at the Westport Saloon), which is always a great time, since we know so many talented folks, but it's great to have these top notch friends from around here who will no doubt dazzle."
Ben Abney and The Banjo Joe Show will open.
"I'm so excited to have Joe open the show too, and our friend Ben Abney from Memphis will sing straight to everyone's hearts," West said.
Newton shared similar sentiments.
"I think this lineup will by far be the most traditional and old-time sounding, and also one of the most fun. Our two friends sitting in with us are both magnificent instrumentalists, and bring so much to the table. I'm really excited to get back on stage with everyone, and I'm even more excited to sing some of the songs again for the first time in five or six years."
And as for questions concerning the ghosts of County Graves refusing to die?
"It was a hell of a ride as a band," West said. "And who knows? Maybe we aren't nearly as ready to hammer that last coffin nail into our collective body of work as we thought we were. I guess time will have to tell."
PK's is located at 308 S. Illinois Ave. in Carbondale. It is a 21 and older establishment. There is no cover for the show Friday, Nov. 29, which starts at 9 p.m. County Graves' collection can be found on Spotify as well as other streaming services.