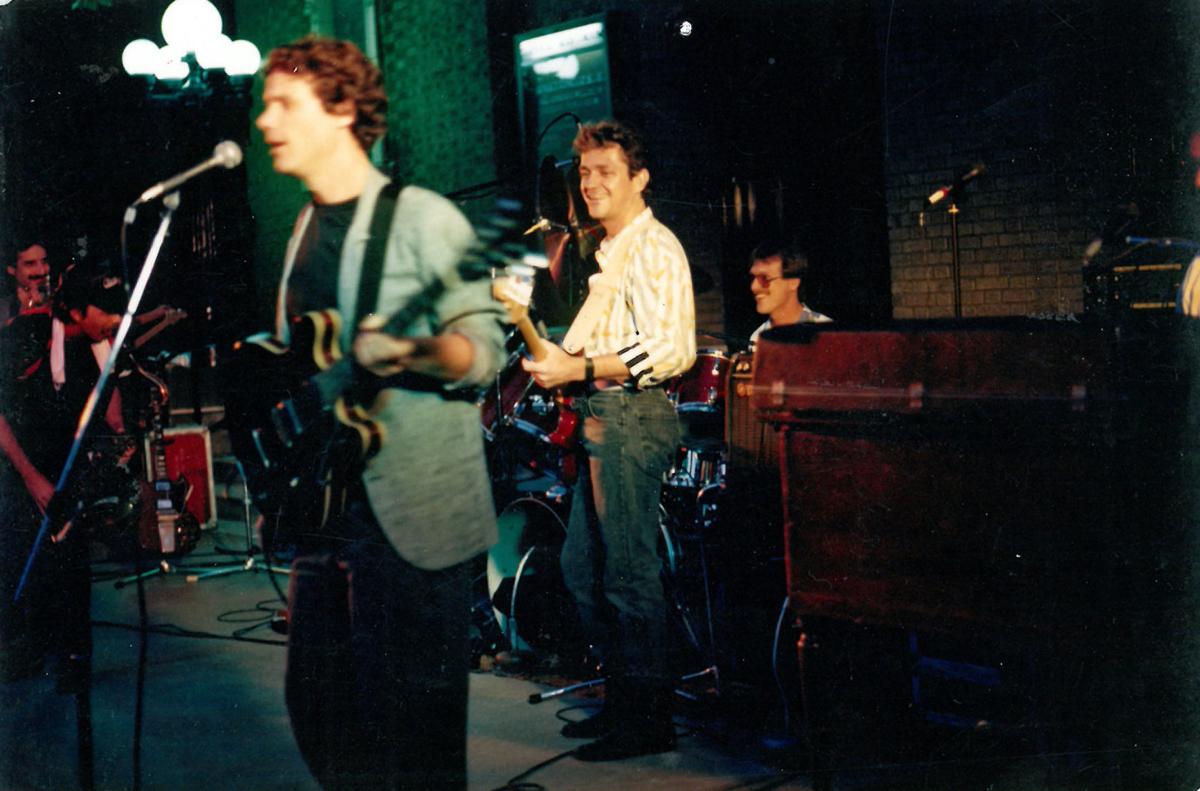 Boom! The sound of a tough horn section in perfect harmonic lock-step and a crack rhythm section syncopating underneath roils like thunder out of my JBL PA, and a large figure, looming in the dark just off stage, hears his cue and ambles onto the stage.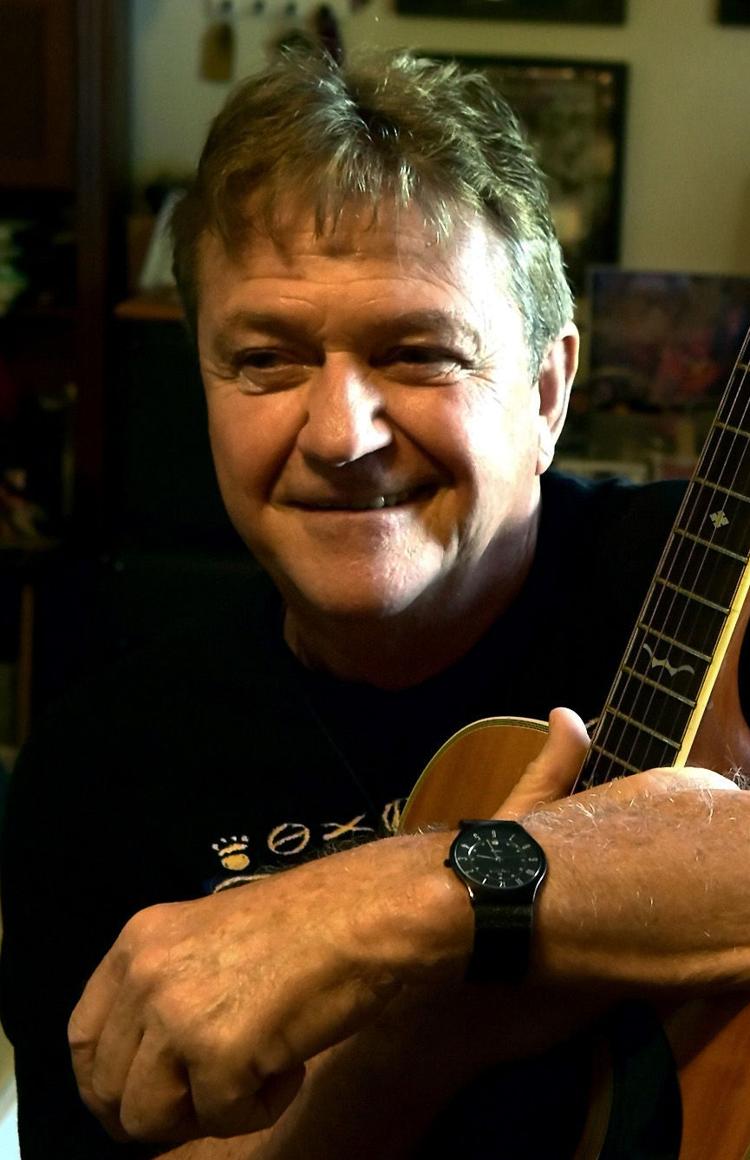 It is Terre Haute, Indiana-born Larry "Big Twist" Nolan, playing "300 Pounds of Heavenly Joy" (a signature tune), early 1990, in full stride at the Carbondale joint then-called Smiling Jack's. This location was formerly an IGA grocery store, and through many incarnations is now known as Levels.
His band, Big Twist and the Mellow Fellows, played many other venues here as well, including Hangar 9, The Club and late-night bar Carrie's. They released records on Chicago's Bruce Kaplan-helmed Flying Fish imprint, and were one of many great signings to Bruce Iglauer's Alligator Records, also out of Chicago (and the recording home of 2019 Murphysboro Bluesfest performer Toronzo Cannon). "Twist" and company tore a path into and out of Carbondale, Chicago and the world, bringing the real and steamy Chitlin' Circuit-via-uptown R&B sound to enraptured audiences worldwide.
From their origins in the gut-bucket bars of then-swinging '50s and '60s-era Colp, Illinois, to the '70s-era college bars of Carbondale and on to Chicago and the world, the Mellow Fellows were great ambassadors of that heavenly-yet-funky rhythm and blues sound.
As far back as 1968, I recall our band, the nascent Devil's Kitchen — then called Om — sharing a bill with Twist and company at the old Hippodrome in Murphysboro, Illinois, which was near the site of the current day Big Muddy Brewery. SIU-student frat band Long Wave Radio, which featured Bob Laughton of Barrington, Illinois, soon to become the bassist in Devil's Kitchen when original bass player Bucky Harmon left, rounded out the bill.
The Hippodrome was an old ice skating rink that writer and Carbondale raconteur Alex "Bongo Ali" Paul, a student of author John Gardner — internationally acclaimed SIU professor and best-selling fiction writer of "Grendel," "October Light" and "The King's Indian" — had been instrumental in reimagining it as a hippie rock palace. Folks came up with really creative ways to reinvent old buildings in early counterculture days! Somewhere there are posters commemorating that show, and the Mellow Fellows headlined it.
The band was co-founded in its later original incarnation by Big Twist, the great tenor saxophonist Terry Ogolini and ace guitarist/vocalist Pete Special. Terry O. reports that: "At a gig in Copenhagen, former SIU students held up a 'We remember Big Twist' banner!" He also recalls playing a benefit for John Belushi in NYC, at which Big Twist and the Mellow Fellows backed up James Brown when James didn't bring his band The Flames. As Terry adds: "From Buckner to Broadway with Twist!"
I am also in communication with Big Twist and the Mellow Fellows and current Chicago Rhythm and Blues Kings' drummer, Herrin, Illinois-native Eric Jensen. Eric and I played together in the bands Vision, (Big) Larry and the Lady Killers and Zoom Control. In his first six months with Big Twist, Eric writes that they: "…went coast-to-coast and to Key West to Canada." Key West's infamous Captain Tony's was a regular haunt. Eric adds that they also went across the pond to: "Stockholm, Järvenpää (Finland), Oslo, Bremen, Helsinki and The Hague." Eric adds that their late guitarist and Southern Illinois-native Dave Mick and former bassist the late Bob Halaj were unofficial band historians and that he "… wished they were here as they might remember the cities he forgot."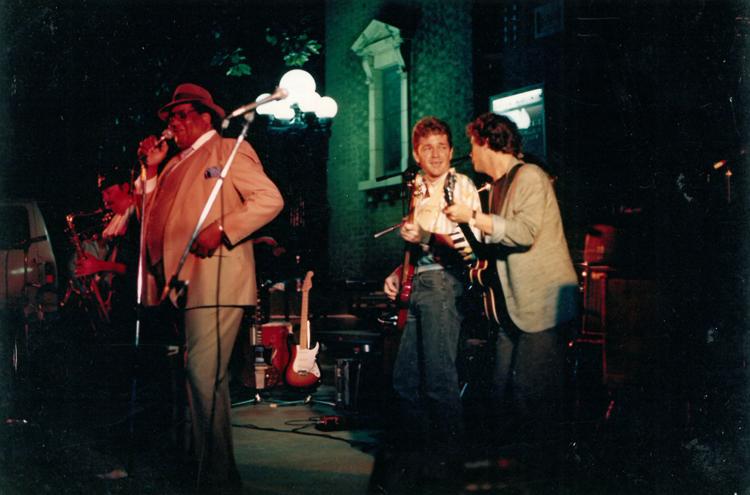 Other original members around the time of the debut record "Big Twist and the Mellow Fellows" include Bob Pina (also formerly keyboardist of St. Stephen's Blues), keyboards and arranger; Melvin Crisp, drums; Tim Caron, bass; the late Pete Special, vocals and guitar; Dowell, Illinois-native the aforementioned Terry Ogolini, sax; and of course Big Twist on vocals and harmonica.
Also, at various points the band included the late Ronald West, keyboards; his son "Young" Tango West, bass; the late Denny Best, drums; Sid Wingfield, keyboards; Chris "Chicago Hambone" Cameron, keyboards; and quite a few others over the years.
The entire story of this band warrants a full-length treatment.
After Big Twist passed away from a heart attack in March of 1990, our friend and former band mate many times over, Martin "Big Larry" Albritton, became their lead singer. This band was the Street Party-era configuration with Don Tenuto on trumpet, and Don remains a vital part of the R&B Kings. "Kax" Ratliff was on drums. The record features the seminal version of "Feels like Rain," the excellent ballad written by John Hiatt and given an immortal performance of by Martin "Big Larry" Albritton.
When Pete Special left the band, sometime after Street Party, taking the group name with him, they morphed into the Chicago Rhythm and Blues Kings, and that band carries on to this day. On Sunday, Aug. 11 of this year, the R&B Kings played Buddy Guy's Legends in Chicago for the 93rd (!) birthday celebration of their great sax player/vocalist/actor Gene "Daddy G." Barge.
Gene was a session musician and producer at Chess Records and played on the Chuck Willis' hit "CC Rider," Fontella Bass' "Rescue Me" and Gary "U. S." Bond's "Quarter to Three" and many, many more charting records. Gene has appeared as an actor in major motion pictures including "The Fugitive," "Under Siege" and the Keanu Reeves vehicle "Chain Reaction." Daddy G. also produced Natalie Cole's 1977 record "Sophisticated Lady."
The night of his birthday gig at Legends, Brian May and Roger Taylor of Queen, fresh from their Chicago United Center appearance the same weekend, attended the event and stayed the whole set, hanging out with the band post-show! Eric and Terry report that they were really nice guys. Even more recently, Buddy Guy his own bad self was in the venue and made a guest appearance with the band, a regular occurrence at the club. The members' road stories could also be a movie, straight up!
Other Big Twist and the Mellow Fellows records include "Live from Chicago: Bigger than Life" (recorded at Biddy Mulligan's) and "Playing for Keeps."
I highly recommend joining the Alligator Records e-mail list and perusing their selections of ground-breaking blues records, not only Big Twist, but also Buddy Guy, Koko Taylor, Lil Ed and the Blues Imperials, Hound Dog Taylor, Son Seals, Fenton Robinson, Albert Collins, Lonnie Brooks, and many more great artists and titles. Plus, as always, search the bins at Plaza Records in Carbondale and Hard Copies in Marion for Big Twist and the Mellow Fellows' discs. For reading: "Bitten by the Blues: The Alligator Records Story" by B. Iglauer and P. Roberts, University of Chicago Press.
Robbie Stokes is a longtime musician in the Carbondale music scene and the owner of Robco Audio.