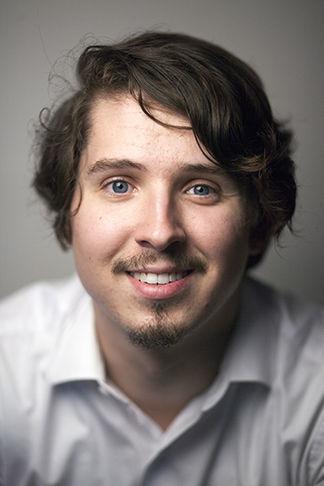 CARBONDALE — There is a line between what makes noise and the avant garde enjoyable and what makes it embarrassing. It's a subtle, thin line but it's there.
On one side are highly skilled musicians who together, through the art of deep listening, put forward a collective thought that has movement and direction, even if its unscripted.
On the other side are those executing overwrought, shallow ideas with the guise of being "deep."
This past Saturday, a handful of locals filed into The Swamp, a basement venue in Carbondale, to listen to the chirps, squeaks and bellows of some of the area's strongest sonic explorers.
Distinguished scholar and Southern Illinois University Carbondale professor Eric Mandat opened the evening with a deeply personal and conversational set of compositions centered around his clarinet and his body movement.
Through a series of motion-sensitive equipment and live computer processing, Mandat explored an impressive group of tones and textures, at times speaking through the reed instrument, at times even causing his clarinet to "breathe." The result was an intimate, narrative performance that the basement doesn't often see.
Local noise-punk upstarts Clit Splinter followed Mandat with an aggressive set that hinged around an element of performance art, which entailed stepping on all the spectators toes, both literally and figuratively. Some left the basement complaining about the band's decision to spray paint during their set. Others said it was just too loud — though the songs were improved by the dampening only a sturdy door or sub-floor could provide.
Coming off of a successful run of shows in Missouri, Illinois, Ohio and Indiana to promote their cassette release, "Baby Geniuses III," noise trio Healthy Realism celebrated with a quick set.
James McKain playing saxophone, Alex Colombo on guitar and Max Senteney on drums played with intensity and nuance.
McKain bent the confines of his instrument, exploring the fringes of its noise-making capabilities, with tinfoil covering and inside the horn, playing with and without a mouth piece and experimenting with breath control.
Speaking after their set, the band said while there are "recurring themes" or "gestures," there is nothing concrete about their songs. What results is a very public exercise in close listening.
The band said they have wound up developing some kind of "language." After playing so long with one another, the members said they have begun to be able to read one another's physical and musical cues and direct their playing accordingly.
The group has been playing together for about a year, and have seen their improvisations refine.
McKain said they are "relying less on intensity and more on interplay."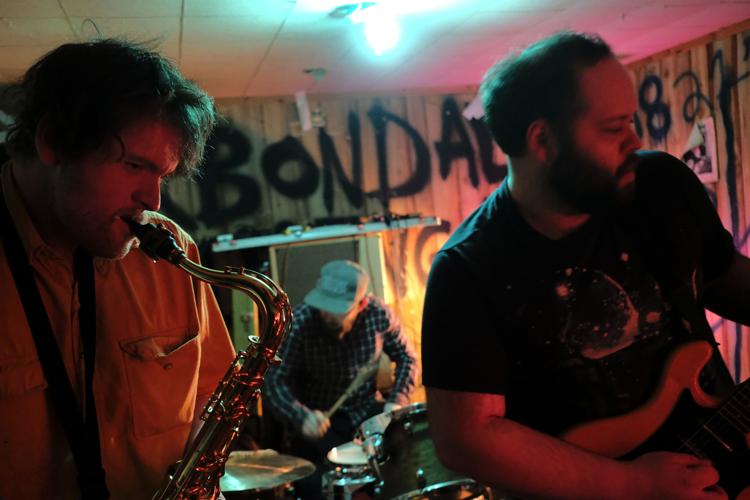 The meditative sounds of one-man pedal and guitar wizard, Marathon, closed the night.
The Swamp has for nearly the last decade been a home for artists that operate at the fringes. That was actually a founding principle and something current resident and show mom Adaline Tucker has tried to maintain.
"We make it a special consideration to book experimental music acts at The Swamp for a couple of reasons but the biggest one is purely to validate and promote less than linear, expressive art," Tucker wrote in a Facebook message.
Tucker said there is a large group in Carbondale that enjoys making and observing "more sound focused music," but that there isn't always a place for it within "profit based music venues."
"And that's the goal, or at least a personal goal of mine: digging out a space for something you haven't seen before, because that is often the most exciting experience," she wrote in the message.
Tucker said she knows the generic perception of noise or experimental music, but said it's the excitement of the new that she sees as its intrinsic value.
"People joke about noise, like it's easy or thoughtless," Tucker said. "But if you have any kind of creative mind you see it's quite the opposite."