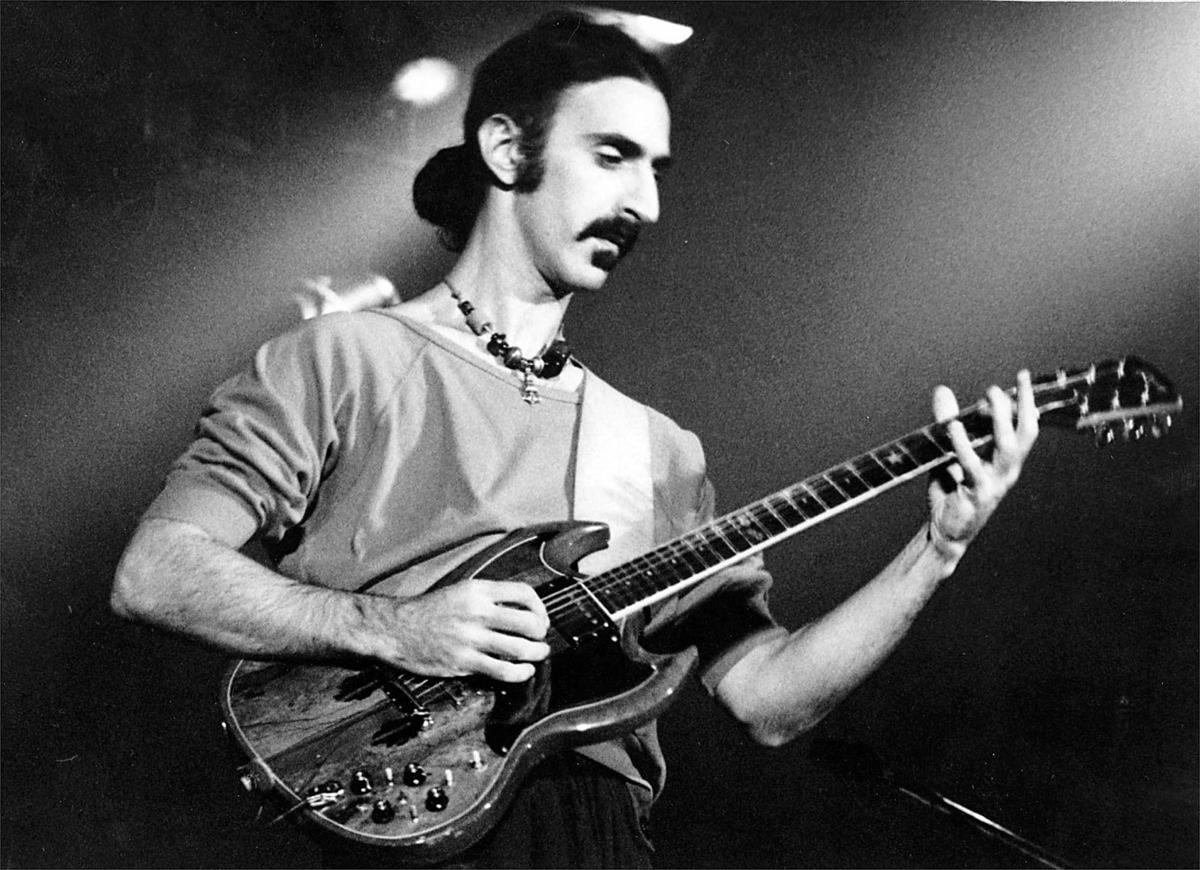 As mentioned two weeks ago, my substitute authoring of Music Historicity for Robbie Stokes is from an admittedly limited perspective. Just as you readers have been enjoying stories and information from Robbie's world of experience, my take comes from someone who is not a Carbondale native and who is a decade younger than my good friend.
I previously mentioned a performance by Katie and the Smokers on the Student Center South Patio during freshman orientation week in 1977. I'd like to recall some equally memorable concerts by national acts that took place around that time on campus.
The first was Frank Zappa. I knew little at the time about the inventive musician who in 1963 appeared on black and white television to artfully play music by tapping a bicycle with drumsticks. Zappa had already made 17 albums, nearly all with his Mothers of Invention backing musicians, before the familiar release "Apostrophe" earned gold record status in 1974. Keep in mind that until his 1993 death, Zappa released an amazing 62 studio or live albums. His estate has put out another 79 posthumous releases, not even counting dozens of singles and sideman contributions.
By the spring of 1978, Zappa hadn't made a new album since his 1976 "Zoot Allures." But when his concert at the Arena (now Banterra Center) was announced, several floors of students at Schneider Tower decided to mount a group outing to see the show.
Arena policies were different then, and there was no limit to the number of tickets one person could purchase. So there I was, one day before sales began, camped in a pop-up tent on the sidewalk by the ticket window, first in line. Somehow, 109 people had entrusted me with their cash, and that was the number of tickets I purchased on the morning when sales opened. I beamed with pride, having bought out the first three rows of the main floor to one side.
The concert was fantastic, and Frank Zappa returned to the same venue each of the following two years. However, Arena ticket policies began capping purchases at 20 tickets beginning in 1979.
I'll never forget hanging out after the 1979 show at Merlin's and noticing Frank Zappa, plus a bodyguard and a couple more entourage members, sitting just three booths away from me. But, being a 19-year-old teenager, I was far too shy to approach the rock icon to simply tell him, "Thanks for a great show tonight, Frank!"
Another memorable concert I attended was the Talking Heads at Shryock Auditorium, in October of 1979. The band also performed here three years later, but at the SIU Arena. Interestingly, it was the only time I ever experienced a concert at that venue with the stage positioned on the main floor facing sideways toward one half of the seats.
I did not buy a ticket to see Bob Dylan, who performed at the Arena in October of 1978. But I was relaxing in my room, at 103 Felts Hall, when a friend returned back to the dorms and said she left the concert early.
Arena policies at the time allowed exiting the venue and re-admittance with a ticket stub. With my friend's stub in hand, I quickly bicycled over to the Arena and gained admittance for the last few songs of the Dylan concert for free. Thanks, Beth Rosenberg!
Lastly, I can't forget seeing Van Morrisson at the SIU Arena on Oct. 13, 1979. Tickets were only $7.50, and I sat on the main floor as the unannounced warmup act began.
An African American man walked calmly to the front of the stage and sat down on a folding metal chair, acoustic guitar in hand. He then proceeded to enthrall the crowd with authentic Mississippi Delta blues.
I jumped up, ran over to the sound mixer in the middle of the room and pleaded to know who was this artist. "Why, that's Honeyboy Edwards," the engineer replied. "He played on an early Fleetwood Mac album."
But with that band's landmark mega-platinum "Rumors" album having been released two years earlier, it was hard to believe that kind of music might include a Delta bluesman. In truth, Edwards did in fact contribute to a 1969 Fleetwood Mac album that was recorded at Chess studios in Chicago.
Van Morrisson proved to be everything I was told as the show began, that "you will never see another concert like this." Van sang all his original songs and played guitar, piano, bass and even saxophone.
There were plenty of other memorable shows at both the Arena and Shryock, like Roy Buchanan, an American blues guitarist who coaxed a blistering sound from a Fender Telecaster. There was a 1980 show with aging blues legend Muddy Waters. Halloween night that year featured the U.K. electronic band Ultravox, which at times had two simultaneous bass players on stage.
Gary Gibula is an SIU alum, musician, writer, editor, and friend of Robbie Stokes, the author of Music Historicity. He is filling in while Stokes is on a break.
Stay up-to-date on what's happening
Receive the latest in local entertainment news in your inbox weekly!