Carbondale's music scene is fluid and adaptable. That fuse was lit decades ago, and it continues to smolder steadily.
Even with the recent decline in foot traffic in the area — hopefully that has bottomed out — there is still a healthy amount of activity from cover bands, original composition bands and those that mix both approaches. It would be disingenuous to imply that things are like they were "back in the day," when live music could be heard and seen every night of the week in multiple Carbondale venues, but there is still life in the old girl yet, and a lot of that action has simply spread further out to wineries and breweries.
This quick article will highlight a few of the long-gone venues, many of which are at locations being redone, and mention several of the often-seen bands. Previous Carbondale and environs live-music and DJ hotspots are my interest here (not including house party or punk house shows, as that would need to be a whole different column).
Mugsy McGuire's: This West Main Street venue occasionally did live music in a room on the west side of their original building, which had two rooms, each with a bar. Irish music was often offered. It was purchased and switched to a new layout by Matt Meir, the late Carbondale entrepreneur originally from Germany who had initially been involved in management at the former Tuck Tape — where he hired me to do a few sound gigs for corporate presentations. He went into the restaurant and nightclub biz upon rebuilding Mugsy's with a new stage, PA and bar setup.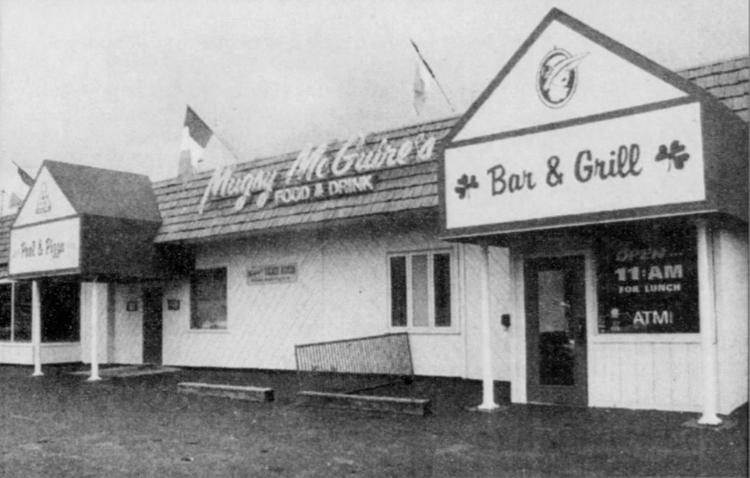 Groups that played there included Leon Russell, Junior Brown, Jon Berry, Unknown Hinson, Chuck Berry keyboardist Jonny Johnson, and naturally many Carbondale outfits worked there including the Chicago R and B Kings and our bands Four on the Floor (with Pate Blewett, Jim Wall, Kevin Cox, Charlie Morrill, among others) and St. Stephen's Blues (with Jimmy Salatino and myself on guitars, Kevin Cox/sax and flute, Charlie Morrill/drums, Bob Pina/keys, Jack Onieva/percussion, and variously on bass Jim Wall, Jim Wilgoose, Gary Gibula or Ed Grunewald). The place is now a Walgreen's.
Merlin's (aka The Golden Gauntlet or T. J. McFly's): Located on South Illinois Avenue near the Walnut Street intersection and across from PK's (aka Pizza King, still a scene mainstay), Merlin's was a hotspot for quite some time. The late Chicago-area native Bill Hitchcock owned the place, and it featured another two-room/two-bar layout. It had a large dragon as décor in the "Big Room." I met famous bluesman Paul Butterfield there, as well as musical iconoclast Frank Zappa. Merlin's was also where our band Rolls Hardly obtained employment as backup musicians for the performances of the legendary rocker Del Shannon ("Runaway").
Our band Vision plied our new wave covers and originals there, and our Buster Boy Band, which featured original Hangar 9 co-owner Richard Simpson on keyboards, played the Merlin's "Small Room," the BBB also including John Wallerich on guitar, Randy Bradle (from Devil's Kitchen and Coal Kitchen bands) on drums, "Nirk" Newkirk on bass, and myself on guitar and vocals. REO, originally called REO Speedwagon, played there, often making the drive down from Champaign to trod the boards in the 'Dale. The club was also known as Bonaparte's Retreat for several years. The land Merlin's occupied is basically municipal parking at present.
The Club: This little old-school Carbondale hotspot was TOO MUCH FUN, and long a college town bar akin to Carbondale's infamous the Rathole, the Purple Mousetrap and The Cellar. Next to the old Booby's restaurant and abutting the Varsity Theater, it featured a small stage where many of my and my compatriots' bands worked, but to my mind most memorably Carbondale (and Chicago) R&B legends Big Twist and the Mellow Fellows, the excellent Skid City Blues Band, and, before they moved to Austin, the Dixie Diesels, a country band that featured current Ivas John Band drummer Charlie Morrill, the late Brad Davis/guitar, vocals, Rusty "Radar" Hearst/electric and steel guitar, Willie Wainright on fiddle, Mike Potter on bass and at some points Shawn Colvin on guitar and vocals, as well.
I often play with Ivas John's great group, always being happy to rejoin Charlie as he, and I also played in our high school-era band The Viscounts, plus as mentioned Four on the Floor and St. Stephen's Blues. (Search the archives of my run of 23 columns to date in The Southern for more on many of these bands and venues.) Other bands included Katy and the Smokers, Jimmy Bruno, Dr. Bombay, the Shawn Colvin Band — that would be Grammy winner (twice) Shawn Colvin, former Carbondale resident, now of Austin, Texas — plus Larry and the Ladykillers featuring the late Martin "Big Larry" Albritton on vocals (and sometimes drums). The Club burned down and then was fashioned into the Booby's Beer Garden.
Silverball: A downstairs venue located on South Illinois Avenue across from Gatsby's and below the former Fat Pattie's eatery. The Jim Schwall Band (he of Siegel-Schwall Band fame) was a regular, as was our fusion band Zoom Control, The Blue Meanies, Dr. Bombay, the T. Hart Band and many more. Good pinball machines!
You have free articles remaining.
Airwaves: A subterranean place below ABC Liquors and just south of Tres Hombres on North Washington Street. It catered to the '80s-era new wave crowd in college dale, of which there was a hefty contingent, indeed, thankfully. REM hung out there (they also frequented Gatsby's on their visits to town). We met the Divynls there, as well (the Australian band featuring singer Christina Amphlett that had a major hit with "I Touch Myself"). Punk bands co-existed with rockabilly, reggae, and power-pop outfits. Long-closed, it is presumably storage for ABC Liquors.
Jeremiah's: Jeremiah's was an old Carbondale building, ornate and pretty, and a decent restaurant bordering Carbondale's The Levee north of Tres Hombres. Not a lot of room for bands inside, where St. Stephen's Blues often held forth, but it had a nice beer garden where once I mixed sound for soul singer Clarence Carter of the songs "Strokin'" and "Patches" fame ("Strokin' to the east, strokin' to the west," "Patches, I'm depending on you, son ..."). The inside had plenty of carpeting and furniture and a cozy bar. The building is gone now, unfortunately. However, it is a municipal garden.
Carrie's: The famous Miss Carrie ran this place, actually located in Murphysboro but very instrumental in the Carbondale pantheon of joints, right on the Big Muddy River on Old 13. It was primarily after-hours. The old gal's pet sayings at the end of the night — 4 a.m.! — included: "You ain't got to go home, but you got to leave here!" "Hotel no-tell time!" and 'Whiskey, go home!" You could drop a cane pole in the dark water from the bridge next to the joint while you loaded out your band and sound gear on Sunday afternoon. The Dixie Diesels, the Long Wave Radio, Devil's Kitchen, Coal Kitchen, Cayenne and the Blue Plate Special, Big Larry, Big Twist, Tawl Paul, John Nearman, Pontiac Jones, and many others played here regularly.
Second Chance (AKA The Bar or Bonaparte's Retreat): A number of pretty big acts played this place on East Main Street, including once again the early REO and also Styx. Our band Coal Kitchen was a regular. I saw the Dixie Dregs with guitarist Steve Morse at this bar. In later years it was known as A. C. Reed's, a blues joint, and different versions of The Street Bar have also inhabited the location. It is being reborn currently as The Buckwater Brew Works.
Pinch Penny Pub/Copper Dragon: Just recently closed (New Year's), this venue was the scene of some great concerts. The closing of the business has been covered very well of late in recent press. Little Feat, Dierks Bentley, Fastball, Leftover Salmon and String Cheese Incident (I mixed monitors for those gigs), Veruca Salt, Local H, Cheap Trick and dozens more acts have left their mark on Carbondale. Pinch Penny Pub and its beer garden hosted hundreds of local bands over their 47-year run including 17th Floor, Clear Light, Murphy 500, Dr. Robert, the Jungle Dogs, Four on the Floor, St. Stephen's Blues, regional jazz greats Mercy (featuring the late keyboardist Joe Liberto) and Irish/Celtic music band The Dorians (featuring the late keyboardist/pipes player/singer Bryan Kelso Crow).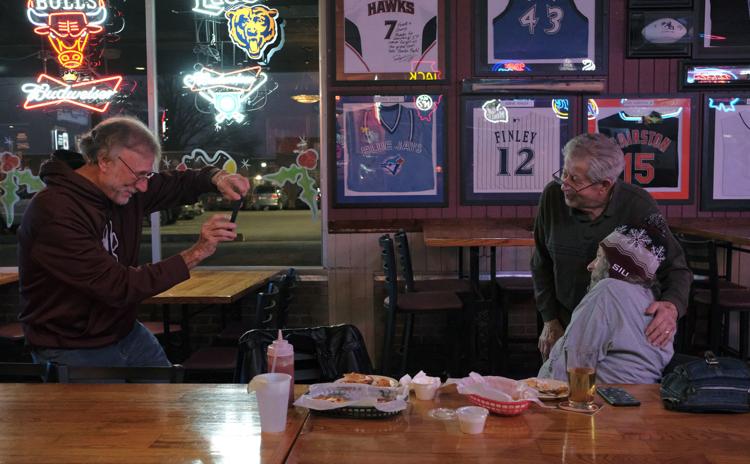 Sidetrax: Located right by the Illinois Central tracks on College Street. The Sidetrax beer garden hosted many a live band and DJ show and was notable for a long run of very good tribute bands and local talent. It is now — you guessed it — municipal parking.
Gatsby's: Still open and looking the same but now called Traxx after Sidetrax moved there. Please see my column devoted to the original Gatsby's at thesouthern.com.
As of this date, Hangar 9 is still going strong with some cool changes afoot and great shows booked.
There are many more joints that have come and gone but I am at my word limit and dawn has lit the skies, so ... sayonara!
Shut-down Southern Illinois restaurants we still crave
Robbie Stokes is a longtime musician in the Carbondale music scene and the owner of Robco Audio.