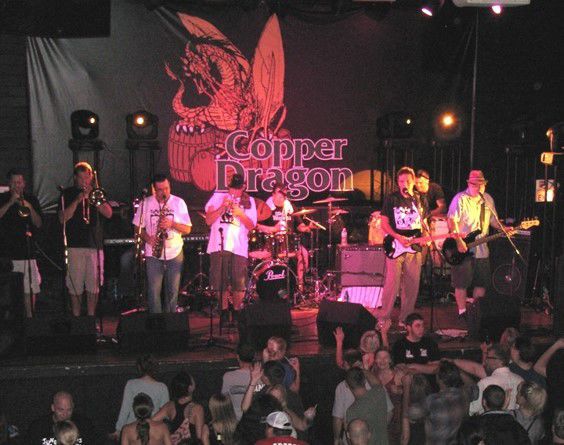 Here Come the Mummies are a cool band, but here come the Jungle Dogs, woof! Just hearing the name brings up thoughts of good times for regional party-goers. Especially at the outdoor shows!
Often simply called "The Dogs" for short — and who doesn't like dogs, I say? — they are near-indisputably, depending on musical tastes, the longest-reigning kings of Carbondale party music fun with their reggae, calypso, ska and rock bounce. Many of you have hoisted a pint to the their original tune "Cold Beer," risked the health of your sacroiliac to "Limbo Walk," shaken a tail feather to "Da Butt," sung along at the top of your lungs to the Dogs doing Harry Belafonte's banana boat song "Day O" chorus — "Day-o! Day-a-a-O" — or done the rumba line dance to another great song or three. Bob Marley's "Three Little Birds" really takes on its own inimitable (those horns!) J. Dogs character when they hit that just-right reggae groove!
In a HerrinFesta column I wrote last fall — note that all of my columns are archived at thesouthern.com — I related the story of The Dogs' legendary performance at the venerable Herrin/Memorial Day weekend mega-party (which had to be canceled this year). At that second — and last — HerrinFest gig — that just adds to the bad-boy status of it that they were not ever booked back! — the weather was for crap, the crowd was huge and rowdy, and they were NOT in any mood to put up with an imminent rain cancellation even with thunder, lightning and a hard rain severely pummeling the pavilion. The boys in the band were not ready to exit the stage, either, naturally, but you cannot fool with Mother Nature. That night has achieved near-legendary proportions in local music-lovers' and party peoples' recollections.
We — Robco Audio — were doing sound, and I will never forget HerrinFest honcho and good buddy Dan Cox blowing his "long trumpet" with the band as loud as he could muster, banner attached near the bell of the horn waving in the wind. Further anecdotes on that gig are in my HerrinFesta column from last fall.
One of the great draws of the old Hangar 9, the Dogs graced the stage at the new Hangar 9 — same location, different structure — at last fall's Oct. 26 Halloween bash, when once again inclement weather reared up and forced the show from the "Carbondale Rocks" (my term) outdoor downtown concert site to the Hangar — the easiest to access at the time, fully sound-system-outfitted indoor location on hand.
Importantly, the Hangar stage is big enough, because the Dogs are a BIG band. Getting them on that night after the preceding band — the Copyrights — played was one of the fastest between-band changeovers I have ever had to do. I was working on my own there because after the earlier consultation between city officials and myself prior to canceling the gig for outside, I had let my sound crew go. Avowedly, they were aiming to carouse! It was a Carbondale Halloween bash, can you blame them? While not as raucous as that event in the past — not all bad — Carbondale's tradition of epic Halloween throw-downs has been brought back to life and the Jungle Dogs' contribution is key.
The Jungle Dogs, as many know, are large in number, typically eight or nine musicians. Bands that size require serious focus to get on quickly and efficiently in a live music environment. It is stressful, high-stakes and ultimately rewarding. When the fellas hit the first drop that night after the drummer's downbeat and the collective sound balance was on the money and "in the pocket," I was one happy camper.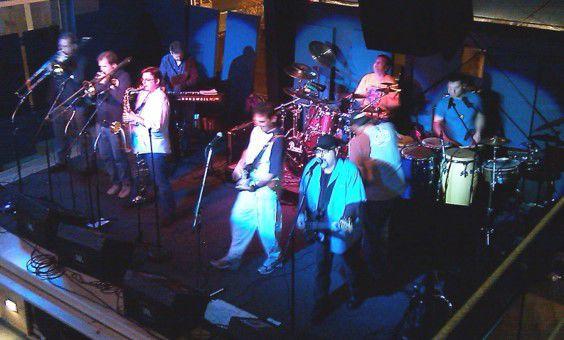 I can always tell from the first few bars of music if a live sound mix was built well enough during the line check (a hurried proof of signal integrity run-through of each different instrument or vocal channel on the mixer) to be at 80% or better when the hit comes. Then you can relax and start the performance-long process of refining the sound mix. Each song demands its own approach as the lead vocalists change and the soloists deliver.
Note that bands like the Jungle Dogs, with a sometimes four-piece horn section deployed, are rare. It is rather unwieldy to deploy that many guys in a working group, not to mention pay them! So: Overall balance first, individual channel input tweaking to follow, and finally a nice sprinkling of effects — reverberation (reverb), time delay (echo), spatial effects, stereo imagery and the like.
Like a painter with his art tools ready or a writer with a tabula rasa — a clean slate — each song presents challenges and opportunities. A good sound technician — often a musician himself or herself — is innately able to do this, and fast. The Jungle Dogs sound mix has to be as tight as the band's music is. This is how you do it, baby!
I also had the honor and privilege to sit in with the band on guitar once again at the downtown Sunset Concert (2018, also at the "Carbondale Rocks" site). With other regional musical guests including "Tawl Paul" Frederick and James Barnes, the band graciously supplied all guest artists with nice gift bags. The T-shirt from that one is the bomb!
Carbondale owes a lot to the Jungle Dogs for spreading the good vibe, not just around here, but Rock Island, St. Louis, DeKalb and other locales, as well. They have always given SIU and Carbondale a good rep as a fun place to work and play. Props to the Dogs!
Jungle Dogs members are: Eddie "Chop" Chapa on bass and vocals, Dan "Sching-a-Ling" Schingle on guitar and vocals, Keith "Huff" Huffman on keyboards and trumpet, John Hunter on drums, Matt Linsin on percussion and vocals, Dan "Dee" Ward on trumpet and vocals, Larry Daly on trombone and vocals, Jim Owens on trombone and keys, and Klaus "The House" Bank on sax and vocals.
Recordings are available online — try ReverbNation — or in hard copy at shows, whenever that may be. They are:
"Jungle Dogs" (self-titled), 1992
"Throw 'Em a Bone," 1994
"Halloween Dogleg" (live), 1995
"Jungle Jym" (children's book and CD), 2002
"Jungle Dogs' Greatestshit," 2010
With the close of Carbondale's other Jungle Dogs' hangout Pinch Penny Pub at New Year's this year, and of course the ongoing public health situation, the band's traditional Labor Day weekend show is an unknown to this writer at this time. Not to mention Halloween.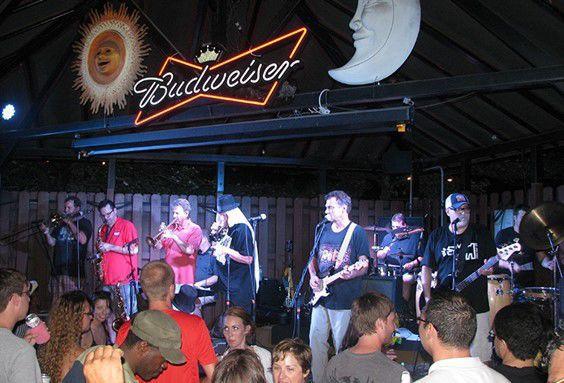 I do not know the Jungle Dogs' views on the potential situation currently, but it's safe to say such large gatherings must at the very least be designed very differently in the foreseeable future. Though the bands' members — grown men with families and jobs! — have now dispersed to several other states, they had been getting together occasionally to play big shows. As you can imagine, that is logistically involved even in the best of times. The band reports that they are at least talking to the city about doing something "…but everything is up in the air and as of now no J. Dogs gigs on the books."
Could it be a permanent hiatus? It's undetermined. We all may just have to suck it up and rely on our good memories of their gigs, at least for now.
So as the British say, have a "stiff upper lip." Best to us all, and to quote Tom Hanks as astronaut Jim Lovell in "Apollo 13": "Catch you on the flip side".
Or at least in the Scene618!
Robbie Stokes is a longtime musician in the Carbondale music scene and the owner of Robco Audio.
Stay up-to-date on what's happening
Receive the latest in local entertainment news in your inbox weekly!