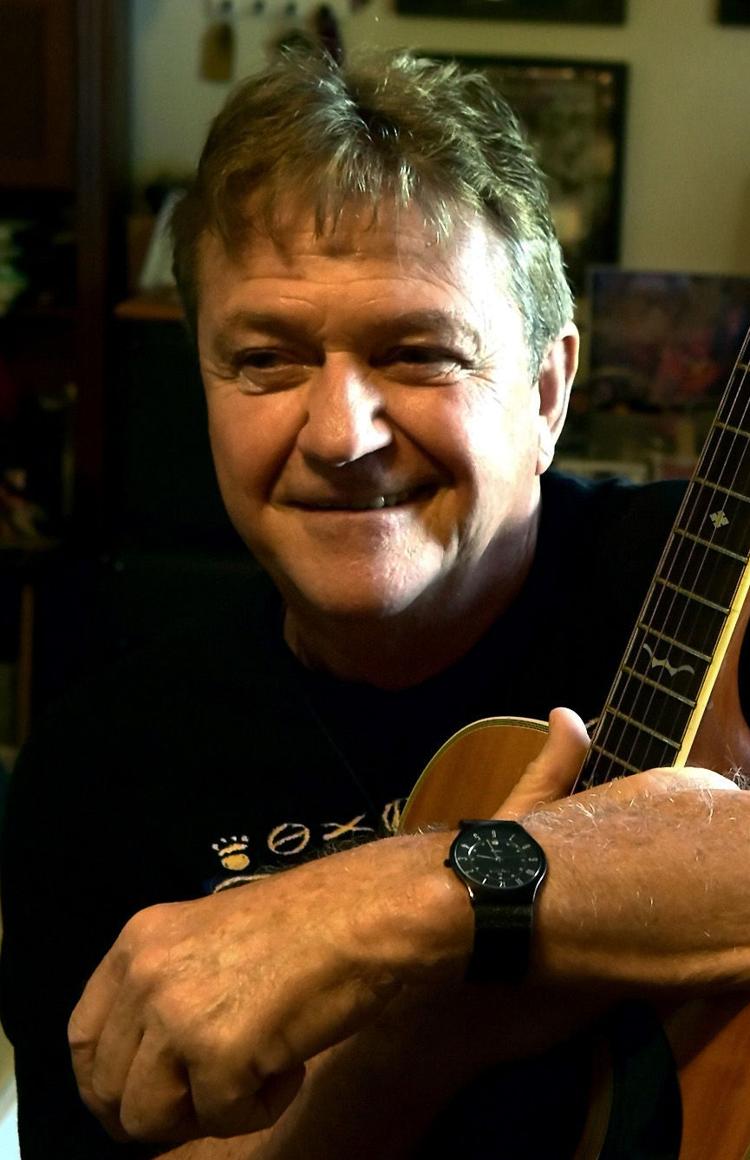 Many Carbondale and regional music scenesters will recall the fabulous Elvis Bros., formed in Champaign, Illinois, circa 1981. I booked and mixed many a show for them at the original Gatsby's, home of hundreds of great regional, national and international bands.
They got their name from, well, Elvis, of course, as they did many Elvis Presley covers at first, needed a name, and The Elvis Bros. fit the bill as well as any. Brad Elvis was on drums. Brad for the last 16 years has been the drummer for The Romantics, of the hits "What I Like About You" and "Talking in Your Sleep" fame. Brad got that gig via Blondie drummer Clem Burke.
Plus, the "EBs" featured Rob Elvis (guitar, vocals and a former member of my old band Coal Kitchen) and Graham Elvis (bass, vocals and now a fabulous visual artist as well as musician). They made a strong bid in the music world after they signed to Epic imprint Portrait Records, releasing two records: "Movin' Up" in 1983 and "Adventure Time" 1985.
Multiple tours ensued, and many of those jaunts included performances opening for The Clash, Cheap Trick, The Ramones, The Turtles, The Pretenders, Culture Club, Bow Wow Wow, Men at Work, Billy Idol, The Psychedelic Furs, King Crimson, Big Country, The Bodeans, The Fabulous Thunderbirds, Adrian Belew, David Johansen, INXS, and on. The affable EB drummer messaged me this partial tally from Chicago, and it is an unbelievably long list.
Other Gatsby's bands included the famous Jungle Dogs — who are booked for this year's Carbondale, Halloween Fest! — Love Rhino, Synthetic Breakfast, Hostage Flamingos, The Reform, Nemesis, the late Billy Cole Reed, Topsoil (featuring singer Rod Hogg), the excellent and legendary Modern Day Saints, Sgt. Carter, London Calling, Bronx Zoo, Shakey Jake, the Saloonatics (drummer Greg Calvert's band), and St. Louis' Fantasy, Athena and the Hubcaps, Street Corner Symphony and Big Fun. Plus, Chicago blues greats Mighty Joe Young, Carbondale's Big Twist and the Mellow Fellows, Eddy Shaw, Eddie "The Chief" Clearwater and Lonnie Brooks. So many more: Rods and Cones. The Windows, who hailed from Martin, Tennessee. Forgive me if I have to leave some out.
We had one screamo band, Cornucopia of Death, from Evansville, Indiana, and that band included drummer Jeremy Spencer — not the Jeremy Spencer from the original Fleetwood Mac — who has until quite recently been the drummer with world-famous Five Finger Death Punch. Did any of you local metal heads know that? Just rock 'n' roll threads with a regional edge, tying together.
Along with Hangar 9, mercifully still bringing the music to this town, Gatsby's kept the flame for quite some time. It is now open as basically the new Sidetrax, and is therefore called Traxx. It retains the Great Gatsby-era look as the original furnishings and lighting fixtures have been restored, as well as the bangin' vintage Paul Roth Jr.-designed stereo system.
National or international acts I booked and mixed sound for at Gatsby's included the New Riders of the Purple Sage ("Panama Red"); The Waitresses ("Christmas Rapping," "Square Pegs"); Rare Earth ("I Got a Line on You, Babe"); Foghat ("Slow Ride"); Doctor Hook ("Sylvia's Mother," "Only 16," "Cover of the Rolling Stone"); The Byrds ("Mr. Tambourine Man," "8 Miles High," "Turn, Turn, Turn," "Hey, Mr. Spaceman"); Derek St. Holmes (Ted Nugent Band: Stranglehold); Dave Mason of British band "Traffic" ("Feelin' Alright," "We Just Disagree"); Spirit ("Nature's Way"); Celebrity Skin, a precursor band to Jane's Addiction; The Rainmakers ("Let My People Go-Go"); and many more.
The point was to bring shows to Carbondale that, if smaller than SIU Arena or Shryock Auditorium shows, could still pack a punch. At the time, there were more than enough students and general populace in the area to support these operations.
Speaking of SIU Arena or Shryock Auditorium gigs, REM headlined both, and prior to an SIU Arena show I found the band hanging out waiting for me at Gatsby's one afternoon (minus lead singer Michael Stipe, who, by the way, has just released a new record). Their British manger, Geoffrey Trumpe, tracked me down at the club after REM guitarist Peter Buck had requested he find me.
The aforementioned Saloonatics were playing Gatsby's one night after an on-campus Aerosmith performance when Steven Tyler waltzed in post-show with a bodyguard and five very young female fans. Now, the band had already played "Walk This Way" once that evening. Tyler and his retinue took a seat in the booth to the right at the sound console (note: as indicated, the booths are still there). The band, taking note of the hubbub when Steven made his entrance, started to play "Walk This Way" again. I set up the mix for the tune, looked to my right, and the table had cleared out in a FLASH. Guess Steven was tired of the song!
Besides Steven Tyler and REM, other visiting rockers and crew liked to come in to Carbondale proper and party after shows. I met bassist Gary Tallent of Bruce Springsteen and the E Street Band at Gatsby's. Great White, riding high on their hit cover of "Once Bitten, Twice Shy" by Mott the Hoople singer/guitarist Ian Hunter, came in after their show at the Du Quoin State Fair and sat with our band Four on the Floor. REO's road manager "Tiny" dropped by the club one night and offered me a production gig on the spot. I assisted him at the gig sound check the next day at the Arena, but didn't take the offer.
Note: Recently in these pages I referred to Trout Mask Replica as a weird band name. I meant to write Captain Beefheart, the late Don Van Vliet's outfit, and equally weird and cool as a band name Trout Mask Replica was one of that band's records — and could be the name of a Captain Beefheart tribute band, yes?
These ruminations are meant as a public service. Yes, Carbondale was — and is — a musical mecca. Fingers crossed, folks ... anything can happen!
Robbie Stokes is a longtime musician in the Carbondale music scene and the owner of Robco Audio.
Stay up-to-date on what's happening
Receive the latest in local entertainment news in your inbox weekly!