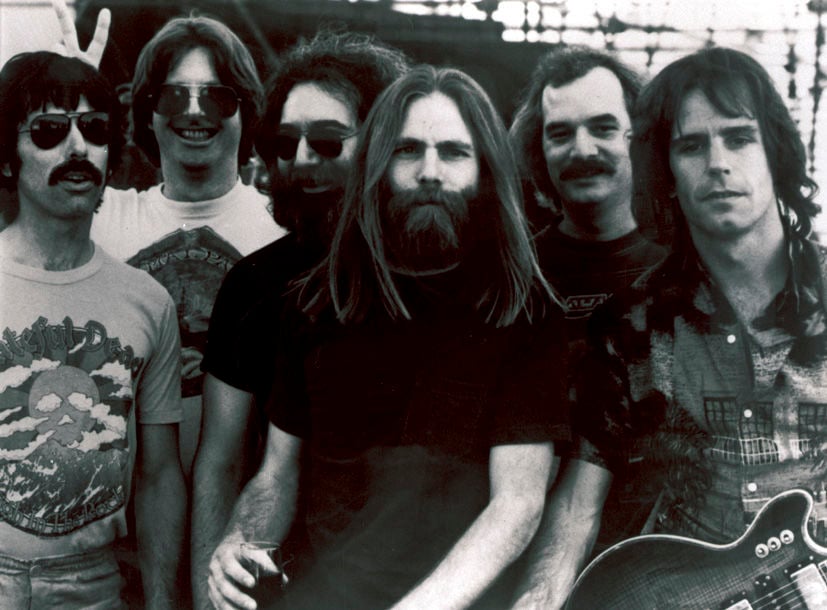 Back in the day! Ah, past glories, or in "The Boss" Bruce Springsteen's words, "Glory Days."
It has been well-reported over the decades here in The 'Dale that as a young man in California circa 1968-1973, I ran into and with the fabled San Francisco rock band and Rock and Roll Hall of Fame inductees the Grateful Dead.
They were aware of our band Devil's Kitchen, oft alluded to in these pages, and that is how I came to be a session musician recording frequently with drummer Mickey Hart, bassist extraordinaire Phil Lesh, legendary band leader and lead guitarist/vocalist Jerry Garcia, guitarist/singer Bob Weir (AKA "The Other One") and the band lyricist Robert Hunter. If that is fresh news to you, as it will not be for a few readers here and there, I 'spect, allow me to regale you with a few tales from the studio in the woods in Novato, California.
That little town is at the very top of fabled Marin County, the scenic and hip area one enters going north over the iconic Golden Gate Bridge — that massive construction and engineering gem, which, I was once told, gets painted continuously, one end to the other, year after year. Now that is a good business model/contract!
If you have previously read (or heard) me go on about those days of strange and wondrous occurrences, a good tale is always worth revisiting — only with some new details as I probe the memory banks.
Mickey Hart, the Grateful Dead second-to-join-up drummer, and band percussion partner with original skins-man Bill "Bill the Drummer" Kreutzmann, had built his own recording concern called "Rolling Thunder Ranch Studio." He had taken what became a multiyear hiatus from the band due apparently to some internal management issues. I never asked — but it is in the literature, as they say.
That studio and some of the members of the Grateful Dead were how I met David Crosby of the Byrds and Crosby, Stills, and Nash, Steve Stills, Country Joe McDonald of Country Joe and the Fish, and David Freiburg of Quicksilver Messenger Service and Jefferson Starship — yes, of "We Built this City," fame — a song, not incidentally, about the city of San Francisco.
Naturally the rabble included Paul Kanter and Grace Slick, also from Jefferson Airplane/Jefferson Starship, and in general the scene included a diverse crew of exotic and erudite people from anywhere and everywhere, plus, as would go with the territory, occasional and sundry undesirables. Other players and singers, both famed and not-so-much, drifted through the studio. There were also many hangers-on and compatriots. Some names have been changed or simply shortened to protect the … whatever!
There was Bruce B., who drove a Mercedes sedan and had a pretty, blonde hippie girlfriend named Lacy. He was the scion of a famed Texas ranch outfit, the famous King family, and was rumored to be loaded with inherited Texas money. He seemed to be some sort of, ahem, "businessman."
There was a ranch hand named Johnny D. who flew light planes at night with add-on bladder tanks for extra fuel for purposes unknown … I will leave that to your imagination, but consider the time and place.
Mickey and Johnny D. tested a shotgun one day out on the ranch by securing it in a vise onto a picnic table, then taping newspaper to a nearby clothesline, and aiming it into the newspaper to check its shot pattern in order to sight it. Regrettably, like they say in the movie "The Right Stuff," Johnny "augered in" (crashed) one night in the rugged hills of southern California.
There was Mickey's ex-girlfriend "Cookie," who I heard was somehow related to European royalty, probably Austrian. On and on … it was quite a retinue.
There was a big dude hip cat named Cornelius "Snooky" Flowers, who was in Janis Joplin and the Kosmic Blues Band and also performed with Michael Bloomfield, '60s icon of Chicago blues guitarists, and my frequent jamming buddy Elvin Bishop of "Fooled Around and Fell in Love" fame. Incidentally, the hit song "Fooled Around and Fell in Love" was sung by Mickey Thomas, who later joined Jefferson Starship and is in fact one of the lead singers on the oft-mistreated and aforementioned "We Built This City."
What an interconnected scene it was! The bearded (and unfortunately recently departed) Snooky was a rockin' sax player, and reminded me a bit of a reggae ragamuffin.
Another saxophonist was Steven Schuster, known to all as simply "Schuster," who played on some Grateful Dead material here and there. As well, I jammed in the ranch kitchen on acoustic guitars with Ramblin' Jack Elliot, folk music legend and occasional visitor.
Why was yours truly around? As the backstory goes, and though the tale is oft-related as I indicated, it is I reckon a pretty good one if for no other reason than that the the Grateful Dead have become so deeply woven into the musical culture. Many younger listeners follow them, and their latest version of the band, Dead and Company, can sell out Wrigley Field — two days in a row.
As I mentioned in a previous column, my band Devil's Kitchen's road manager Ron Litz, who later did the same job for Dave Mason of Traffic and San Francisco's Dan Hicks and his Hot Licks, gave me a solid tip that Mickey Hart of the Grateful Dead was open to area hotshots coming up and sitting in on some tracks at his studio. Devil's Kitchen (also known as DKB/Devil's Kitchen Band) hit the Bay Area scene en masse from Carbondale/SIU in 1968, mind, but this was after we broke up in 1970, so the Mickey Hart and Robert Hunter sessions were after that. So, especially for new readers, the gist is that I ended up hanging out there a year and half, playing on Mickey's solo LP "Rolling Thunder" (on Warner Bros. Records) and Robert Hunter's "Tales of the Great Rum Runners" (on Rounder/UA Records).
As well as these players, various other raconteurs drifted in and out. Groupies (as they were called then), bikers, Native American mystics, Grateful Dead children, hip music industry lawyers, local high school kids being nosy, guys like peace activist Wavy Gravy (Hugh Romney) from the collective known as the Hog Farm, a town official now and then making sure the hippies were behaving (!), a menagerie of cats, dogs, fowl and horses, and many others, as well.
Both Mickey Hart's "Rolling Thunder" and Robert Hunter's "Tales of the Great Runners" are available easily Online. Catch you on the flip!
Robbie Stokes is a longtime musician in the Carbondale music scene and the owner of Robco Audio.
Stay up-to-date on what's happening
Receive the latest in local entertainment news in your inbox weekly!