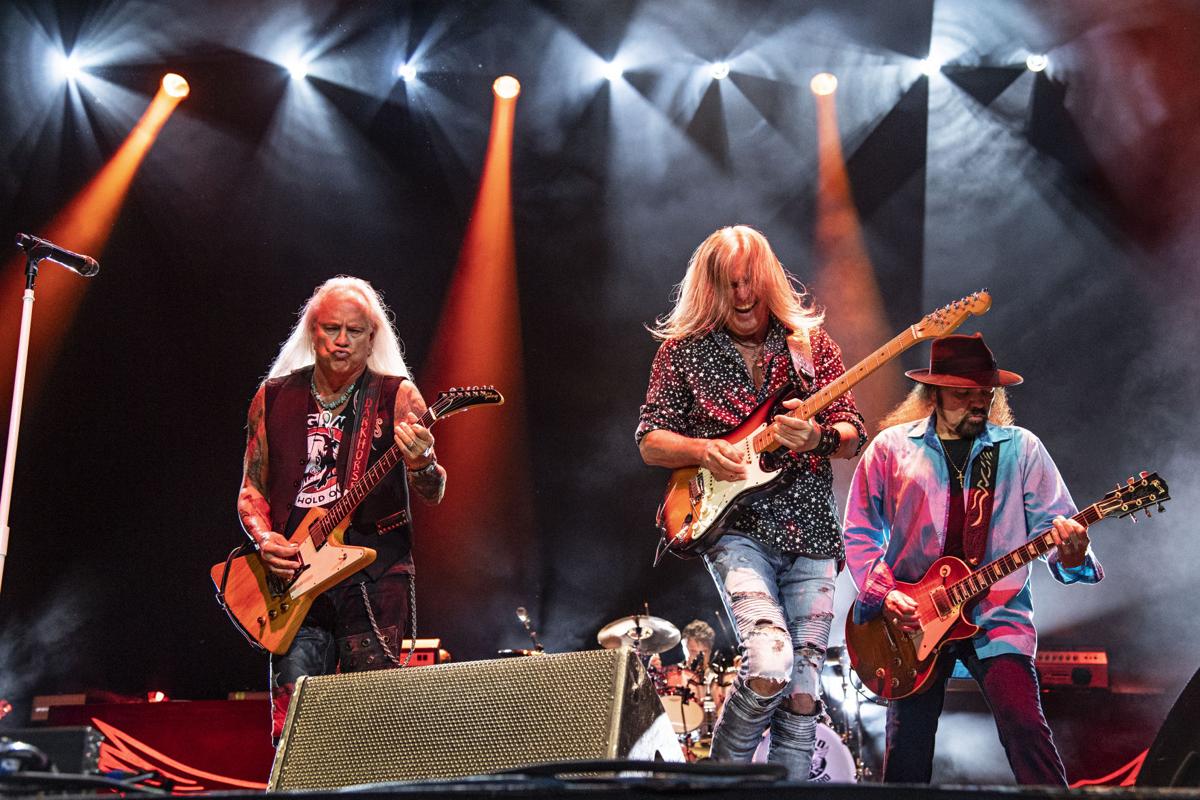 Seven was a prominent number this football season.
Last month, Coach Nick Saban won his seventh NCAA championship. He was at the helm for unstoppable Alabama as they crushed Ohio State for the 2020 college title. The Crimson Tide was an offensive juggernaut led by quarterback Mac Jones, running back Najee Harris and Heisman Trophy-winning wide receiver DeVonta Smith.
On Sunday, ageless wonder Tom Brady captured his seventh Super Bowl, guiding Tampa Bay to a stunning blowout of the shell-shocked defending champion Kansas City Chiefs.
The next big event on the horizon for dually-diagnosed football and country music fans, coincidentally, is seven months away.
Touchdowns & Tunes, a three-day music festival featuring headliners Lynyrd Skynyrd, Brantley Gilbert and Chris Young, is coming to Carson Park in Paducah on Sept. 3-5. Tickets recently went on sale and can be purchased a www.touchdownsandtunes.com or call 270-558-5818 for more information. Ticket policy and answers to a plethora of questions can be found on their website.
Iconic Southern rockers Lynyrd Skynyrd will appear Sept. 3 and will be joined on the main stage by The Steel Woods. Opening acts Eric Paslay, Michael Ray and Ashley McBryde will set the tone for closer Gilbert on Sept. 4. On Sept. 5, Parker McCollum, Craig Morgan and Lauren Alaina will perform before Young brings the curtain down on another year's festivities.
The event is normally held on the Ohio River waterfront in the historic downtown area, but has been moved three miles inland to Carson Park, home of the annual McCracken County Fair and a venue often utilized by Kentucky's vibrant horse culture.
With the change in locations, attendees will have the option of camping on the park's famous race track.
There are many different seating options to consider for the event.
The premium ticket is $699 MVP, which includes front and center seating for all three shows and unlimited alcoholic and nonalcoholic beverages, plus access to other amenities. A VIP Pit or VIP Reserved Seating ticket is $349 for all three days. VIP Standing Room Only is $119 for Sept. 3 and $139 for Sept. 4-5.
A three-day grandstand pass is $79, or $19 for Sept. 3 and $29 for Sept. 4-5.
Approximately half of the venue will be used for camping. Recreational vehicle camping slots are available for $599 and primitive camping is $299. Campers must purchase a weekend VIP pass or a $149 weekend tailgate general admission pass.
Noncampers may also purchase a $149 Tailgate GA pass, or individual day tickets are available for $39 on Sept. 3, $79 for Sept. 4 and $59 for Sept. 5.
To prevent ticket scalping, tickets will not be mailed out until one week before the festival.
Originally formed in 1964 in Jacksonville, Florida and powered by lead vocalist Ronnie Van Zant, Lynyrd Skynyrd is best known for rollicking "Call Me the Breeze" and "Gimme Three Steps," soaring bookend anthems "Freebird" and "Tuesday's Gone," polished off by signature tune "Sweet Home Alabama."
Using Van Zant's captivating vocals and the towering guitar riffs by Gary Rossington, the band's first three albums achieved platinum status and established the group as the driving force in the new Southern rock genre.
After dominating the industry for four years, the magical run ended in 1977 when a plane crash killed Van Zant and backup singer Cassie Gaines. After a decade hiatus, the group reformed in 1987 with Johnny Van Zant (Ronnie's younger brother) on vocals and they have since toured virtually nonstop.
Lynyrd Skynyrd was elected into the Rock & Roll Hall of Fame in 2006.
The Steel Woods mesh Southern poetry with outlaw country to create a new sound called smart Southern rock. Founding member Jason "Rowdy" Cope, who died unexpectedly Jan. 21, said the band's strange array of influences include Led Zeppelin, Waylon Jennings and Willie Nelson.
Like Willie Nelson, Gilbert made a big impact as a songwriter before hitting paydirt as a solo artist. Jason Aldean made huge hits out of Gilbert compositions "My Kinda Party" and "Dirt Road Anthem."
However, the 36-year-old Jefferson, Georgia native broke out in 2011 with chart-topping tunes "Country Must Be Country Wide" and "You Don't Know Her Like I Do." He has cracked the Top 10 with eight singles.
McBryde spent nearly a decade perfecting her songwriting craft in Nashville before releasing EP "Jalopies & Expensive Guitars" in 2016, which quickly gained attention from music executives and led to a contract with Warner Music. She broke out with Grammy Award-nominated follow-up album "Girl Going Nowhere," which showcased her incredible vocals on tunes like "A Little Dive Bar in Dahlonega" and the emotional title track.
In 2019, McBryde captured New Female Vocalist of the Year from the Academy of Country Music and New Artist of the Year from the Country Music Association.
The final day of the festival will have a definite mainstream country flavor.
Young has pummeled the charts with a long list of No. 1 singles, including "Tomorrow," "Gettin' You Home (The Black Dress Song)," "Losing Sleep" and "I'm Coming Over."
After finishing as runner-up on 10th season of "American Idol" in 2011, Alaina cashed in on a solid country career, reaching No. 1 in 2016 with "Road Less Traveled," then tapping into duet success with Kane Brown in 2017 on "What Ifs" and "One Beer" last year with Hardy.
Morgan's hits include: "Redneck Yacht Club," "International Harvester" and "That's What I Like About Sunday."
Organizers say additional performers will added to the lineup as kickoff time approaches.